By

Conner Carey
Tue, 04/25/2017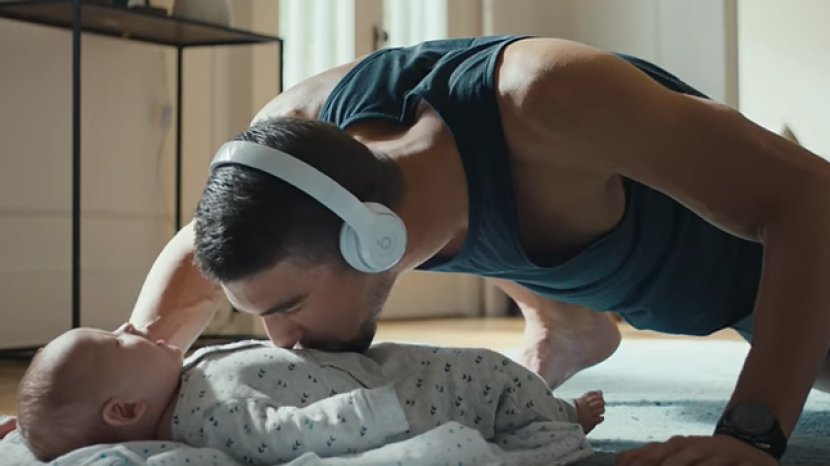 Every now and again, I decide it's time to treat myself. My beloved House of Marley headphones recently fell apart, so I began searching for a new pair to invest in. A few Google searches later, I found myself ogling the Ultra Violet Beats Solo3 Wireless ($299) headphones. I'm a sucker for an elegant presentation, but are Beats more than just a pretty face? I've been using my Beats Solo3s for about two months now; so was it worth the price tag?
There are a few top categories I considered when I was shopping for headphones. I chose the Beats Solo3s, but do they measure up? I'll review how comfortable the Beats Solo3 Wireless headphones are (can I wear them for 3, 6, 8 hours?), how well the battery life live up to its claim, whether the sound measures up to other options in $300 price range, is the style as lovely as the slick photos, and how well the Beats Solo3s move with you (are they prone to falling off or can you bang your head up and down)? I'll break it down beat-by-beat (pun intended) below.
Comfortability: 5/5
The biggest factor for me when selecting headphones, beyond even sound, is how comfortable they will be. The vast majority of headphones begin to make my ears ache after a couple hours. The House of Marley's that fell apart were beloved because I could wear them for a solid six hours before any hint of discomfort began. But the model turned out to have a defective screw, and I wasn't going to invest in another pair that would fall apart again.
The Beats Solo3 headphones have small ear cushions, which concerned me. But the Beats rest on my head with the perfect amount of pressure, something I treasure immensely. Depending on the day, I've gotten anywhere from four to eight hours of consistent comfortable use. It's also worth noting that there's an extra cushion at the top of the head, which shows the solid attention to detail in the Beats Solo3 design.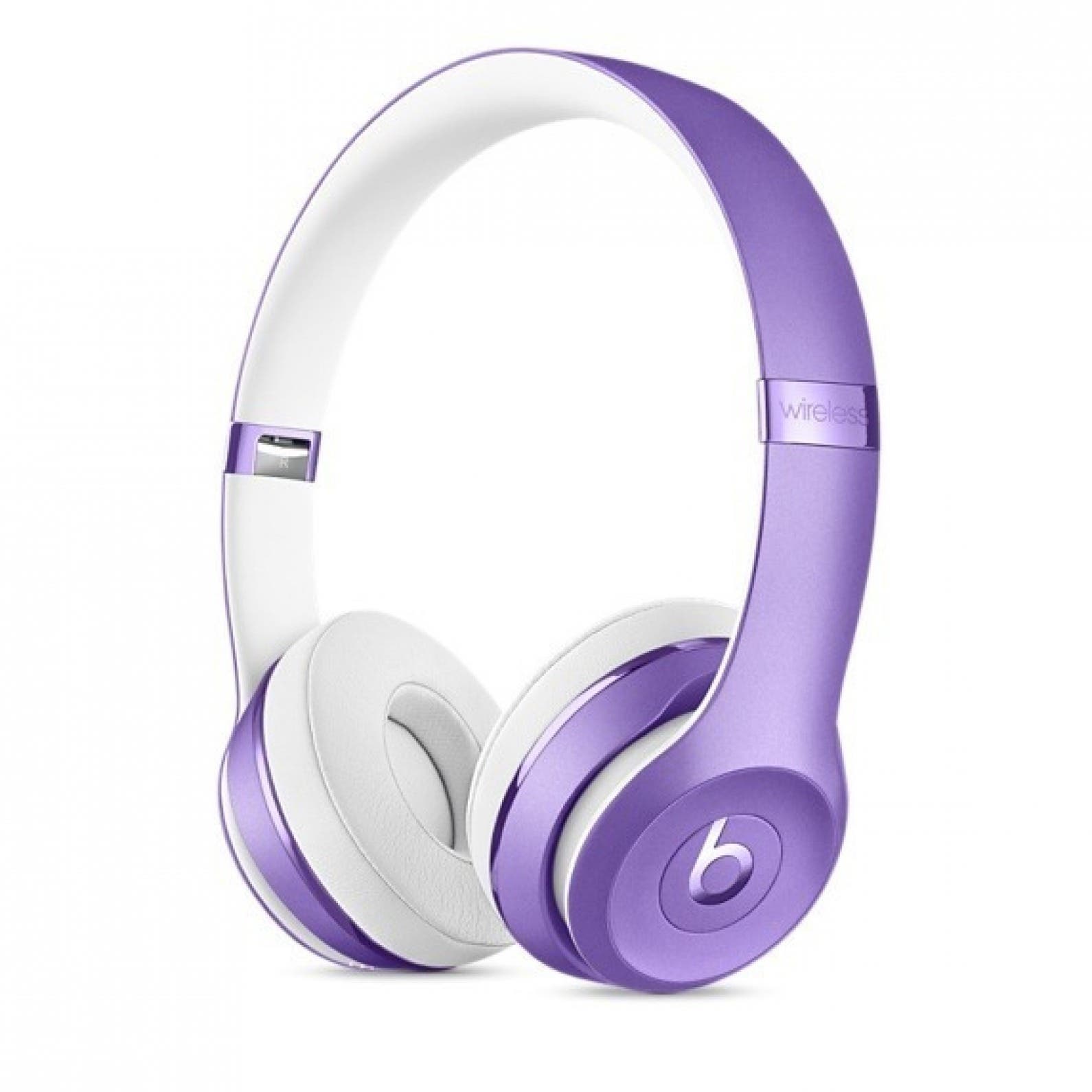 Design & Style: 4/5
I would be lying if I told you I bought my Beats based on tech specs or sound quality alone. No; ultimately, I chose the Beats Solo3 because that Ultra Violet color is a show-stopper. Aesthetics are important to me, simply because I enjoy them. While the Beats Solo3s are very pretty and sleek, they're also mostly made of plastic. In a pair of headphones at this price tag, I expect higher quality materials. But in practice, I don't mind the plastic. The headphones are delightfully lightweight. The exterior is also completely streamlined, meaning there's a single tiny on and off button, as well as a button on the left earphone for answering calls. While volume is controlled by touch. 
Something worth noting is the W1 chip technology in the Beats Solo3. This technology is a dream when pairing your headphones to your iPhone running iOS 10.3 or later. A simple message pops up, letting me know the headphones want to connect. I tap Connect and I'm ready to play my music. Sure, it only saves me a whole ten seconds. But it's not so much about the time saved, for me, as it is the smoothness of the pairing. It's the latest greatest Bluetooth wireless tech, and that's something I can appreciate.
Battery Life: 5/5
Beats by DrDre claims the Beats Solo3 has up to 40 hours of battery life. The most impressive part of these Beats headphones is that they deliver on this promise. I've charged my headphones once since buying them. When I first got the headphones, I used them obsessively for the first three days. Then I checked the battery life and they were still 95 percent charged. They also hold their charge pretty well, so if you're not using them for a week, they'll still have power when you return. Another battery life promise is the 5-minute Fast Fuel, which claims you can get three hours of playback with only five minutes of charge. If your headphones are completely dead, this probably isn't the reality. But if you have low power, plug them in and set a timer for five minutes, because this works. It's super impressive to me, and allows me to use my Beats as they're intended: wirelessly.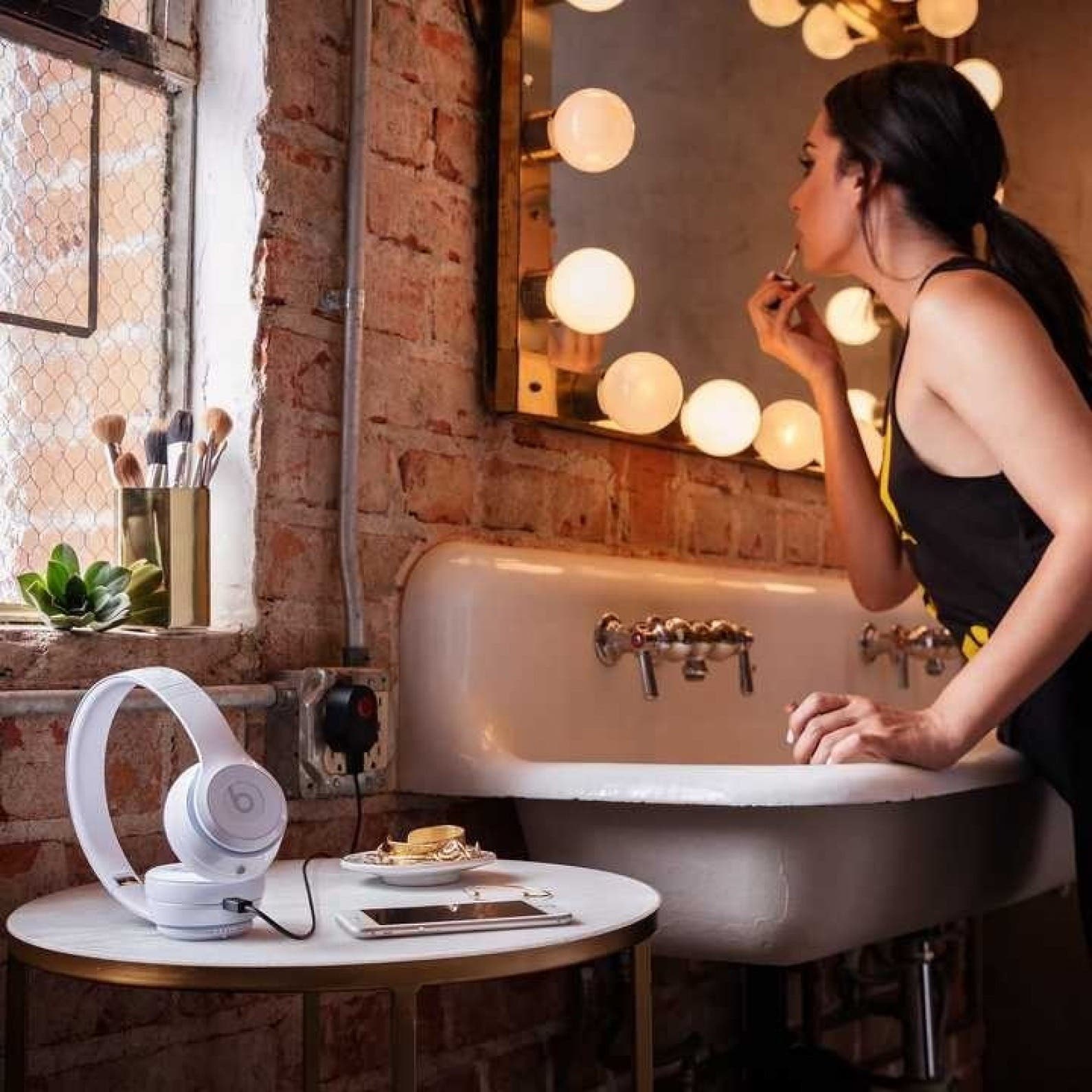 Sound: 4/5
When I was researching headphones and reading various reviews, the Beats (old and new models) were consistently criticized on the level of sound quality at the price. The best way I saw it put was that the Beats have fantastic sound quality for the $200 headphone price range but don't compare to other $300 headphones on the market. I haven't personally tried many other high priced headphones, so I can't speak to the overall comparison but I feel the essence of the critique is accurate. That's not to say the sound quality on the Beats Solo3s isn't superb, it definitely is, but there are other headphones you can buy for $300 with better sound quality. You don't buy Beats for the sound quality alone. You're buying them because you appreciate the overall product, which I certainly do.
Apart from this price disparagement, the Beats Solo3s have a crisp immersive sound that uses each separate earphone to separate the instruments and layers of the song. I'm listening to Drunken Tune by The Cinematic Orchestra on them as I write this. In my right ear a string instrument is the focus; in my left ear, I ear the drums and added effects. The base is played in both ears, giving the song its solid undertone. In general, songs with various instrument and deep beats sound amazing on the Beats. These headphones are really made for songs with heavy base and funky beats.
Mobility: 4/5
There are two measures of mobility I wanted to consider: how well the headphones stay on when bobbing or banging your head and how well they stay on when your head is upright but you're moving a lot or running. When it comes to bobbing your head, the headphones stay nicely put. I can sway and swing, bob with the rhythm, even make my head parallel with the ground while grooving. But head banging is another story; the headphones slide back and forth, and if you got too crazy, they could fly off.
What I've found to be impressive in the mobility department, and why I've given this category a nearly perfect score, is their ability to stay on in our second measure of mobility: running with Beats Solo3. I usually do my cardio on a treadmill, and I highly prefer running with headphones. Running with my Beats Solo3s, I forget they're on my head. I can get lost in my happy place, tune into the music, and go. I didn't expect them to work so perfectly for interval training on a treadmill, but they're a dream. This was the cherry on top of my Beats purchase.
Final Score & Verdict:  22/25
I'm extremely satisfied with my purchase. To be frank, I know I bought these headphones from an emotional place—I wanted that Ultra Violet! The 40-hour battery life is what sealed the deal, giving me a logical justification for this emotional purchase. But I've been consistently surprised and impressed. Having heard a lot of negative comments toward Beats headphones, my expectations were moderately low. But for my needs, the Beats Solo3 Wireless headphones go above and beyond. The price tag is certainly steep, but it's an investment. I wanted to buy a set of headphones that would last me the next three years, at least. Whether or not Beats is right for you depends on your list of priorities. Overall, the Beats Solo3 are a fantastic pair of headphones that deliver on its claims of 40-hour battery life, comfortable wear, high-quality sound, and stunning style.