Learn about the Apple Upgrade Program and find out how to get a new iPhone every year.
By

Ashleigh Page
Updated 09/13/2021
Apple, upgrade my iPhone! Whether you're a tech lover keeping up with the latest models or a regular user whose phone has seen better days, the Apple iPhone Upgrade Program might be just the thing you've been looking for. We'll discuss the details of the Apple lease program, including cost breakdown and what you need to know before enrolling. Here's how to upgrade your iPhone.
Related: How to Update Carrier Settings on Your iPhone & Why You Should
Jump To:
How Does the Apple iPhone Upgrade Program Work?
Can I upgrade my iPhone? Apple's iPhone Upgrade Program is essentially an installment-style payment plan that allows you to get a new iPhone each year. You simply sign up, get a new iPhone, and pay a monthly installment for 12 months. At this point, you have the option to upgrade to a newer iPhone model, and the 12-month cycle starts again. 
What if you wind up really liking the iPhone you have? No problem! You just keep paying the same monthly payments on the iPhone you currently have for another 12 months. Then the iPhone is yours and you exit the upgrade program. If you're interested in learning more about Apple Devices, consider signing up for our free Tip of the Day. 
How Do I Get Started?
Signing up for the Upgrade Program is incredibly easy! All that is required is that you are 18 years old and have a decent credit score. You do not need to already own an iPhone (or a phone at all!) to sign up for the upgrade program. It also doesn't matter which carrier you have, and you can start the program even if you are in the middle of a cell service contract with your carrier. 
You can enroll by visiting Apple's iPhone Upgrade Program page, selecting the phone model you like (you can choose any iPhone), and clicking the option to enroll in the upgrade program. As you finish the checkout process, Apple will ask for your current cell number and the last four digits of your social security number. If you have a current carrier and phone plan, Apple will contact them so you don't have to. You'll also keep the existing number and plan rate you have with your carrier. Apple will ship your new iPhone to you, and you'll start making the monthly payments, no down payment required. 
How Much Does the Apple Upgrade Program Cost?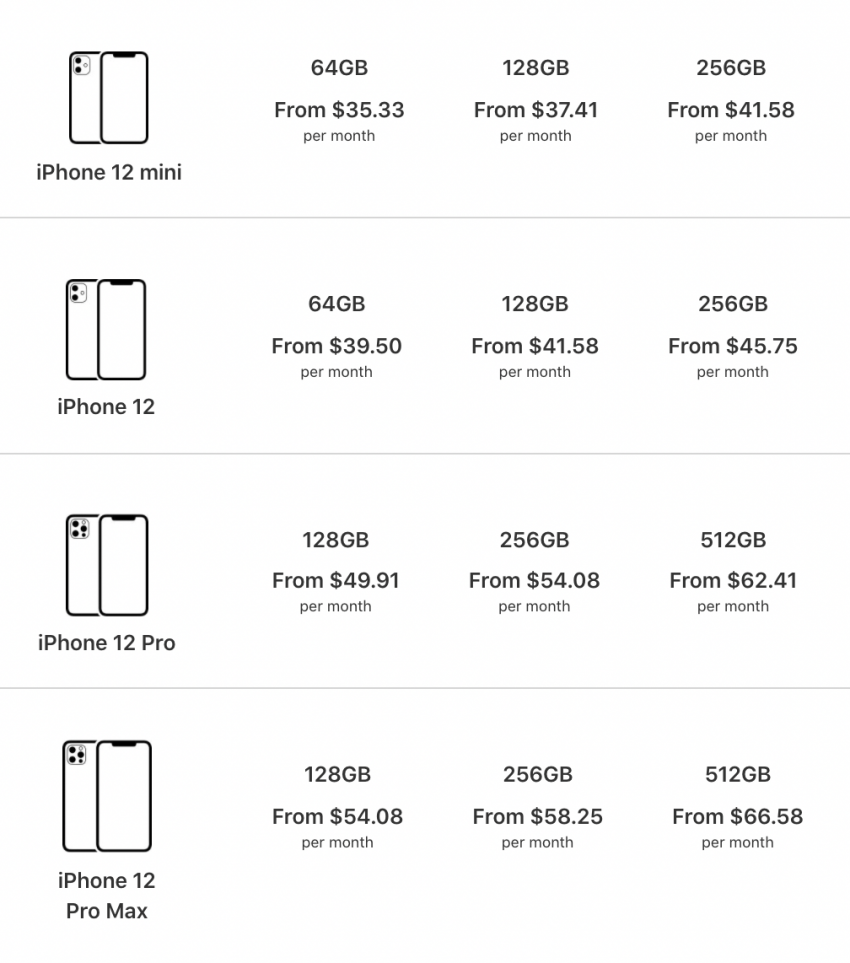 Image courtesy of Apple
How much is it to upgrade your iPhone? The chart above should help.
If you purchased a new iPhone 12 with 128 GB storage capacity and paid it off up front, the total cost would be $849. 
When you sign up for the upgrade Apple payment plan, you pay $41.58 per month for the same model. At the end of 12 months and a year of owning your iPhone 12, you will have paid $498.96, minus any taxes or fees. At this point, you will have paid off nearly 59 percent of the cost of your iPhone 12, and now you have the option to upgrade to a newer model.
For many users, this seems like a pretty good deal! If you upgrade, you'll start new monthly payments on the upgraded iPhone, and a year later you'll have the option to upgrade again. If you wind up really liking your iPhone 12, you can instead continue making the same payments for another 12 months. Then the iPhone 12 is yours, and you will have exited the upgrade program.
However, at this point over the 24-month period, you will have paid almost $998 for your iPhone 12, meaning you'll have paid more in total than the iPhone 12 would've cost you if you'd paid the up-front price.
Is the iPhone Upgrade Program Worth It?
If you're someone who prefers to own the same iPhone for an extended length of time (more than a year), this program may not be for you. As you can see from the math above, if you sign up for the program and wind up keeping the same phone, you'll pay more over the two year period. However, if you sign up for the iPhone program and upgrade at least once before exiting the program, you will have still saved money on the iPhones you purchased. 
What I like about this iPhone payment plan: 
You can get a new iPhone each year
You don't have to deal with your carrier or hash out any contract details
Monthly service payments to your carrier (such as AT&T) will remain the same
AppleCare+ coverage is included in your payments
You will keep your existing cell phone number
Enrolling in the upgrade program is very simple and takes less than two minutes (Once you've selected your shiny new iPhone, that is)
Things to be aware of:
The monthly installments you pay to Apple will not replace your existing cellular plan fees; you'll still have to pay your cell phone bill in full. It's also important ot note that the monthly payments for the iPhone Upgrade Program are higher than those offered by some service providers, but service providers don't offer the chance to upgrade so easily without paying off remaining balances.
All in all, the decision is one you'll want to make based on your situation and circumstances. The program is tempting, and a really cool opportunity for those who love to keep up with the latest and greatest iPhones! And if you decide you're just not interested in enrolling at this time, you can always just replace your phone as needed and sell your used Apple device.