The highly anticipated third-generation iPhone SE is here. Is Apple's budget-model iPhone right for you?
By

Leanne Hays
Updated 06/02/2022

The rumors were true! Apple announced the third-generation iPhone SE at the "Peek Performance" event today, and the new iPhone's features did not disappoint. Though not much has changed on the outside, the SE 3 is jam-packed with high-end improvements. But, is the third-generation iPhone SE the upgrade you've been waiting for, or would it be better to go for the iPhone 13 mini, or even wait for the iPhone 14 mini? Let's find out.  
Related: iPad Air: Now the Clear Choice Over iPad Pro?
New iPhone SE Price & Availability
As always, Apple is offering its trade-in program, where you can turn in your gently used iPhone to lower the cost of your new iPhone. Check with Apple to see if your model of iPhone is accepted, and how much credit you'll receive. If you aren't trading in your old phone, you'll pay full price for your 2022 iPhone SE, though it's still a budget-friendly option.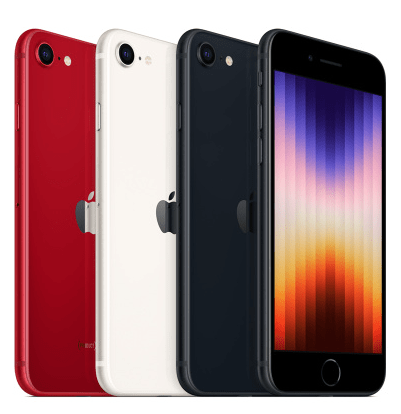 Image Courtesy of Apple
Price
$429 or $17.87/month for 64 GB
$479 or $19.95/month for 128 GB
$579 or $24.12/month for 256 GB
Availability
Pre-order: March 11
Shipping and in stores: March 18
iPhone SE (Third Generation) Features
Comes in black, white, and Product(Red) finishes 
Toughest front and back glass available (same as in iPhone 13 line) 
Home button with Touch ID 
4.7-inch Retina HD Display with True Tone and Wide Color display 
1334-by-750 pixel resolution at 326 ppi 
64, 128, or 256 GB 
A15 Bionic chip with 16-core Neural Engine 
USB charging with Fast Charge capability 
Single back camera with 12-megapixel and f/1.8 aperture Wide camera 
Camera features include Smart HDR 4, Photographic Styles, and Deep Fusion 
4K video recording at 24 fps, 24 fps, 30 fps, or 60 fps 
1080p HD video recording at 25 fps, 30 fps, or 60 fps 
Optical image stabilization for photo and video 
Digital zoom up to 5x 
Up to 15-hour battery life for video playback, up to 10 hours for streamed video playback, up to 50 hours audio playback 
IP67 water and dust resistance for up to one meter for as long as thirty minutes 
2022 iPhone Features: Why Buy the New iPhone SE vs. Another Model?
Now for the new iPhone features. What makes 2022's iPhone worth buying? The iPhone SE has long been a favorite for its manageable size and low price. This year Apple has packed quite a few high-end features into their most affordable iPhone. Let's go over what's stayed the same, what's new, and what that means for you, the prospective iPhone SE 3 owner.
Same iPhone SE Dimensions & Screen Size
If you were to hold a second-generation iPhone SE in one hand and a third-gen in the other, you'd be hard-pressed to tell the difference. The small screen size is the same, just 4.7 inches. The color options are the same, although White is now called Starlight, while Black is now Midnight (very artistic). The dimensions are the same, and the SE 3 weighs in just a few grams lighter than the SE 2. That old, familiar Home button is still there as well, meaning that Touch ID, rather than Face ID, still unlocks the iPhone SE 3.
So, what makes the iPhone SE 3 an improvement over the SE 2, and how does it compare to the iPhone 13 mini, or what might be on offer with the iPhone 14 mini in the fall?
A15 Bionic Chip
When Apple introduced the iPhone 13 line last year, it unveiled the powerful A15 Bionic Chip, built with a 6-core CPU, 4-core GPU, and 16-core Neural Engine capable of running a whopping 15.8 trillion operations per second. The third-generation iPhone SE also includes the A15 Bionic Chip, meaning SE 3 owners will enjoy fast app launch, a smooth augmented reality experience, and gameplay just as responsive as on the iPhone 13, all while saving $270. The inclusion of the A15 chip in the latest SE means that we'll see features like Live Text in the Camera app, on-device translation, and photography improvements, which we'll explore below.
But what about the iPhone 14 mini? Apple is sure to release an even more powerful chip that, in tandem with iOS 16, will enable even more speed and power. More cautious consumers might want to wait until September to see how the iPhone 14 mini stacks up against the iPhone SE 3, but then again, it's always possible to trade in or sell your third-generation iPhone SE if a newer phone captures your fancy. 
New iPhone Camera & Video Features
Image Courtesy of Apple.com
The third-generation iPhone SE is a great choice for the average iPhone photographer and includes lots of new features to explore. The iPhone SE 2 and 3 offer stereo recording, as well as 4K video capability with extended Dynamic Range, which catches incredibly detailed footage, even in highlights and shadows. QuickTake adds convenience to your photo shoots; just hold the shutter button to switch from Photo to Video! 
Though it has only a single back camera, the iPhone SE 3 uses the power of the A15 chip to offer improvements over the SE 2's camera features. The second-gen iPhone SE offered Portrait mode, even for selfies, Depth Control, Portrait Lighting options, and next-generation Smart HDR, which brings out the best in both human subjects and background details. The third-generation iPhone SE adds Deep Fusion (neural image processing), as well as Smart HDR 4 for Photos, which, Apple explains, "uses intelligent segmentation to apply different adjustments for color, contrast, and noise to the subject versus the background." SE 3 photographers will also enjoy Photographic Styles, which allows users to preset or customize preferences, then apply them across a variety of pictures to give a unique signature to a series of photos. 
By comparison, the iPhone 13 mini includes a dual 12 MP camera system that offers the low-light Night mode feature, as well as an improvement over optical image stabilization, called sensor-shift optical image stabilization. The mini also allows for 2x optical zoom out and up to 5x digital zoom, while the SE 3 only offers the digital zoom option. 
That's not all, though. The iPhone 13 mini also beats the SE 3 when it comes to videography, offering both Cinematic mode for recording videos with shallow depth of field (1080p at 30 fps) and HDR video recording with Dolby Vision up to 4K at 60 fps. The mini offers the same zoom improvements for video that it does for still photos, along with Audio zoom, and the amazing Night mode Time-lapse capability. 
If you're an avid iPhone photographer and filmmaker, the photo and video features offered by the iPhone mini 13 may make it worth your while to pay the extra $270. You may even want to wait a few more months to find out what other camera improvements Apple has in store for the iPhone 14 mini!
iPhone SE (Third Generation) Battery Life & Charging
According to Apple, "A15 Bionic works in conjunction with the latest-generation battery chemistry and tight integration with iOS 15 to enable better battery life on iPhone SE." This means that the latest iPhone's battery life approaches that of its pricier neighbor, the iPhone 13 mini. You'll be able to watch up to fifteen hours of video playback or ten hours of streaming video on a single charge on an iPhone SE 3. By comparison, the iPhone 13 mini offers up to seventeen hours of video playback and thirteen hours streaming playback; not a huge difference! 
Another difference comes when it's time to charge. The Fast Charge option using a 20W adapter (or higher) will power up your third-generation iPhone SE's battery up to fifty percent in only a half-hour, the exact same charge time as the iPhone 13 mini. But, what about wireless charging and MagSafe compatibility? The iPhone 13 mini can charge wirelessly and is MagSafe compatible, while the iPhone SE 3 offers wireless charging, but is not MagSafe compatible.
5G
The iPhone 12 line was the first of the iPhone generations to offer 5G connectivity, and now that feature will extend to the iPhone SE. As an Iowa resident with a 5G capable iPhone, I can attest to the fact that it's made absolutely no difference in my life, which means 5G won't be a factor in my decision to buy the new iPhone SE or not. If you live in an urban area and want to enjoy faster connections and better video communication, put 5G in the plus column of your tally sheet!
Are You Buying the New iPhone SE?
The iPhone SE 3 won't hold any great attraction for those who like big screens, Face ID, and the very latest photographic features that Apple has to offer. But Apple's latest iPhone is the perfect pick for those who don't need all the bells and whistles, just a budget-conscious option with a solid set of features in a convenient, pocket-sized package. 
So, what do you think? Is this new iPhone the one for you, or will you go for the iPhone 13 mini, or even wait for the iPhone 14 mini to make its debut before deciding? Next, read about the other cool products Apple announced alongsider the new iPhone SE, such as the Studio Display!