By

Leanne Hays
Sat, 10/06/2018
* This post is part of iPhone Life's Tip of the Day newsletter. Sign Up. *
I absolutely love going on road trips, or travel of any kind, really. One of the most fun aspects of any trip for me is finding places to eat, as well as museums and shops that are off the beaten path, local favorites that become part of my mental "must visit" list for future adventures. One of the best tools I've found for trip research to destinations near and far is the Yelp app. Yelp is a free app that collects professional and business reviews from all over the world including restaurants, movers, home cleaning services, shopping, and even doctors and clinics! Yelp has collected over 135 million reviews so far, and the number keeps growing as more and more smartphone users discover this handy app. If you're the type of person that likes to plan ahead and get the most for your money and time, you'll want to learn more about Yelp, including how to set up your own free account and use it to read and write reviews.
Related: Airbnb App: Convenience, Savings & Comfort on Your Next Trip
What is Yelp & How Does it Work?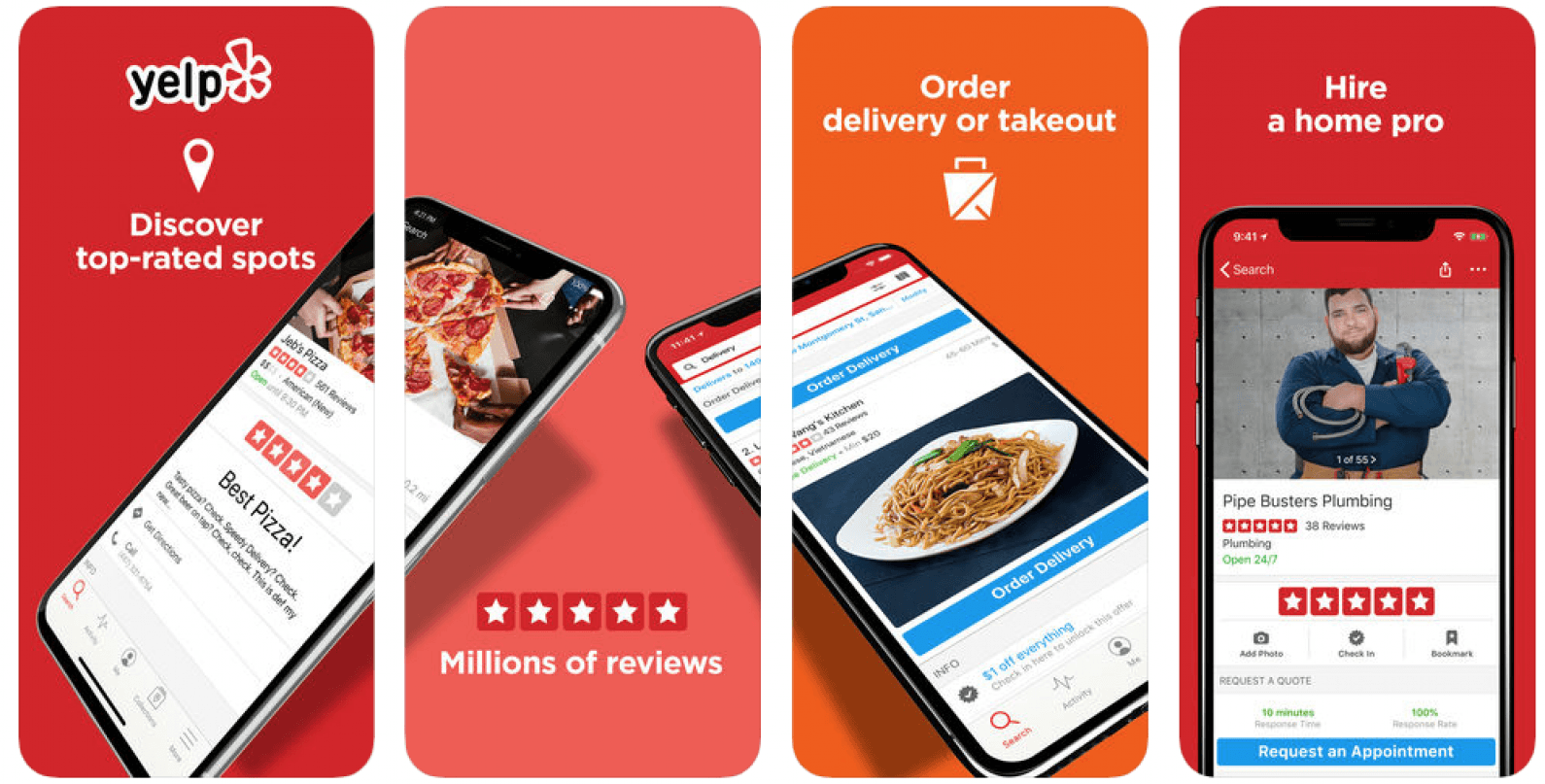 Yelp is based on crowdsourcing, which means that there aren't professional restaurant critics or hotel reviewers researching, visiting, and rating the locations and businesses featured on the app; the reviews are all written by fellow customers who want to get the word out about great, or not so great, service and experiences. 
Yelp is streamlined and easy to use, all you need to do is download the app, then open it and set up an account by tapping on Me at the bottom of your display. Tap Sign Up to create your Yelp account; you can use your Facebook account, Google account, or a non-Google email address. You don't have to have an account to read other people's reviews, but if you want to write and submit reviews, you'll need to take this step.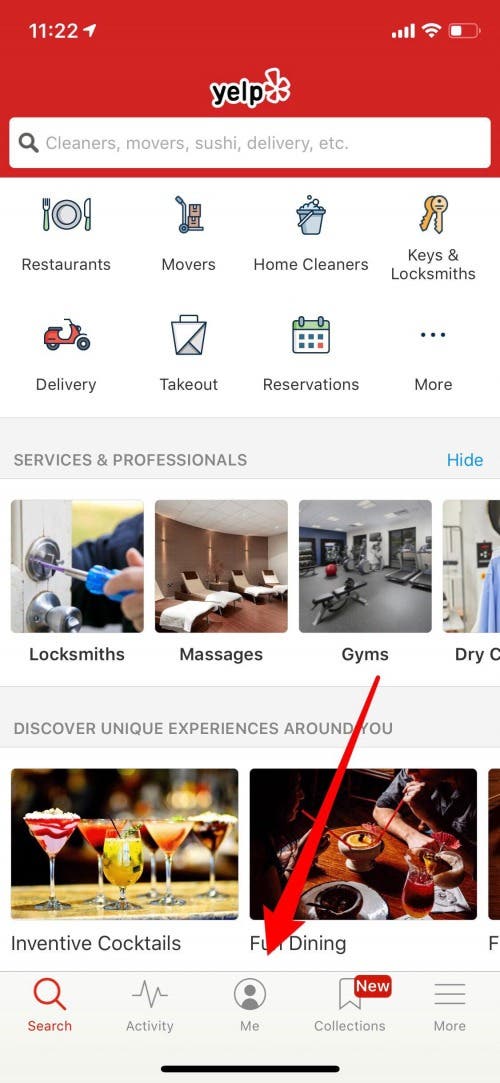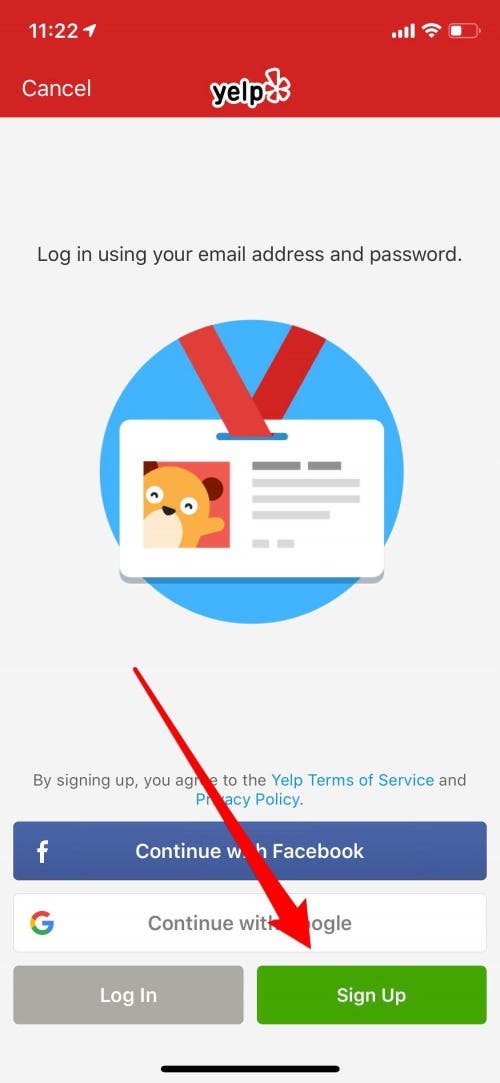 Whether you've created a Yelp account or not, you can Search the app by tapping the magnifying glass icon at the bottom-left corner of your display. You can tap on the category you'd like to search, and if you have Location Services enabled on your iPhone everything that fits that category in your area will pop up. For example, I tapped on the Restaurants category, and every restaurant in Fairfield appeared on my screen. You can zoom out by pulling my thumb and forefinger together in a pinching motion or zoom back in by reversing the pinching gesture. You can read reviews from each restaurant that's marked; the number inside of the red bubble over each one indicates how many Yelp reviews are available. It's also possible to filter the businesses by tapping on the selections under the map, these include Price, Open Now, and more. Just scroll your finger to the left along this row to see all the filter choices.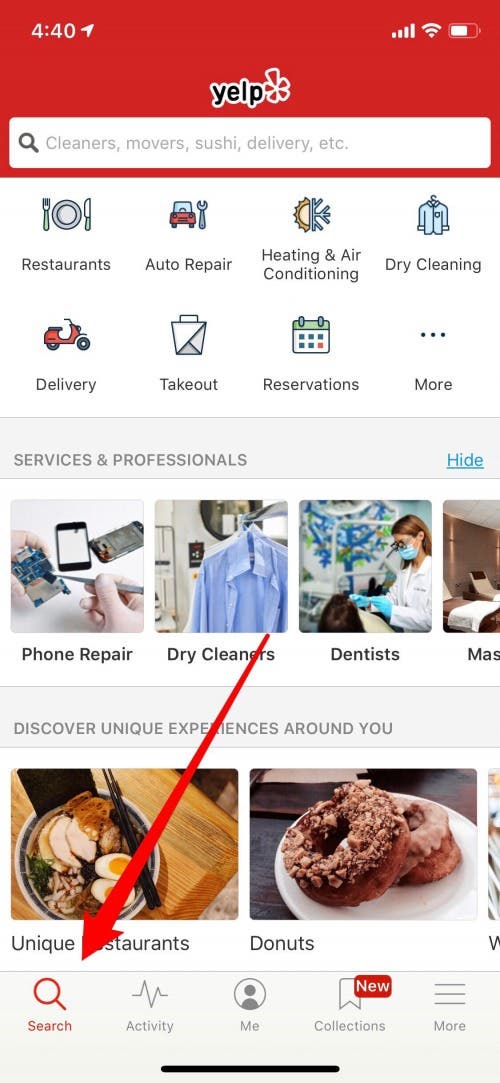 If you'd like to find restaurants in another area, just tap the Search Bar, and an option will appear underneath to enter another location; type in your location, then tap Search at the upper-right corner of your screen. The places tagged in yellow with a star are restaurants that have paid for an ad on Yelp, but the customer reviews are still genuine. 
Why We Love It
I used to be a personal chef, and really enjoy cooking at home; so when I go out to eat, I want to experience something as good or better than I can make for myself. I know this is a minor issue in the grand scope of things, but it really bothers me to spend good money on subpar food. Poor service is, of course, something I'd also like to avoid since going to a restaurant is a break from the labor that goes into planning, cooking, and cleaning up after a meal at home. Yelp helps me filter through potential negative experiences by reading reviews and getting a heads up from other customers who have had mediocre food or service, so I don't have to. Of course, a few negative reviews can be overlooked; maybe the chef was having a bad day, or a new waiter was in training. As well, there may be some friends of business owners, etc., who write extra-stellar reviews to help out a friend, but due to the large volume of ratings collected by the app, it's usually not really possible to sway the overall ranking by much.The great thing about the Yelp app is that as reviews accumulate, you can get a pretty clear picture about what's an aberration and what's the norm for each business. 
Another great aspect of Yelp is that everyone with an account can leave reviews, not just read them. You can tell people which particular dishes you enjoyed most, let them know about weekly specials or a happy hour, and just generally support the businesses that you'd like to survive and thrive. After all, almost 60 percent of restaurants fail within three years of opening; so if you find a gem that you want to visit again and again, it's great to be able to give support in at least a small way. Conversely, if you have a particularly disastrous experience, it's kind of cathartic to be able to leave a low rating and warn others about places that aren't worth their time and money. I try not to do this; but on occasions where the staff is outright rude or the food is downright disgusting, you can bet I'm leaving a one-star review.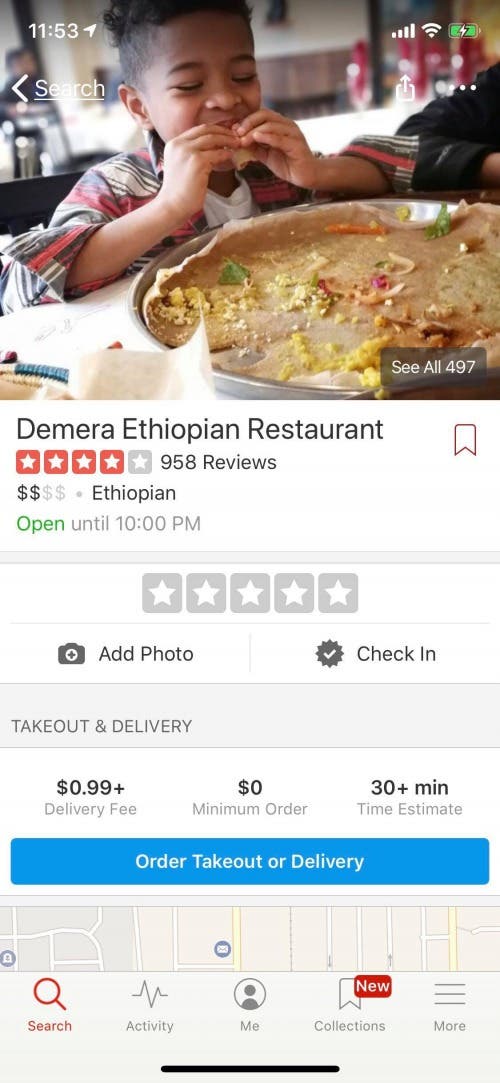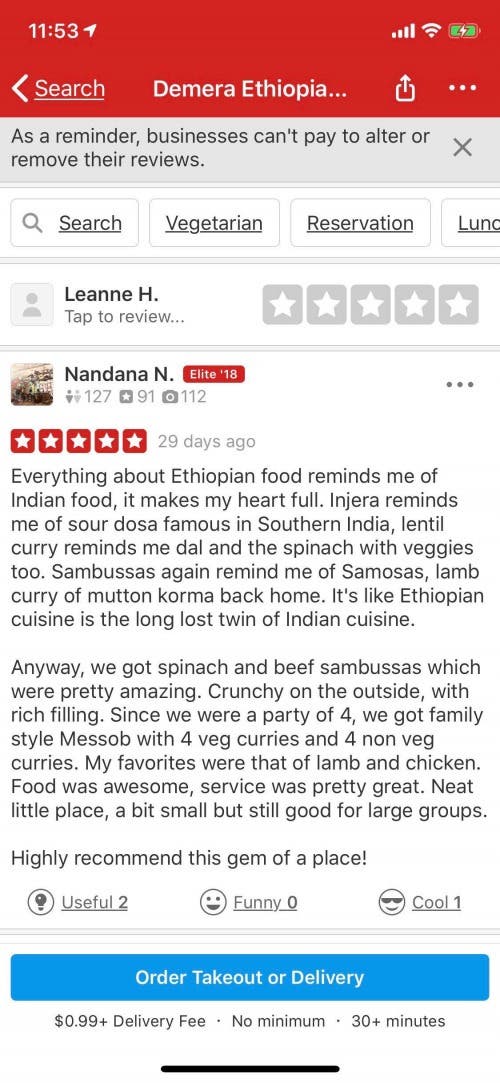 I've used restaurants as an example here, but another reason I appreciate Yelp is the scope of businesses and services it covers. I've used Yelp to find a dentist, a mechanic, and even a mover, and it's great to be able to look through what other people have to say. For dentists, I could find out who was the best with small children; for mechanics, I found a guy who was top rated for honesty and fair prices; and for movers, I avoided a crew that had badly damaged a piece of antique furniture belonging to one very ticked off client. I'd highly recommend downloading and giving Yelp a spin. Make sure to tell me about the best restaurants you've found using the app!