By

Hallei Halter
Mon, 05/06/2019
Feel like you need to leave the house or want to squeeze in a small outing on your business trip? If you're wondering how to meet people or find local events, the Meetup app is your answer. With its array of groups and events created by people local to the area, Meetup could show you something you've never seen before, even in your own hometown.
Related: How to Sync Apple Calendar with Google Calendar
What It Is
Meetup connects you with groups of people in the area for in-person events. While the app has more activity in better populated locations, in a smaller town you could still discover a new figure drawing class or trivia night to check out. Join groups for a bookclub, a game of dodgeball, or find people to network with casually over brunch. If you're visiting a new city or are just wanting to explore, Meetup can show you what an area has to offer.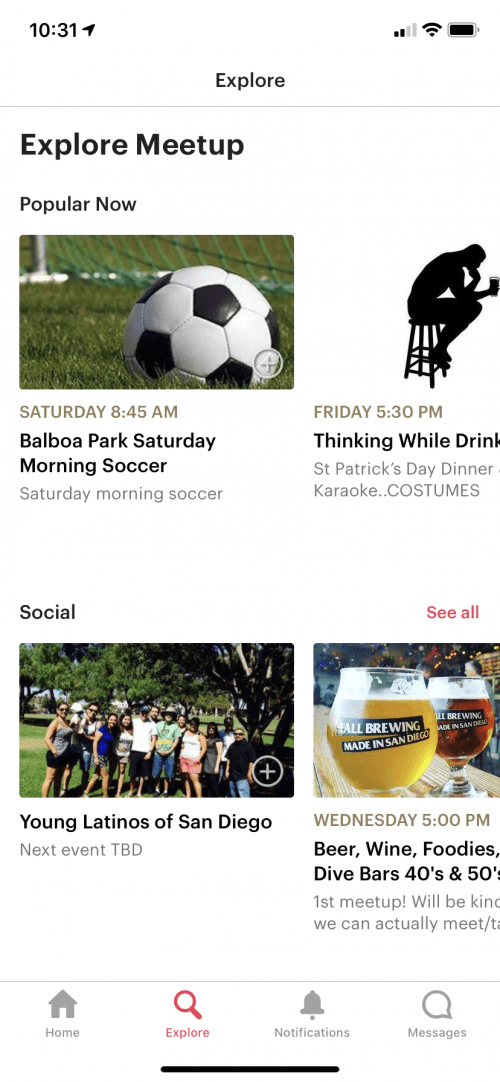 Why We Love It 
When I'm visiting a city, I'll Google events or things to do and usually don't feel satisfied with the offerings. Meetup shows me casual gatherings that have a wider range of interest that I can attend and meet locals or others new to the area. Each group is created by hosts, called organizers, who have to approve me based on my profile to allow me to participate or interact. My profile doesn't have to be too detailed, usually just my age and a profile picture is enough to join a group for an event. I can also sync events from Meetup to the Apple Calendar app to keep track of when & where I need to be.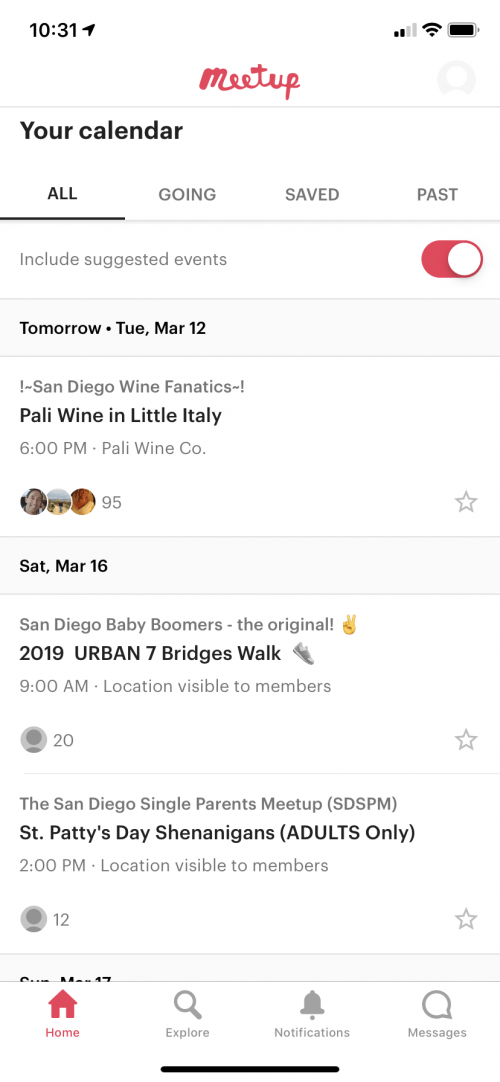 Categories
Meetup makes it easy to browse events and groups with 24 categories, each with multiple sub-categories. For example, browse the Food & Drink category to find cooking classes, vegetarian groups, and dining enthusiasts. You can find groups to join for for walks, games, and more. Get to know a group (a little, anyway) by reading the group description and discussions posted by its members. Depending on the area, some categories may be sparse or even empty.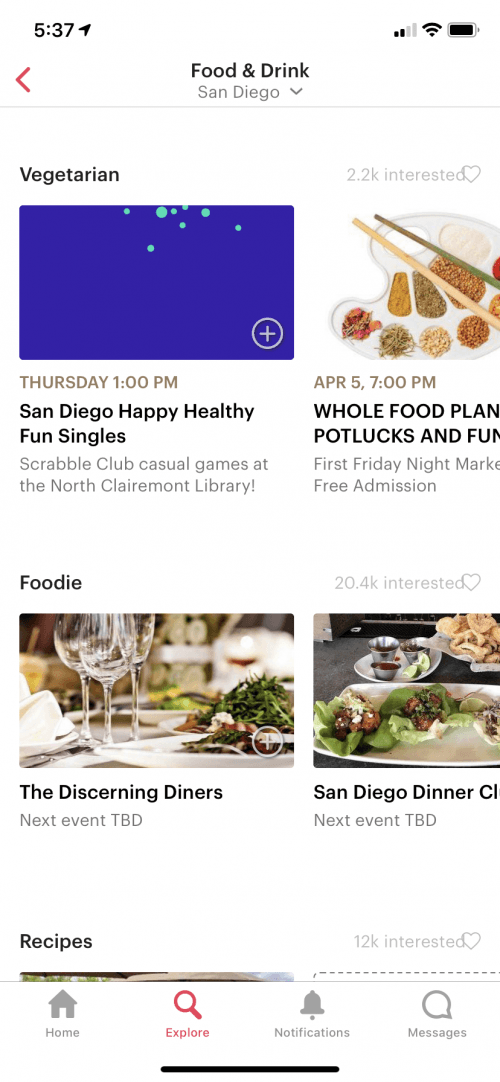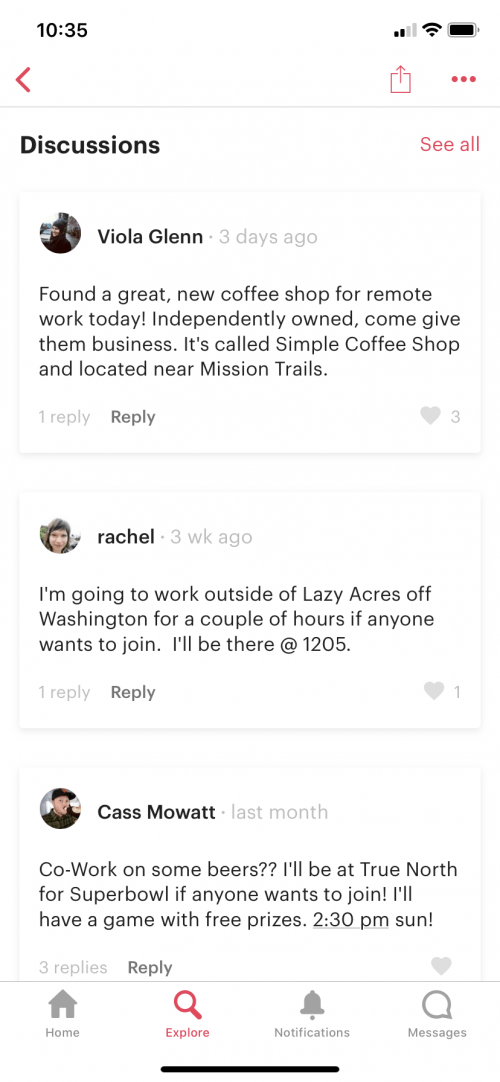 Social & Professional
Meetup is great for casual socializing, you can find things to do and people to meet day or night. But it's also an opportunity to network or get some work done. If you're on a business trip, you can join a coworking group at a coffee shop and meet other remote workers who'll help suggest what you should get with your latte. Or drop in for a networking event at a bar for a relaxed atmosphere and fewer faked smiles. Meetup can help break the ice of a social scene in your neighborhood or get in touch with local professionals.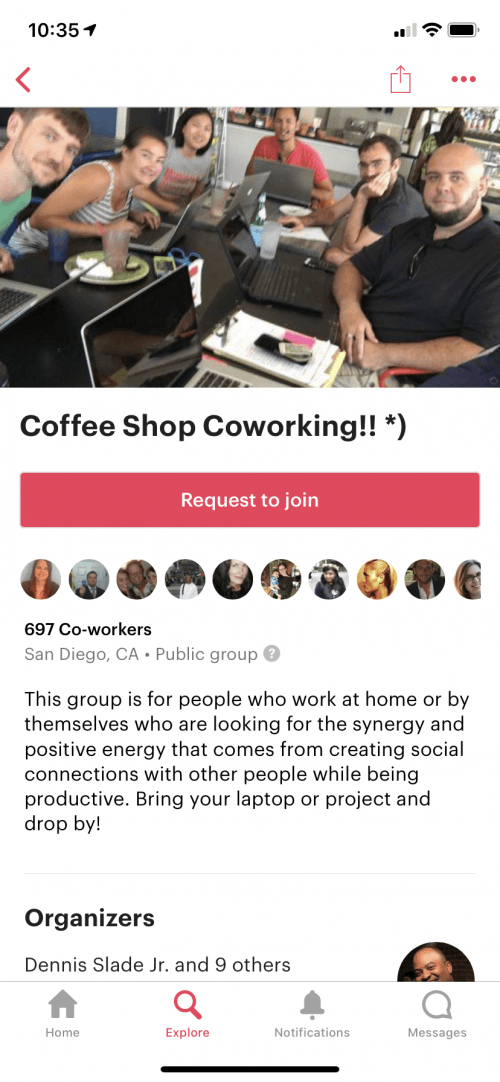 Diversity
If you're wanting to find friends with specific similarities, just use the search bar. There are tons of groups who use age, profession, ethnicity or religion in their group name or event title. For example, typing '40s' brings up suggested search terms. If I search with just the term '40s', I'm presented with groups and events with that term in either their title or the group description. If you feel like you're not finding the kind of groups you want to participate in, you can also create a group as an organizer! For up to 50 members with up to 4 organizers, the fee is $9.99/month. For a group with unlimited members and organizers, it's $14.99/month. Some groups charge for events or a yearly fee to cover these costs.
Meetup is a social app, as in it helps you socialize away from a screen! Browse groups and events to find something to join, and make some new connections.