By

Leanne Hays
Sat, 10/20/2018
* This post is part of iPhone Life's Tip of the Day newsletter. Sign Up. *
For me, the only thing better than having a good time with family and friends is knowing that I'm getting the most for the money I spend while we're out and about. That's why I've enjoyed using the Groupon app so far, and why the shopping and coupon app has earned a permanent place on my iPhone. Whether I'm looking for discounts at restaurants, money-saving deals on a hotel room or other travel expenses, or even experiences like couples massage or indoor playground tickets for the kids, the Groupon app always seems to have a coupon or rebate to help keep costs down. Best of all, the Groupon mobile app is free, and there are constantly new businesses and merchants offering some of the best coupons and discounts I've found anywhere online or in print. Let's get started learning about the Groupon app for iPhone and iPad, so you can start saving money, too! 
Related: 6 Best Money-Saving & Coupon Apps for iPhone in 2018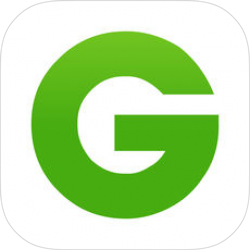 What is Groupon & How Does It Work?
Groupon is coming up on its ten-year anniversary; the company was founded in Chicago as part of the booming e-commerce sector and was meant to bring together businesses and customers in a mutually beneficial way. The name Groupon helps explain the business model and mission of the company; group + coupon = Groupon. Merchants and service providers offer a discount or rebate to a set number of people, who discover and claim the discount through the Groupon app. This process provides publicity and revenue to participating companies, while offering customers experiences and services they may not have tried without the incentive of a discount. 
To begin using Groupon, just download the app from the App Store. Your Groupon account is free to create, and you'll need to take this step to be able to save and purchase deals through the app. Once you've set up your profile, you can begin browsing the app. Another important note; to find deals in your area you'll need to make sure Location Services are enabled for the Groupon app.
Groupon deals are split into sections: Goods, Things To Do, Beauty & Spas, Restaurants, Travel, a Sale section, and Health & Fitness. Just scroll to the left until you find the category you're looking for and tap it to reveal the deals in that category. If you're looking for a specific deal rather than wanting to browse, you can type your query into Groupon's Search field and quickly discover whether or not the coupon you want is available. I've personally only purchased deals from Restaurants, Things To Do, and Travel, so I can't comment on the quality of merchandise, the speed of delivery, or ease of returns from the Goods section. I may branch out into other areas of the Groupon app in the future, but for now, this review is limited to experiences and services. 
If you have Location Services turned on for the Groupon app, you'll automatically be offered deals in your area. If you live in a more urban area, you'll have much more to choose from, but there are lots of offers to discover even in rural areas, like Iowa. Since you've already seen the default setting above, which is a search in my local area, let's walk through how I use the Groupon app to find deals in places I plan to travel to.
To begin I'll tap Near me to the right of the Search field and type in the place I'll be traveling to, in this case, Omaha, Nebraska. Note that there's also an option to tap Country as well as City; this is because Groupon features deals from 15 countries including the United States, Canada, Germany, France, Italy, India, Mexico, Russia, and more. Once I've entered my location, I can enter a specific search into the Search field, or tap on one of the suggestions under Search to explore what's available.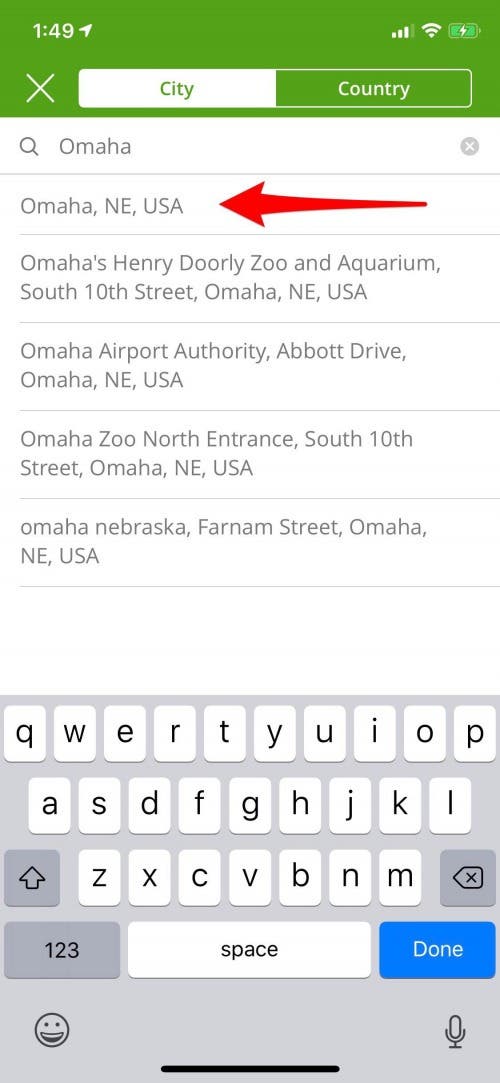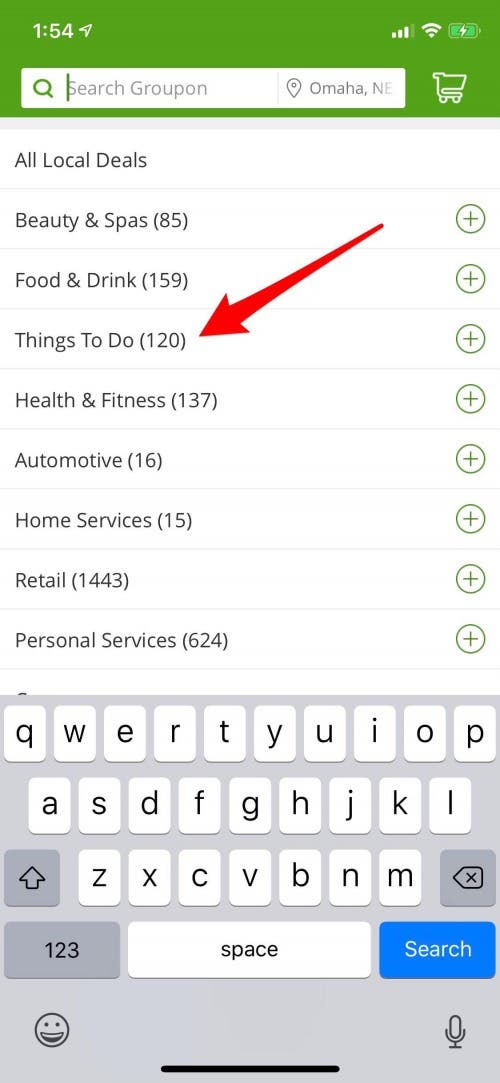 Once you've tapped a category, you'll be taken to that page, and you can start checking out all the offers available. There are filters to narrow down your search, just scroll to the left under Explore by Category and tap on a selection to choose a specific type of activity. For this example, I tapped Kids Activities, which I can then view by scrolling down the page, or further narrow by tapping a filter under the Search field.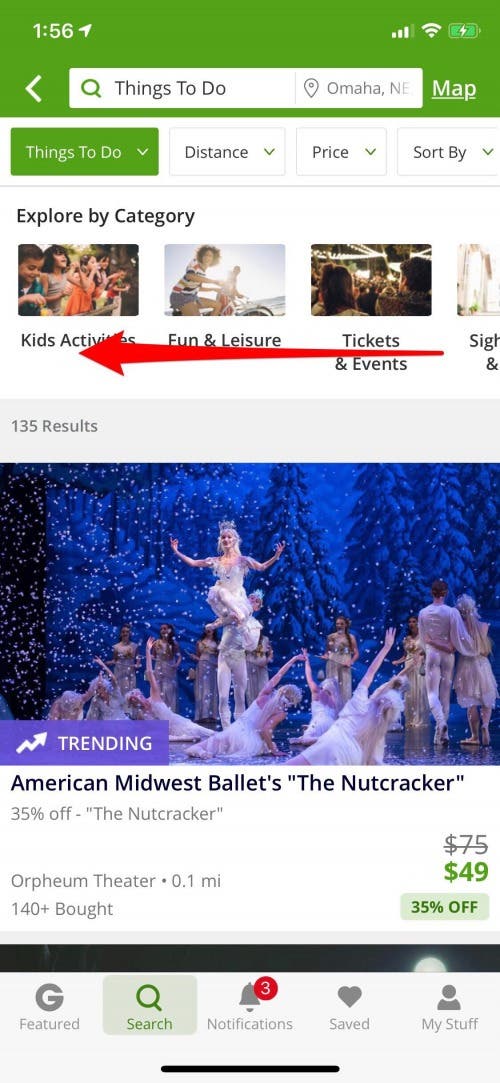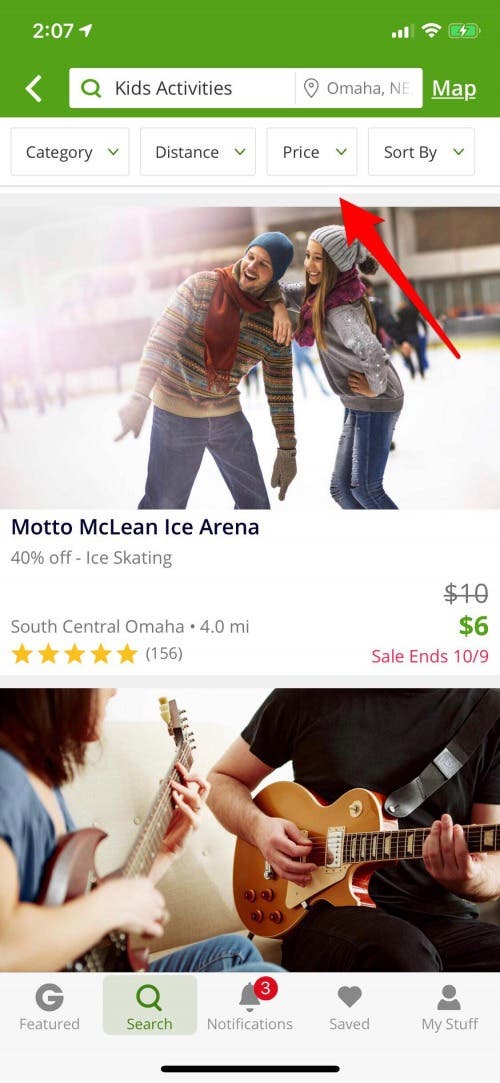 Here I've chosen to filter by price and tapped the $0–$20 range. Now I can scroll through all the deals near Omaha, Nebraska, in the Kids Activities category, costing $20 and under. Right away I spot two sure winners: 29 percent off fun park tickets and 50 percent off horseback riding lessons.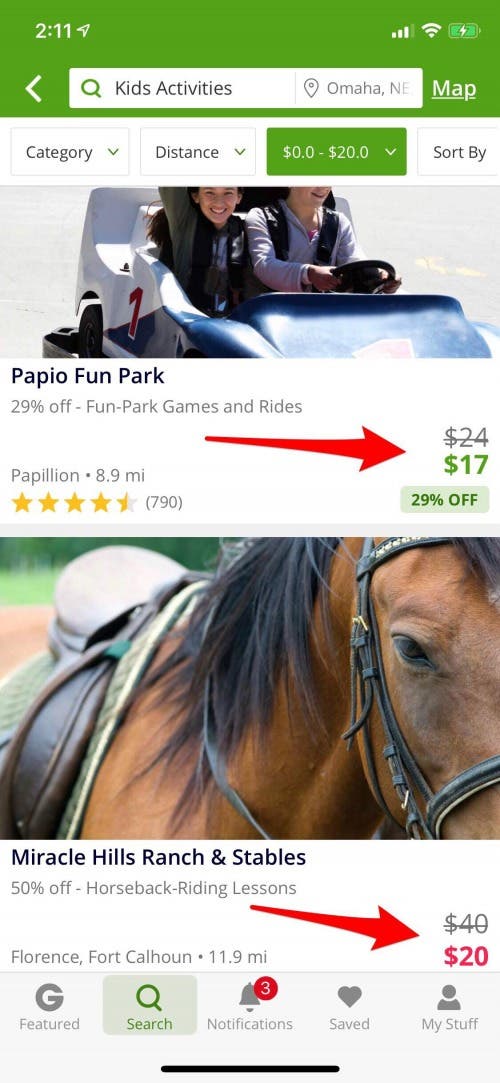 Once you've found a deal that looks good to you, it's time to use the Groupon app to secure it. Before you spend your money, though, it's always a good idea to use the Yelp app to check reviews. I've found, particularly in the restaurant category, that businesses may be poorly reviewed and trying to boost revenue by getting a lot of people in through the door with a discount. While there is a reviews section within the app, I like to get a second opinion to make sure I'm purchasing a Groupon deal everyone will actually enjoy! Tap on your selection and keep scrolling to the bottom of the screen to learn more about the Groupon coupon including what your purchase includes, Groupon reviews, restrictions, and how long your discount is applicable for.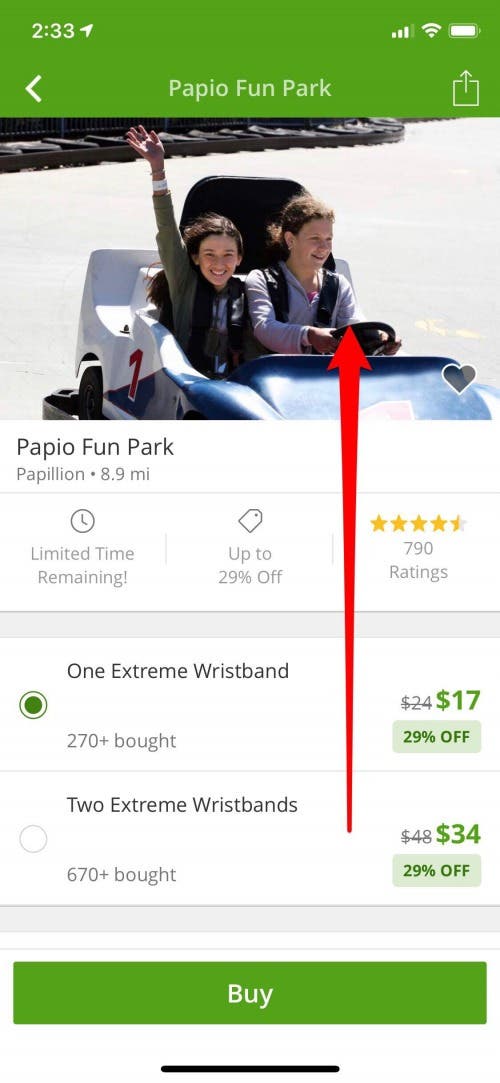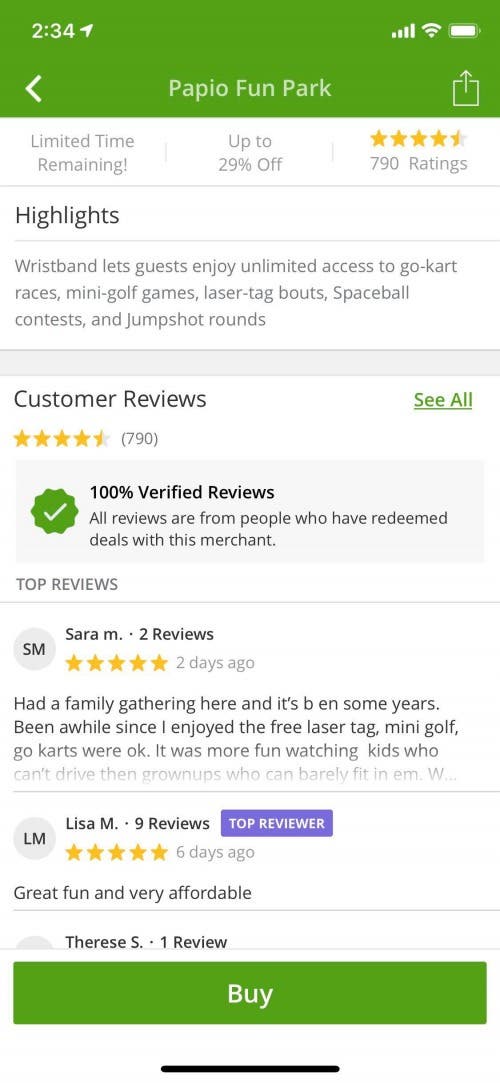 Once you're ready to purchase a deal, tap Buy at the bottom of this screen, and you'll be walked through the steps to secure your discount.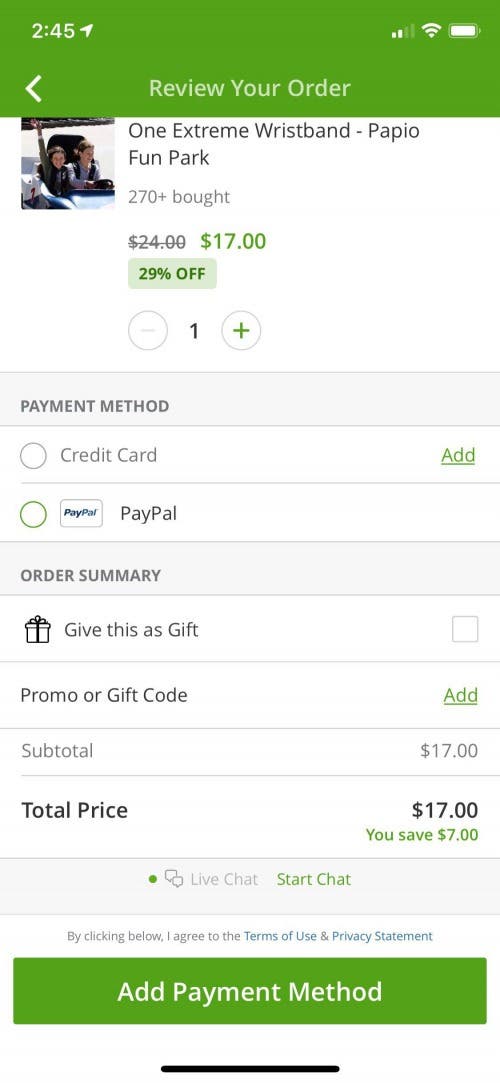 To find your Groupon deal when you're ready to redeem it, tap My Stuff at the bottom of your display, then tap a subsection under My Groupons.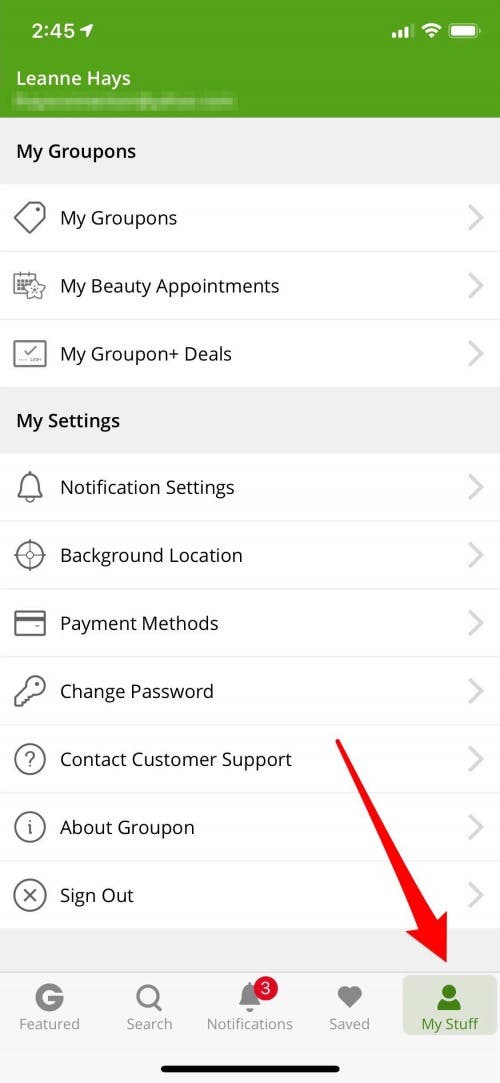 Why We Love It
Saving Money
Of course, I've already mentioned the number one reason I love Groupon, saving money with deals up to 70% off! Discounts and coupons from Groupon stretch my entertainment and travel budget quite a long ways, making it possible to take my kids on more adventures for longer periods of time. So far I've gotten discounts on hotels, restaurants, and tickets to attractions while we were on the East Coast this summer. 
Discovery & Travel App
Another reason to love Groupon is the inspiration and great ideas I discover there; I often like to explore through the various categories because it's a great way to branch out and try things I might not have researched on my own. The Featured section is particularly useful for this because it offers a wide range of categories, and the offers are continually being updated. I really appreciate using Groupon as a travel-planning tool as well; it has helped me decide on destinations I hadn't considered before I knew more about the restaurants and activities available for each place.  
Share Groupon Deals With Friends
I really enjoy Groupon's share feature, which can send links through text message, Facebook Messenger, email, Slack, post to Facebook, and more. I often run across deals that I wouldn't necessarily purchase but I know a friend would love, and now I can share the Groupon link with just a few taps. The share tool is also handy if I'm planning a trip or event with friends; we can all be on the same page about restaurant and hotel options, and explore deals together.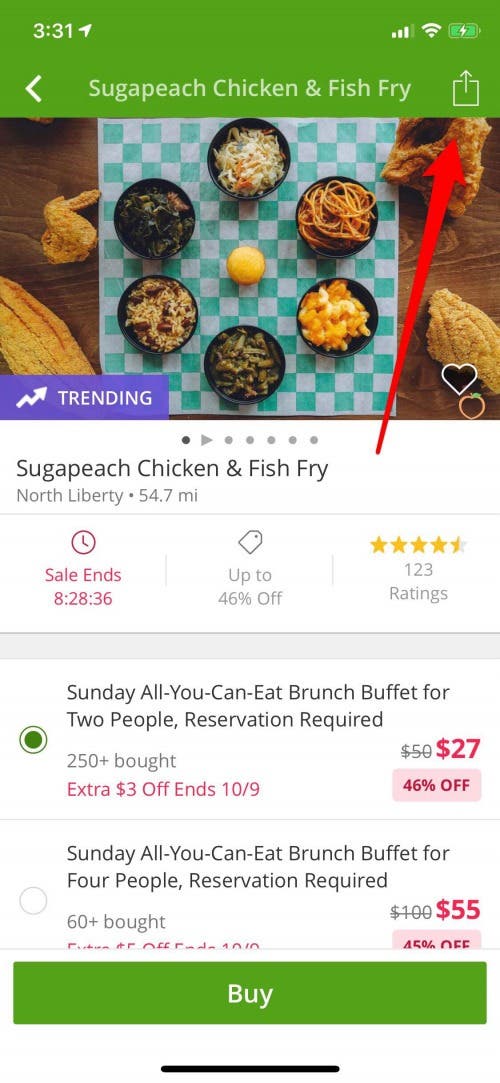 Safe & Secure
Finally, I love being able to pay for my Groupon purchases with PayPal. PayPal keeps my personal information is secure, and also offers fraud protection and dispute resolution; total win all the way around.