Learn how to organize the photos on your iPhone, create captions for pictures, make a Memories picture album, and take amazing iPhone photos.
By

Amy Spitzfaden-Both
Updated 04/29/2021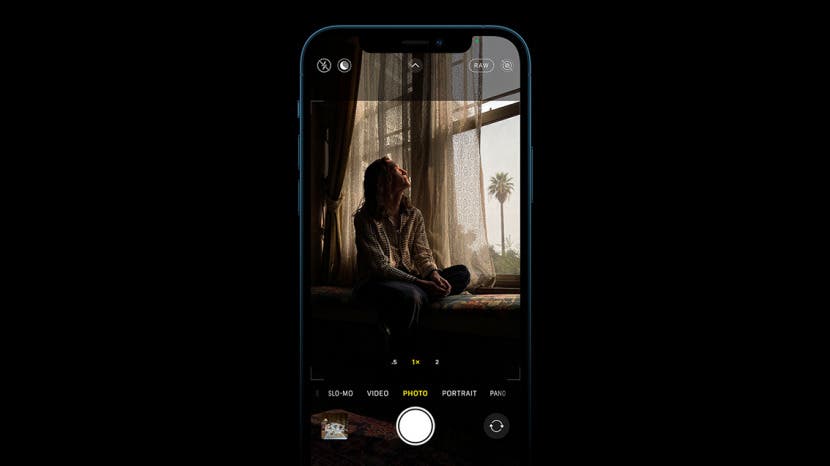 The Apple Photos app has many powerful features! In this article, we'll cover some fun tricks for taking amazing iPhone photos. We'll also cover the best way to organize your photos by showing you how to add captions to photos and how to sort photos on your iPhone.
Related: The iPhone Camera App: The Ultimate Guide to Taking Photos & Videos
Jump To: 

Create a Memories Photo Album or Slideshow
Previously, you could only create a photo compilation video called a Memory Movie from the For You tab in the Photos app, but with iOS 14 you can now create a Memory or a Slideshow out of any album on your iPhone, which means you can curate your own for any event, memory, or people you want. To learn more handy iPhone photography tricks, consider signing up for our free Tip of the Day. 
Open an album and tap the ellipses at the top.
Select Play Memory Movie if you would like a Memory, or Slideshow if you would just like to see a slideshow of the album.

To save the Memory or Slideshow, tap the Share icon and then tap Save Video. Don't forget that you can choose the music!

Add Captions to Photos for Easy Searching
Whether you want to remember the name of a person in a group shot or search for specific keywords, the new caption feature in iOS 14 is sure to up your organization game. To add a caption: 
Find the photo or video you want, swipe up, and tap underneath the photo where it says Add a Caption.
Type in your caption and tap Done. You're all set!
To view the caption, just swipe up on that photo or video again. You can add names of people or places your iPhone might not recognize and make voice or text search that much easier.

Use the Mirror Front Camera to Save Your Selfie as You See It
I get frustrated every time I think I look good when shooting a selfie, but when I look at the mirrored version in my saved photos, the composition looks completely wrong. Sure, you can go in and flip each individual selfie, but that can be time consuming when you want to make snap decisions to keep or delete one. If you want to automatically save selfies as you see them in your camera viewfinder (as if you are looking in a mirror), here's how:
Open the Settings app.
Tap Camera.

Under Composition, tap the Mirror Front Camera button to turn it on.

Filter Your Photos to Save Yourself Some Scrolling
While you've long been able to sort photos by going to your Favorites album or choosing a certain media type, iOS 14 now allows you to choose not one but several filters within any of your photo albums. To do so: 
Tap the ellipses at the top right of an open album.
Tap Filter, then choose from Favorites, Edited, Photos, and Videos.

Instead of scrolling through your Favorites folder for videos you edited, you can select all three of these qualifications from any album and they will show you everything that matches those requirements.
When you are done, you can either navigate away or tap Change Filter and select All Items.

Use iPhone Burst Mode with Your Volume Controls
The volume up or down buttons function as shutter buttons in any mode when you have your Camera app open. With iOS 14, you can now press the volume up button to take Burst photos (many photos in rapid succession, which is great for action shots, group shots, or other situations where one micro second might be better than the next). To enable this: 
Open the Settings app.
Tap Camera.

Tap the toggle button for Use Volume for Burst.
This will enable your volume up button to take Burst shots. The volume down button will still snap a picture.