By

Jim Karpen
Updated 04/10/2018
If you're a tennis enthusiast, there are tennis apps to meet your every need. Here are 10 of the best tennis apps, ranging from apps that let you use your Apple Watch as a smart tennis sensor to tennis live-streaming apps and from tennis stat tracking apps to tennis coaching apps—and even tennis apps for measuring serve speed and string tension.
Related: 15 Best Golf Apps for Apple Watch & iPhone
News & Tennis Live Streaming
1. ATP/WTA Live (Free)

Discover your iPhone's hidden features
Get a daily tip (with screenshots and clear instructions) so you can master your iPhone in just one minute a day.
This may be the best tennis app for tracking the latest results from the world of professional tennis. It lists all the tournaments around the world, and gives draw, schedule, stats, bios, live scoring, and rankings.
2. FlashScore (Free)
This app offers live scores, stats, competition tables, and draws for about 30 sports, including tennis. Features include notifications, syncing across your devices, and live text commentaries.
3. TennisTV (free app, $14.99/month, $119.99/year subscription)
Tennis TV lets you stream live matches to your iPhone or iPad. It offers up to 64 ATP and WTA tournaments a year, along with full match replays and match highlights and features.
Coaching & Tennis Stat Tracking
If you'd like to track all your stats in a match in the same detail that sports analysts do on TV, My Tennis Stats can help you with that. This tennis app let you easily track a wide range of statistics, such as first serve percentage, points won on first serve, misses returns, break points—over 100 different stats for each player. It offers full statistical reports for serves, volleys, forehands, backhands, and many other strokes. You can track your stats over time via the website. My Tennis Stats Lite is a free evaluation version that limits you to 45 points and storing two matches. There is also an iPad version for $10.99.
5. Virtual Tennis Coach (Free)
This tennis app offers free video lessons on the service and the backhand smash. Beyond that, instructional videos entail in-app purchases. Videos for the various strokes are $2.99 each, Tennis in 10 Minutes is $3.99, The Development Stage is $9.99, and The Grand Slam (the whole collection) runs $13.99. The app, which has been featured in the App Store, has videos of Peter Smith, twice voted as Australian Tennis Coach of the Year.
6. Coach's Eye ($4.99)
Coach's Eye lets you record video so that you can study your form in many different sports, not just tennis. Features include slow motion; comparing videos side by side; zooming and panning; drawing on videos with lines, arrows, circles, and squares; and creating videos with audio commentary, annotation, and slow motion. In-app purchases include premium tools such as an angle tool and a spotlight tool.
7. ServeSpeed ($2.99)
This enables you to calculate the initial speed of your tennis serve. You can record your serve at 240 frames per second in HD quality. The app then calculates the speed, including tracking the time, distance, average speed, speed at bounce, and direction. You can save the results in order to track your progress, as well as saving the videos, which you can analyze in slow motion. The app has been tested at the Australian Open, and the speeds reported were nearly identical to those from the radar gun. 
8. RacquetTune ($2.99)
An app that allows you to determine the tension of your strings by tapping them, with the app then using the sound to calculate the tension. The app also includes a swing weight calculator, which helps you to customize your racquet to fit your strokes, and a stiffness calculator, which lets you simulate different racquet configurations.
Smart Tennis Sensors
If you're really serious about improving your game, you can purchase a smart tennis sensor to attach to your racquet or use your Apple Watch as a smart tennis sensor. These sensors track your performance and feed the data to your iPhone or iPad.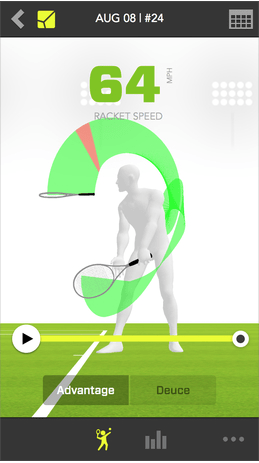 9. Zepp Tennis, (Free app, Zepp $99.99 sensor that attaches to your racquet) 
The Zepp setup comes with a multisport sensor and two different types of mounts for attaching it to the base of your racquet. The sensor can be paired with your Apple Watch during the game and then synced with your iPhone after. The app lets you see your swing in 3D from any angle. You can track shot type, such as the number of forehands, backhands, serves, and overheads you hit, including the power you generate with each stroke. The app also lets you see how many topspin, slice, and flat shots you hit by shot type. The Analyzer feature lets you review real-time analysis of your matches.
10. Tennis Plus ($6.99)
This swing analyzer works directly with your Apple Watch to track everything about your game or practice session from swing type and speed to how many calories you burn while playing. You can watch your swings on your iPhone after the game and check the stats related to your swing as well.
Top image: SUPAKORN.P / Shutterstock.com