By

Mike Riley
Tue, 01/14/2020
Gaming on the iPhone and iPad has certainly evolved over the last few years. What was expected straightforward pricing in the early days has become a multi-faceted marketplace of everything from freemium, in-app purchases, and an exclusive premium subscription via Apple Arcade to premium pricing matching that of traditional PC gaming costs. Dire Wolf Digital's latest digital conversion of a well-known board game (at least among board gaming enthusiasts) has opted for the higher-end premium pricing model. Reiner Knizia's Yellow & Yangtze ($9.99) is charging a penny short of ten dollars for the game on either the Android or iOS platform (with the PC version asking for a $14.99 payment for the privilege to play on that platform). Does the price justify the amount of entertainment packed into this board game conversion? Read on to find out.
Related: Buyer's Guide 2019: Best Tech Gifts for Your Favorite Geek or Nerd
Set in the period of Chinese history known as the Warring States, Yellow & Yangtze is a sequel of sorts to Dr. Knizia's popular board game Tigris & Euphrates. Both are an area control-style tile placement board game that rewards players with allocating the game's five resource categories (Governor, Soldier, Farmer, Trader, Artisan) such that all acquire enough resource points for each to garner maximum points. The score you attain at the end of the game is the number of points in your weakest resource category. Therefore, in order to succeed, you have to balance these categories while simultaneously deal with challenges brought on by other players (network multiplayer, local play, and AI bot play are all supported). These challenges are manifested in the form of war with other players, monument creation, treasure bridging, and internal revolts to name a few. The physical board game has been favorably received by critics and players alike, achieving a respectable aggregate score of 8 out of 10 on the popular Board Game Geek website.
So how well did Dire Wolf do with the digital adaptation? In a word, magnificent! In addition to capturing the game's exceptional ruleset and providing easy guidance to keep players within the boundaries of those rules, the game lifts much of the fiddly token and point salad management required in the physical edition. And the one aspect that Dire Wolf continues to nail with each of their digital conversions is the audiovisuals. Beautiful animations accompany thematic music and sound effects that greatly enhance the gaming experience. The Android, iOS, and PC versions all play and present themselves identically regardless of platform. As such, check out an excellent tutorial and quick playthrough of the game by YouTuber Dad's Gaming Addiction. The PC version he demos is identical to the iOS and Android versions, though I find that the tablet is a much better digital board game playing surface thanks to its portability and inherently obvious touch screen capabilities.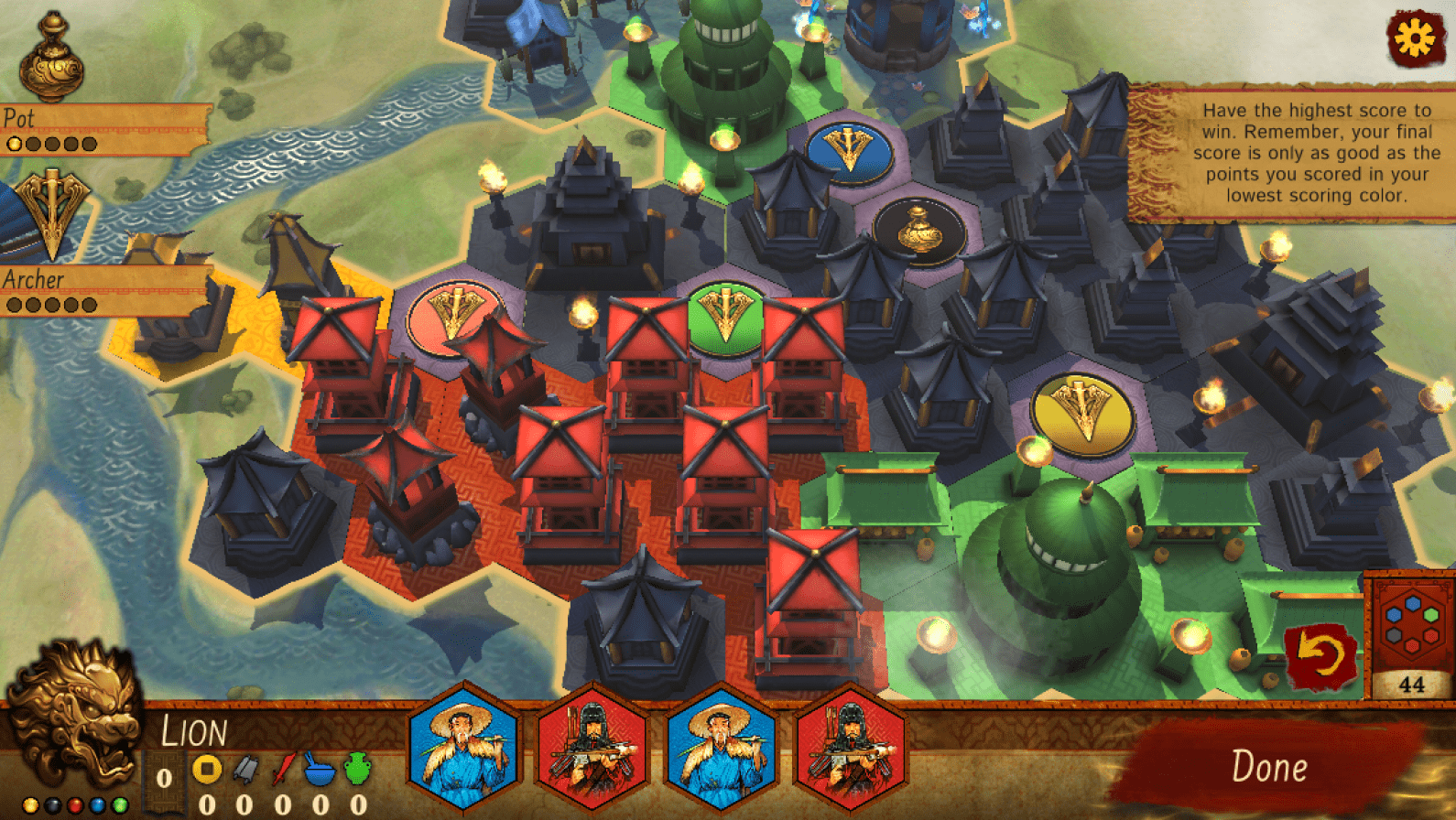 Speaking of the Android and PC versions, the game is cross-platform multiplayer compatible. iOS gamers can play games with friends who may be using the Android, iOS, or PC editions since Dire Wolf uses their own account management servers. If you have registered for other Dire Wolf Digital games in the past such as Eternal or Lanterns, you already have a Dire Wolf Digital user account. Simply log in with those credentials or create a new account and you're ready to play online with others on iOS, Android or PC.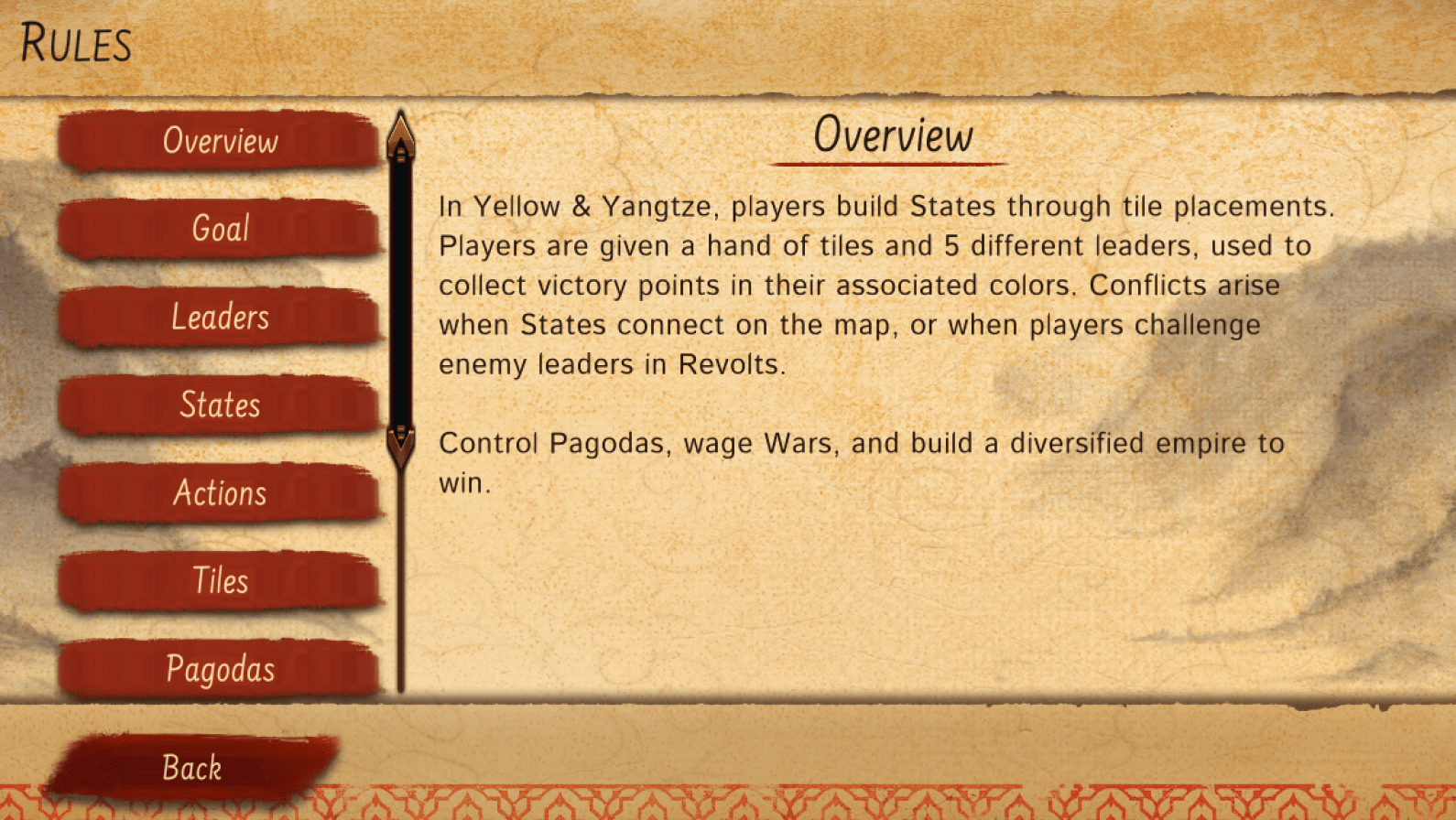 I really had a wonderful time playing the game thanks to the superb presentation and Dire Wolf's handling of the rules and gameplay mechanics. While I sometimes find playing physical board games a bit of a chore with all the time consuming setup hassles, token management, rule interpretation, and asset tracking, not so with this well-done digital conversion. Indeed, by managing all that busywork within the app, I was able to focus my time exclusively on strategic positioning and goal attainment. I had a lot more fun playing this digital adaptation than I ever did with the original physical board game version. And that this digital game's solo campaign is not even possible with the physical version was icing on the cake!
Pros
Gorgeous animation and captivatingly colorful graphic presentation
Simple to learn, hard to master
AI opponents offer challenging gameplay
Cross-platform multiplayer-enabled
Cons
Final Verdict
If you enjoy games with fairly easy-to-learn rules that also require masterful strategies to win, Dire Wolf's digital adaptation of Yellow & Yangtze is a beautiful, challenging (kudos for the AI bots that play a convincingly smart game), and fully engaging game. With the company having clearly shown how capable it is with greatly enhancing the source game experience, I can't wait to see what it does for future popular board game titles it's working on (with Mage Knight being one I am especially excited for given the care, respect and talent they have baked into Yellow & Yangtze's conversion).