This ultimate iPhone waterproof guide answers all your questions, including whether you can take underwater pictures with iPhone X and later
By

Olena Kagui
Updated 09/28/2021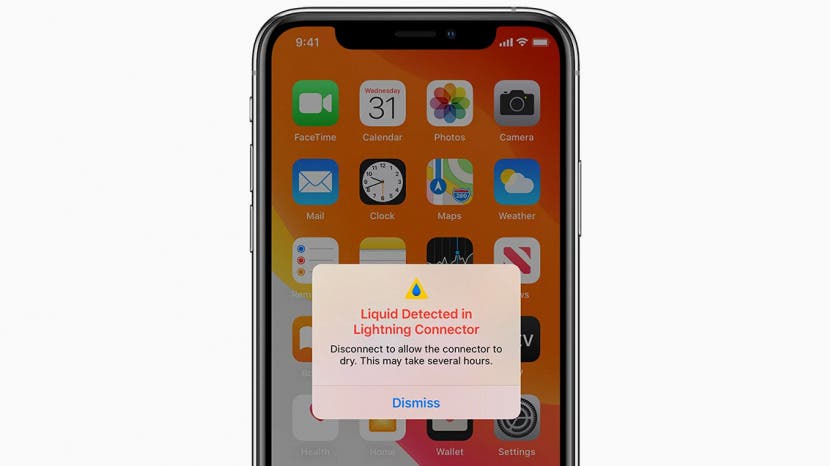 Phones and water used to be an obvious no-go, but today there are plenty of water-safe phones on the market. I will help you identify if your particular iPhone is safe at the beach. Plus, I'll explain exactly what to do if your iPhone got wet and how to check for water damage.
Related: Are Apple AirPods Waterproof? Everything You Need to Know
Jump to Questions:
The Difference Between Waterproof & Water Resistant
Before I deep dive into answering your iPhone-specific questions, I'd like to answer an important question, "Is waterproof and water-resistant the same?" The short answer is no! If something is waterproof, that means that it is literally impervious to water. When something is water-resistant, that means that it can resist the penetration of water to some degree. 
There are many different levels of water resistance; you can find water resistance ratings explained thoroughly here. Keep in mind that regular wear and tear will make an iPhone less water-resistant. Plus, any existing cracks could lead to water damage if your iPhone is exposed to water or liquids of any kind. 
What iPhones Are Waterproof?
Let me start by saying that no iPhone is waterproof. The first waterproof smartphone was actually the Sony Xperia Z. Since it came out in 2013, water-resistant smartphones have become the norm. All iPhones 7 and later are water-resistant. But what is water-resistant? Newer iPhone models are all splash, water, and dust resistant to a certain level, and they have been tested under controlled laboratory conditions. 
So, for example, is the iPhone 8 waterproof? No, none of the currently existing iPhone models are waterproof. The iPhone 12 has the best water resistance, but is the iPhone 12 waterproof? No! The iPhone 8 is as water-resistant as the iPhone 7.
The iPhone 7 has a rating of IP67 under IEC standard 60529 at a maximum depth of 1 meter (3.2 feet) for up to 30 minutes. The iPhone 12 has a rating of IP68 under IEC standard 60529 at a maximum depth of 6 meters (19.7 feet) for up to 30 minutes. Look on Apple's website for the water resistance rating of your model and find out exactly what the numbers mean.
Can We Take Underwater Pictures with iPhone X or Later?
The official answer is no; you can't. You should avoid using your iPhone in water, let alone underwater. That being said, it might be possible to do it, especially with the iPhone 12. The best way to take photos underwater is to use a certified waterproof iPhone case, such as this JOTO Universal Waterproof Pouch ($6.99) or a fancier Will box Professional Diving and Watersports Case ($35.99.)
I Dropped My iPhone in Water. What Should I Do?
The first thing you should do if you drop an iPhone in water is to retrieve it and dry it with a lint-free cloth. You should also tap it lightly against your hand to get water out of all the ports and button openings. Do not remove the SIM card while it is wet, and wait for it to dry before using it. Read more tips on drying an iPhone without damaging it here. 
If you have an iPhone 7 or later, you can be a little less worried as long as you know that your phone was wet for less than 30 minutes and no deeper than 1 meter (3.2 feet.)
How Long Can an iPhone 11 Stay Underwater?
According to Apple, no iPhone should stay underwater for longer than 30 minutes. CNET did a lot of testing and believes that Apple is majorly downplaying the water-resistance of its phones, especially with iPhone 12. However, you do risk losing your warranty if you go against Apple's guidelines. 
How to Tell If an iPhone Has Water Damage?
If your phone is exposed to water, even if it is supposedly water-resistant, you should first make sure to dry it. Next, find the SIM card slot and use a SIM tray removal tool or paperclip to remove it. If you have a SIM card, remove it so that you can shine a light into the empty slot. If you see any red, that means that the LCI or Liquid Contact Indicator has been activated. 
Does Apple's Standard Warranty or AppleCare Cover Water Damage?
According to Apple's website, the standard one-year warranty that all new products come with does not cover accidental water damage. However, with AppleCare, you might be able to fix a water-damaged iPhone for a low deductible fee. Read more about AppleCare and what it covers here.
My iPhone X Fell in the Toilet! Now What? 
It happens. You'd be surprised how many phones end up falling in the toilet! If this happens to an iPhone 7 and later model, your phone should be fine! Start by following regular iPhone cleaning instructions, but consider sanitizing it as well. Even if you recently cleaned and flushed, there could still be harmful bacteria. Here is a walkthrough of how to properly sanitize your iPhone. 
Can I Use My iPhone in Dry Saunas or Steam Rooms?
According to Apple, using your iPhone in a sauna or steam room can result in liquid damage. The heat can expand the spaces where water can enter the phone that is otherwise sealed tight. Plus, most saunas and steam rooms have a no-phone policy that you should adhere to. 
Is the iPhone Resistant to Liquids Other Than Water?
Water-resistance gets trickier when other liquids are involved. Cleaning and beauty products contain chemicals that could lower the water-resistance of your iPhone. Gels and lotions could clog the ports in your phone, resulting in further damage. Sweet beverages could leave your phone permanently damaged and in need of professional cleaning.  
Now you are ready to take your iPhone to the beach or to the pool! As long as you have an iPhone 7 or later that isn't cracked, you shouldn't worry about splashes or spills. Just don't expect to do any underwater photography without a certified waterproof case. Do make sure to keep sunscreen and other non-water liquids away from your phone to protect it. But most importantly, have a fantastic time! Next, read if your other Apple devices are waterproof or not.