Watch your Memory Mix slideshows in the Photos app for a nostalgic (and customizable) trip down memory lane.
By

Erin MacPherson
Updated 09/08/2021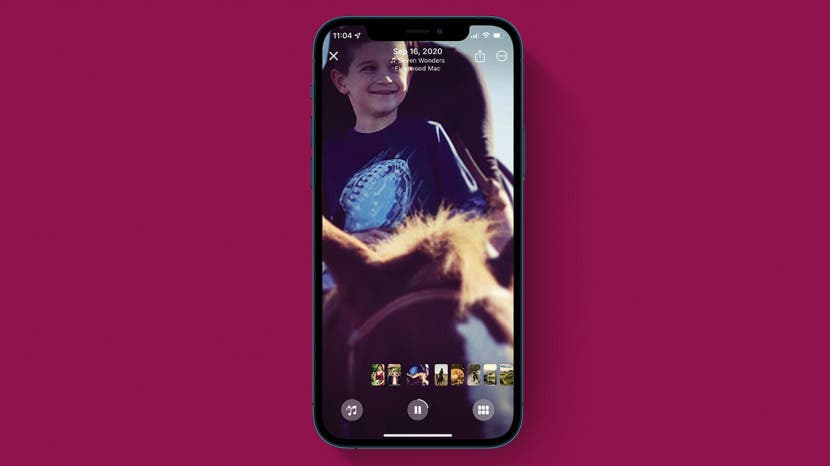 Memory Mixes in the Photos app are special collections of photos, arranged and set to music via intelligent suggestions built into your iPhone. This fun feature lets you watch little slideshows and customize them with filters, hand-picked music, and more! Here's how to find Memory Mixes and their customization options in iOS 15.
Related: How to Transfer Photos from iPhone to Computer
Why You'll Love This Tip
Memory Mixes are a fun and shareable way to see your memorable photos.
Customize Memory Mixes with filters, suggested mood music, hand-picked songs from Apple Music, and more.
Where Do I Find Memories on iPhone with Music?
Fortunately, your Memory Mix collection is easy to find. If you're anything like me, you'll love spending time making each mix your own! Want to learn about more hidden iOS 15 features? Sign up for our free Tip of the Day newsletter.
Important: Since this Memories tip is specific to iOS 15, if you have an earlier software version you will need to update to iOS 15 before using these steps.
Open the Photos app.


 
Tap on the For You tab.


 
Scroll down to the Memories section.
Here you can swipe left or right to see suggested content.


 
Tap on a Memory Mix (one of the items in the Memories section) to view it as a slideshow with accompanying music.


 
While your Memory Mix is playing, tap the screen to reveal customization options.
The music note icon will allow you to change the music and filter.


 
The icon that looks like a grid will allow you to customize which suggested photos are included.


 
The more icon (the three dots) and the share icon are each in the upper-right corner. These will give you more customization options and the ability to share your Memory Mix with friends and family, respectively.


This Suggestions-based feature is certainly a fun one! Try playing with the different filters and listening to how the music changes to fit the mood—that's my favorite part of Memory Mixes.