By

Mike Riley
Thu, 07/02/2020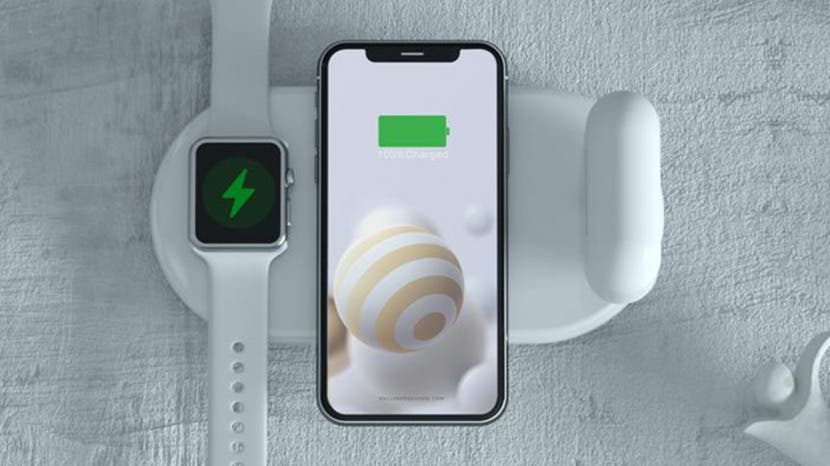 Remember when Apple announced, and then later cancelled its AirPower wireless charging mat? The concept was straightforward, simply have a flat surface upon which to lay your Apple iPhone, AirPods, and Apple Watch on, and have those devices recharge wirelessly. Apple shelved AirPower due to potential heating and uniform power concerns. Unsurprisingly, that hasn't stopped Apple third-party accessory companies from attempting to emulate the anticipated all-in-one wireless charging mat. Indeed, the Vissles-W 3-in-1 wireless charging pad ($45) even appears at first glance to be nearly identical to the Apple AirPower mat design. However, upon closer inspection, it isn't quite what Apple originally had in mind. Read on to find out why.
Related: Buyer's Guide: The Best iPhone Chargers of the Year
To be fair, Vissles Wireless Charger does indeed charge the AirPods, iPhone, and Apple Watch, and does so simultaneously. What is somewhat misleading until you take the time to examine the mat more closely, is that, unlike Apple's AIrPower attempt, Vissles mat charges each product discretely. Instead of simply tossing your Apple products on a wireless mat and have them all recharge automatically, Vissles mat quarantines each item into its own charging area.

Discover your iPhone's hidden features
Get one daily tip each day (with screenshots and clear instructions) so you can master your iPhone in just one minute a day.
The middle portion dedicated to the iPhone is relatively unencumbered (more on that later). The AirPods section of the mat requires a separate dongle included in the box that plugs one end into the lighting charging port of the AirPods case, and the other into a magnetic dimple on the Vissle base. It would have been nice to include a USB-C dongle in the package to extend this port for use beyond lLghtning port products, but even a separately sold option for such does not seem to be the case. 
As for the Apple Watch, you have to supply your own Apple Watch charger, and it has to be one with the shorter one meter length since the charging cable has to wrap around the interior of the Vissles mat where the base of the Apple Watch charger is eventually mounted inside the base itself. While you could use the wireless charger that came with your Apple Watch, the effort required to thread the watch charger into the base of the Vissle makes it impractical to remove it once installed. So if you intend to charge your watch using Vissle's mat, consider adding another thirty dollars to the mat's price tag.
So how well does the iPhone wireless charging area work? It's acceptable, but it did take a few attempts to find the wireless charger's sweet spot on the mat itself. Internal magnets help guide the phone to the right location, and an added touch of a ring of white LED lights illuminate in the Apple Watch charging base mounting ring and the AirPods connecting dimple on the Vissles mat when the phone properly aligns for charging. Regrettable, there appears to be no way to disable these lights, so if you prefer to sleep in darkness, you'll need to find a hand towel or blanket to throw over the illuminated items.
Pros
Wirelessly charges your Apple AirPods, iPhone, and Apple Watch simultaneously
Similar in look and footprint to Apple's canceled AirPower mat
Cons
Does not include a charging base for the Apple Watch
AirPods require a small dongle to attach to AirPods case for charging
iPhone charging requires some practice to find the charging sweet spot
Illuminated white charging lights in the base can't be turned off 
Final Verdict
Overall, while it's a nice emulation attempt to provide the aesthetics of Apple's AirPower, Vissles wireless charger stumbles in too many places with its execution. It would have been better if it included an actual built-in charger for the Apple Watch rather than rely on customers to supply and install their own. And the inability to disable the white LED's does not make it inviting to place on your nightstand unless you don't mind falling asleep with a flashlight shining in your eyes.