By

Paula Bostrom
Updated 04/11/2023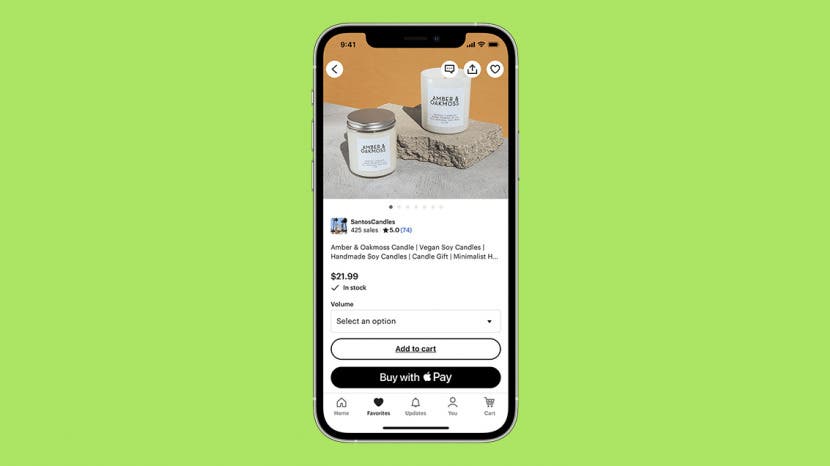 * This post is part of iPhone Life's Tip of the Day newsletter. Sign Up. *
Where is Apple Pay accepted? If you're looking for restaurants, stores, and gas stations that take Apple Pay, we'll show you how to find Apple Pay locations near you and worldwide!
Related: What Is Apple Wallet?

Discover your iPhone's hidden features
Get one daily tip each day (with screenshots and clear instructions) so you can master your iPhone in just one minute a day.
What stores have Apple Pay? Does Target take Apple Pay? How about places like Chipotle, McDonald's, Kroger, Home Depot, and more? We'll answer the question so many of you have: "Where can I find Apple Pay locations?"
There are different ways to find Apple Pay stores in your area, but the easiest Apple Pay finder is the Maps app. Creating a complete list of where you can use Apple Pay isn't easy. There are far too many businesses and stores that accept Apple Pay for any one website to name them all. While I can only list some of the stores that accept Apple Pay, I can give you the tools to figure out if the store you're headed to accepts Apple Pay.
How Do I Activate Apple Pay?
Before we get into the "where can I use Apple Pay?" question, you need to know how to activate Apple Pay. Once you've done this, you can use Apple Pay in Safari and use your Apple Watch or iPhone to make purchases at places that take Apple Pay, including gas stations, restaurants, websites, apps, and more.
Where Can I Use Apple Pay?
Have you been wondering, can I use Apple Pay at Amazon? Well, more than 85% of US retailers accept Apple Pay, and other countries have begun expanding their Apple Pay capabilities. The UK, Canada, Japan, and China are four countries where you're likely to find stores with Apple Pay and banks or credit unions that allow you to use Apple Pay. Apple is also working to improve Apple Pay integration in France, Singapore, Switzerland, Spain, Australia, and Italy. Apple has stopped Apple Pay access in Russia due to its invasion of Ukraine. 
You can pay for Apple services like iCloud, Apple Music, and Books with Apple Pay. You can also use Apple Pay for App Store purchases. Some transit systems and apps in Europe, Asia, Canada, and major US cities like Chicago, Portland, Boston, and New York accept Apple Pay. Lots of non-profits even accept donations via Apple Pay! In addition to physical stores, most online stores accept Apple Pay. For example, Target takes Apple Pay on their website (though not for Target Plus items), in the app, and in stores. You can tell whether or not an online or brick-and-mortar store accepts Apple Pay by looking for one of these symbols in the payment options.

The second symbol is not a guarantee that the store takes Apple Pay; rather, it's letting you know its payment system allows contactless payment. Many that accept contactless payment do accept Apple Pay, but not all.
Most apps also allow you to make in-app purchases using Apple Pay, so if a website doesn't allow you to use Apple Pay, check the app to see if it takes Apple Pay. 
List of Apple Pay Stores
All the stores listed in the intro, including Target, Chipotle, and McDonald's do take Apple Pay. Kroger, Walmart, and Home Depot, surprisingly, still don't.
Even though it would be impossible to list all of the stores that accept Apple Pay, the Apple website makes it easy to look up whether a specific franchise or corporation accepts Apple Pay. Here are more popular large restaurants, stores, websites, apps, e-commerce platforms, charities, and more that accept Apple Pay:
(RED)
7 Eleven
ALDI
Ace Hardware
Adidas
Aeropostale
Airbnb
Albertsons
American Cancer Society
American Eagle Outfitters
American Heart Association
American Red Cross
Anthropologie
Apple
Apple Store
Apple services
Au Bon Pain
BI-LO
Barneys New York
Bashas'
Baskin-Robbins
Bed, Bath & Beyond
Best Buy
BevMo!
Big Lots
Bloomingdales
CARE
COPD Foundation
Champs Sports
Chevron
Chevron Extra Mile
Chick-fil-A
Children's Miracle Network Hospitals
Chili's
Chipotle
ClassPass
Coca-Cola's Vending Pass
Costco
Crate and Barrel
Crohn's & Colitis Foundation of America (CCFA)
Cub Foods
Dan's Fresh Market
Dave & Buster's Power Card
Davis Food & Drug
Dick's Fresh Market
Disney Store
Doctors Without Borders/Médecins Sans Frontières (MSF)
DoorDash
Duane Reade
Dunkin' Donuts
El Pollo Loco
Etsy
Expedia
Express
Exxon Mobil Rewards+
Family Dollar
Fandango
Farm Fresh Food & Pharmacy
Feeding America
Firehouse Subs
FoodMaxx
Foot Locker
Footaction
Forever 21
Fuddruckers
GAP
GameStop
GlobalGiving
Groupon
Grubhub
Hannaford
Harveys Supermarket
Hornbacher's
Hotwire
House of Hoops
Houzz
Hy-Vee
Instacart
International Rescue Committee
J.Crew
JCPenney
Jamba Juice
Jersey Mike's Subs
Jet
Jewel-Osco
Jimmy John's
Jimmy John's Freaky Fast Rewards
Johnny Rockets
KFC
KOHL'S
Kickstarter
Kohl's Rewards
Lego
Levi's
Lin's Fresh Market
Luby's
Lucky
Lyft
MLB
Macy's
Meijer
NFL
Nike
Office Depot
OfficeMax
Old Navy
Omaha Steaks
OpenTable
Orbitz
Panera Bread
Panera Bread's MyPanera
PayRange
Pep Boys
PetSmart
Petco
Pizza Hut
Postmates
Quiznos' Toasty Points
Raley's
Rite Aid
Rubio's
Safeway
Save Mart Supermarkets
Save the Children
Schnucks
Seamless
Sephora
Shaws
Shop 'n Save
Shoppers Food & Pharmacy
Sprouts Farmers Market
Staples
Star Market
Starbucks
Stater Bros.
Subway
SuperValu
Taxfyle
Texaco
The Nature Conservancy
The Water Project
Ticketmaster
Trader Joe's
Turbotax
UNICEF
Uber
Ulta Beauty
Under Armour
United Airlines
United Supermarkets
United Ways
Urban Outfitters
WWF (World Wildlife Fund)
Walgreens
Walgreens' Balance Rewards
Walt Disney World
Wegmans
White Castle
Whole Foods Market
Winn-Dixie
Xfinity My Account
Yogurtland's Real Rewards
ZARA
charity: water
me Markets
That's just the tip of the Apple Pay iceberg. The next tip will allow you to use Apple Maps on your iPhone to see if any store nearby accepts Apple Pay.
Who Accepts Apple Pay Near Me: How to Find Apple Pay Locations
We use Apple Maps to get directions to a location, so it only makes sense that you'd be able to see if that location accepts Apple Pay. This Apple Pay finder tip is a great way to see if the store you're about to go visit will take Apple Pay. Or, if you're planning a trip, use this tip to see where along the route you can use Apple Pay.
Open the Maps app.


Enter the name of the place you want to use Apple Pay in the Search field and tap the location.



From the bottom of the screen, swipe up to scroll down to the extra info on the location.


Below hours and Yelp reviews is Good to Know. Look here for the Apple Pay logo or Accepts Apple Pay.


 
If you don't see either of those things, then the location may not accept Apple Pay, or the information may not have been added to the Maps app yet. 
​This tip is particularly helpful for knowing whether or not individual stores or smaller businesses accept Apple Pay. It's good to note that there are apps specifically designed for locating places that accept Apple Pay, but I tried a few of them and found their accuracy to be spotty at best.
Does Your Bank or Credit Union Support Apple Pay? Find Out
Apple is consistently adding more banks and credit unions to the list. Just recently, I checked the list to see that the credit union I use is finally Apple Pay ready. Regardless of your location in the world, Apple has an alphabetical list of all the banks and credit unions that accept Apple Pay here. If you're just getting set up with Apple Pay (or, like me, have been using your credit card for Apple Pay until your bank is added to the list), this is a great place to check, and if necessary, check again.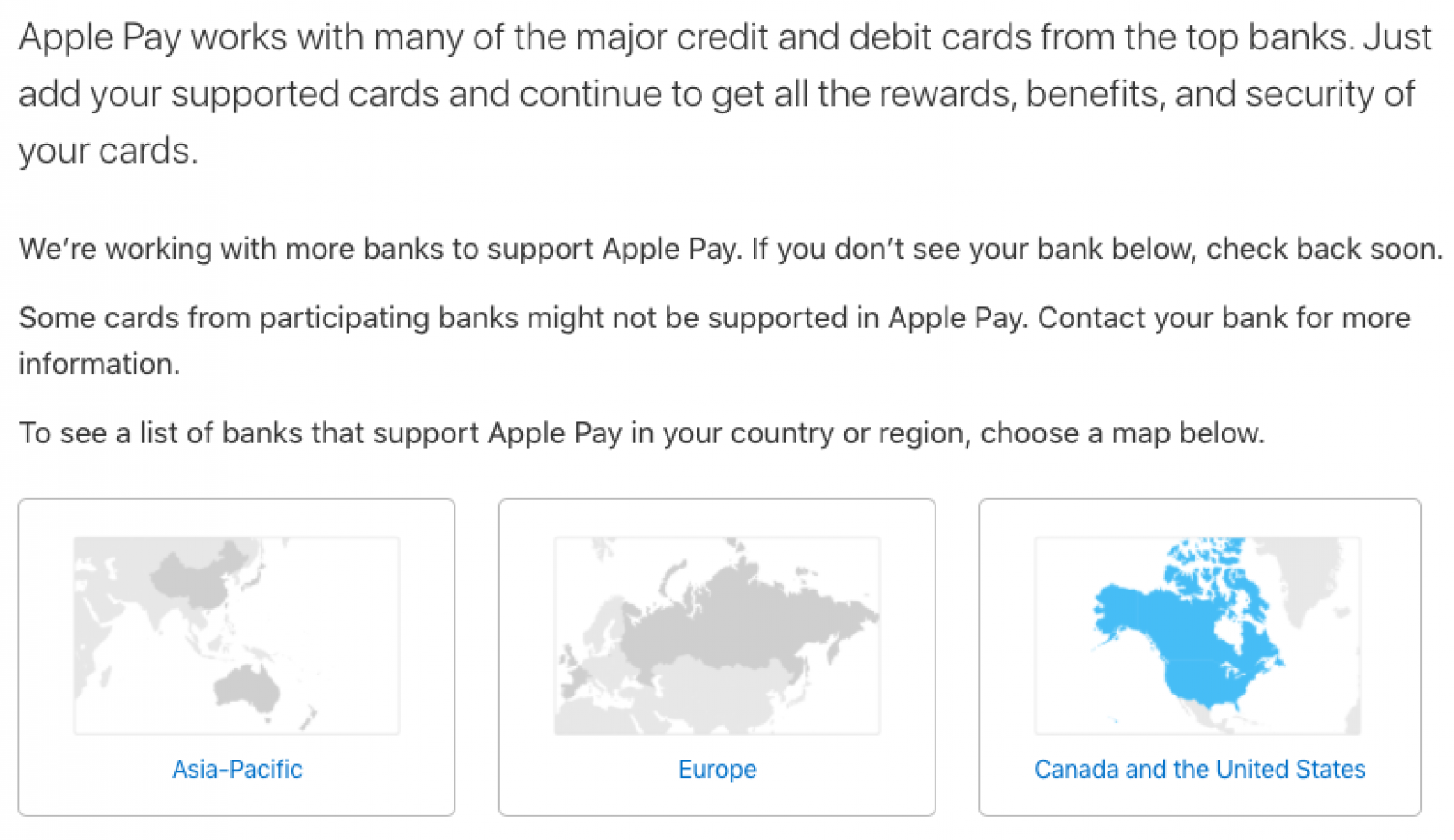 That's everything to know about Apple Pay for now, but with the ever-changing world of online payments, we're sure to be adding new related content throughout the years to come.