By

Todd Bernhard
Tue, 02/19/2019
Over the years, I've reviewed the different iterations of Jamstik portable guitars from Zivix so I was interested to see the latest model, the Jamstik 7 Fret Edition ($199.99). when Zivix offered to send a review unit. As with previous models, the Jamstik is lightweight, comfortable to hold and use, and battery powered. The Jamstik 7 Fret Edition lasts for 72 hours using four AA batteries, included, which is a nice touch. It's small, at just 18 inches, but you can buy the Add-On Body to make it more like a full-size guitar, if desired. Since the neck is shorter, the touch-sensitive rubberized buttons can be used to move up or down in both Capo and Octave. 
I appreciate that the Jamstik uses real guitar strings, so you get an analog feel, with different size strings. There are separate models for lefties and righties, so keep that in mind. While newbies might leverage the Jamstik Jamtutor companion app for learning, I think even experienced guitar players will appreciate the portability of the Jamstik. They can pick up (no pun intended) the guitar and go, with no guitar case to worry about, which will be especially beneficial on airplane trips. Plus there is no tuning required, ever! True professionals may want to bump up to the 24-inch Jamstik 12 Fret rechargeable model, with a traditional MIDI connector; but that costs twice as much, so be sure to compare Jamstik's offerings.
While the Jamstik can connect to your computer or smartphone or tablet over Bluetooth 4.0, Zivix and I recommend using a wired connection. You can even connect via USB MIDI or Bluetooth MIDI to work with music apps like GarageBand! The sound comes out of your smart device (or headphones plugged in to them) not the Jamstik.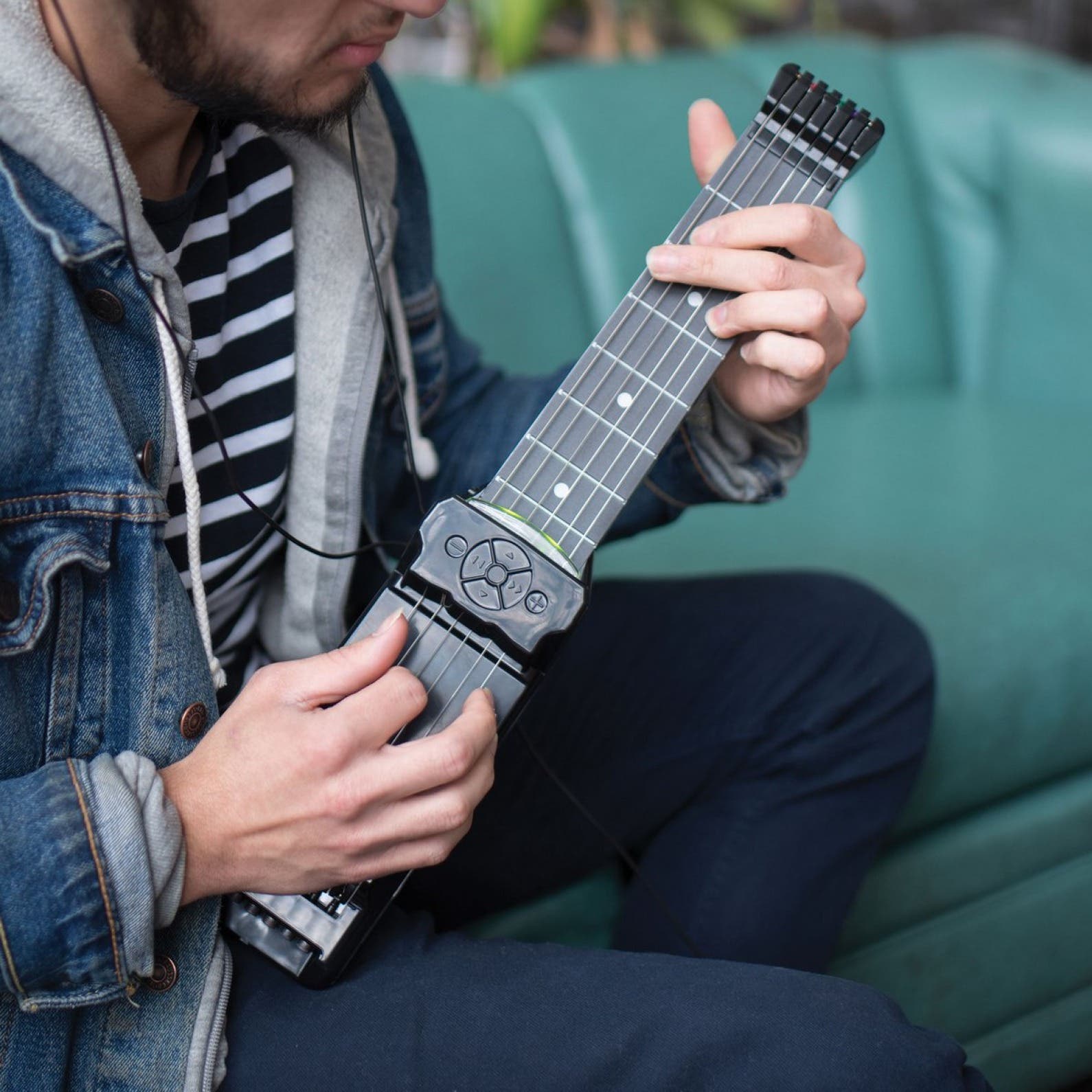 Pros
Lightweight and portable
True guitar strings for analog feel
No tuning needed
Touch-sensitive controls
Bluetooth or Wired, including USB MIDI
Made in the USA
Cons
Wired connection recommended
Case and Add-On Body sold separately or in Bundle Edition
Left and Right hand models sold separately
Final Verdict
If you are new to the guitar or an experienced guitarist who likes to travel with a guitar, the Jamstik 7 Fret Edition from Zivix makes it easy.