With iOS 16, you can split Apple Pay payments, track your orders, and more.
By

Elisabeth Garry
Mon, 06/06/2022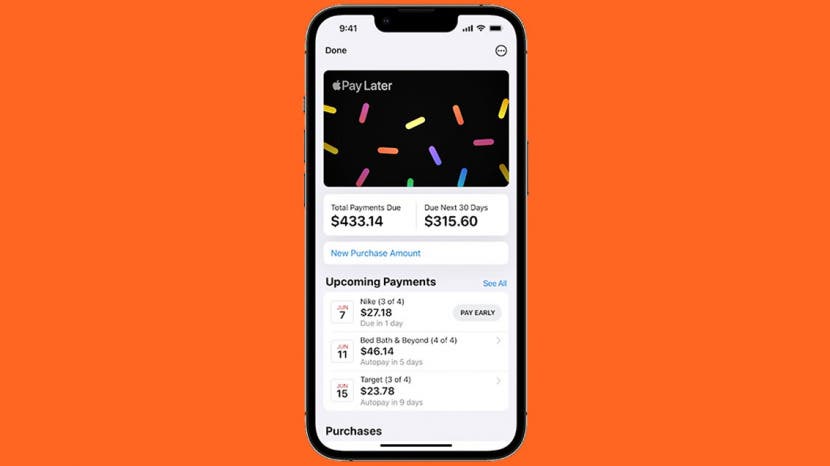 Apple announced major upgrades to Apple Wallet at its WWDC keynote address. With iOS 16, Apple is introducing Apple Pay Later and order tracking for purchases made via Apple Pay, along with digital ID support for age-restricted purchases, and 11 more states that are expected to integrate state IDs and driver's licenses with Apple Wallet.
The new Apple Pay Later feature will allow you to break your purchases into four interest-free payments over six weeks with no late fees. When you make a purchase using Apple Pay, you'll see options to either pay upfront or pay in installments, with the first installment due at the time of purchases and the remaining payments distributed evenly across the coming weeks. Along with Apple Pay Later, the tech giant announced Apple Pay Order Tracking, which will allow merchants to deliver receipts and order status directly to the Wallet app for you to view. This feature integrates with Shopify, and users will not need to install any additional apps.
Another Wallet update enables users to make age-restricted purchases with Apple Pay. If you have your ID stored in your Apple Wallet, you'll now be able to do things that require age verification, like ordering alcohol from Uber Eats. In addition, iOS 16 will let you securely share keys you have stored in your Wallet through messaging apps like Messages and Mail. You can share your home, hotel, office, and even car keys directly in the Wallet app.