By

Mike Riley
Tue, 11/19/2019
One of the main reasons I enjoy writing about technology so much is the significant advances made by innovators and manufacturers in such a sort time span. A perfect example of this is the breakneck pace of wireless earbud development. A year ago, I heaped praise on what I subjectively proclaimed at the time were the best wireless earbuds on the market, Sennheiser's Momentum True Wireless Earbuds. While that product still holds up well today, the competition hasn't been idle. One manufacturer that has made significant strides in the wireless earbud market is Jabra, a company that has been in the phone headset business for decades. Does their latest recently released Elite 75t ($179.99) wireless earbuds exceed last year's top headset in my assessment?  Read on to find out.
Related: Buyer's Guide 2019: Best Bluetooth Headphones & Earbuds
The first feature that struck me when I opened the packaging was just how small the earbud charging case was. After the past year of evaluating several high-end wireless earbuds, I became accustomed to a variety of charging cylindrical enclosures and elongated boxesd that would make my pocket bulge. Jabra's Elite 75t case is on par with Apple's AirPod Pro case, even though the Elite 75t earbuds themselves are larger than AirPod Pro earbuds. The case has a USB-C charging port and can fully recharge the Elite's earbuds in under two and a half hours.  Fully charged, the earbuds deliver seven and a half hours of audio playback, three hours longer than Apple's AirPod Pro earbuds. That translates to 28 hours of wireless audio from a single fully charged carrying case. And just like Apple's more expensive AirPod Pro's (currently priced at nearly a hundred dollars more than Jabra's earbuds), this includes Elite 75t's passive noise cancellation.

Discover your iPhone's hidden features
Get a daily tip (with screenshots and clear instructions) so you can master your iPhone in just one minute a day.
Next up are the earbuds themselves. I don't know how Jabra engineers were able to mass design such an impressively comfortable yet secure fit in my outer ear, but whatever they did to achieve this magic, they succeeded beyond my initial expectations. Three different gel ear tip sizes are included in the box to accommodate most ear types. Unlike the Sennheiser Momentum (still list priced at $300), the Elite 75t's were easy to remove from my outer ear thanks to its ridged exterior ring, making them easy to grab with my thumb and forefinger. The earbud's shape also made them far less prone to fumbling, a problem I consistently encountered with the Momentum earbuds. Their IP55 rating also protects them from being damaged by sweaty workouts.
Finally for the moment of truth, what audio aficionados seek the most beyond battery life and comfort, that being the sound quality. I can sum this in two words: They rock! Once again, after a year of hearing a variety of wireless earbuds, my expectation bar for earbud sound quality was considerably lowered with the exception of Sennheiser's outlier, until now. Again, I don't know what secret ingredient Jabra audio engineers poured into the Elite's 6mm speakers, but the combination of the tight seal within the outer ear along with the passive noise cancellation makes music and spoken word crystal clear. As for microphone pickup on phone calls, I was slightly apprehensive that transmission clarity would suffer given how recessed the earbuds sit in the outer ear ridges. Yet due to the Elite's four MEM's microphones, callers could hear me as clearly as I could hear them. Even when city street noise and wind swirled around me, callers never asked me to speak louder or repeat myself.
There are plenty of other remarkable engineering feats included in the Elite 75t's design. Interacting with play/pause, summoning voice assistance (the earbuds work with Siri, Alexa, and Google Assistant) and forwarding or rewinding audio are all done via the satisfying click surface on the 75t's exterior. Given how tightly seated the 75t's rested in my ear, I incorrectly assumed clicking these surfaces would be uncomfortable since doing so might push the earbuds deeper into my ear. That didn't occur because of the ease by which the surface can be pressed and yet they still respond with that reassuring tactile click.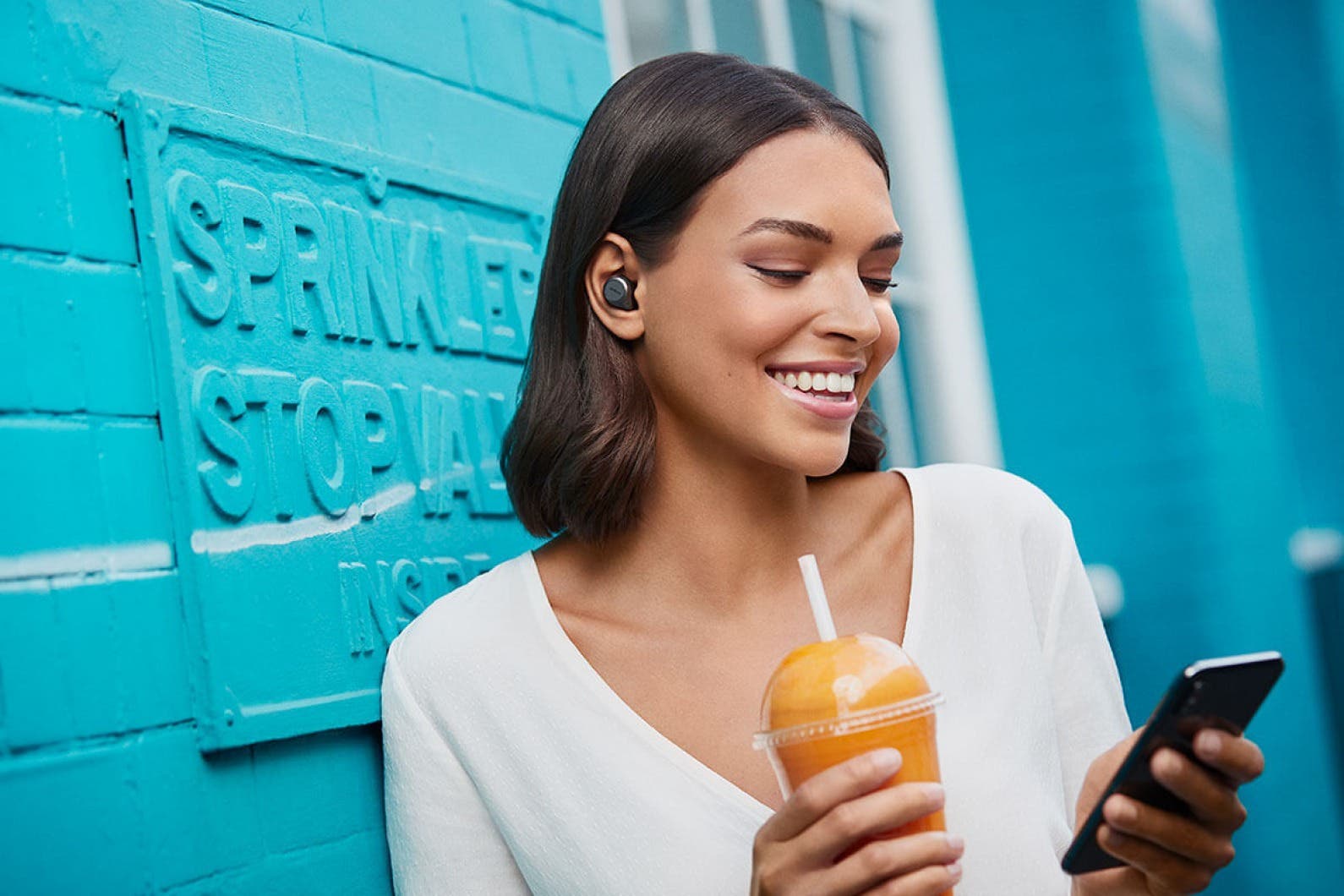 The Elite 75t's can be paired with up to eight unique devices and be simultaneously connected with up to two of these devices at a time. It is just so cool to be paired with my laptop, tablet and iPhone and be able to playback audio on my laptop while switching over to my iPhone to answer an inbound call, then switch back to my laptop audio after completing the call. No unpair, re-pair hassles; it just works.
Another feature worth mentioning is that the 75t's have a pass-through audio feature called HearThrough that uses the microphones to amplify exterior audio. Given how well the noise cancellation works on these earbuds, they effectively drown out the sound of people and things trying to get your attention. Rather than taking the time to gingerly remove the earbuds to interact in such engagements, a simple press of the left earbud's button activates HearThrough with remarkably focused clarity. The only time I felt compelled to remove these earbuds was to recharge them, since they were even smart enough to power themselves down automatically after a period of inactivity. This duration can be changed using Jabra's free Sound+ app. The app can also equalize and shape sound to your liking, check and install firmware updates, and even keep track of your earbud's last connected location, which is great for helping to find them should you forget where you last left them.
About the only hiccup in an otherwise impeccable product were the extremely rare occasions when the left channel would drop out for less than a second. This only happened twice during my almost non-stop multi-day use of the earbuds, and seemed to be preceded by quickly turning my head to the extreme right.  I don't know if this is simply a limitation of the hardware design or something that can be tweaked in a future firmware update, but it wasn't a big deal.  I would be a lot more concerned if the drop outs occurred more frequently, but it was notable only because everything else about the Elite 75t's was so flawless.
Pros:
Excellent audio quality
Long battery life and quick recharge via the compact USB-C charging case
Passive noise cancellation with HearThrough
Snug and comfortable fit
Cons:
Rare left channel drop out on extreme neck rotation
Final Verdict
Given the features, audio quality, price and mobile device independence of the Jabra Elite 75t earbuds, these are now my top recommended wireless earbuds and likely will remain so until another round of price-aggressive, innovative features evolves in the next generation wireless earbud devices.  Until then, the Elite 75t's are a must-buy for anyone looking for the best bang for the buck earbuds available today.