By

Mike Riley
Wed, 12/12/2018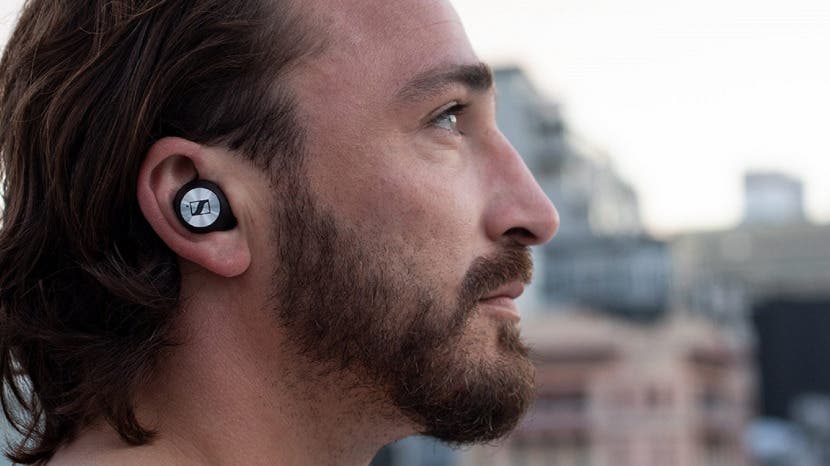 I have used Sennheiser wired headsets for years, finding them to be high quality sound and comfort. So I was excited when Sennheiser announced their initial entry into the rapidly crowding market of wireless earbuds.  How could they possibly match the audio and comfort quality they were known for in the wired headset world in the earbud market, especially when even high-end wireless earbuds were prone to subpar audio reproduction and dropouts?  It was with some trepidations that I inserted each earbud and cranked up the tunes to determine if Sennheiser could master the wireless space as well as they had the wired audio experience.  Read on to find out.
Related: Buyer's Guide: Best Bluetooth & Wired Headphones of 2018
The Sennheiser Momentum True Wireless Earbuds ($299.95) are sturdy; however, I fumbled and even dropped them a few times while placing and removing from their charging case since there are no indented surfaces or ear fins to grab on to. But this smooth design translates into sheer comfort since there are not any oddball shapes readjusting tender ear cartilage or ear fins digging into outer ear folds. While the body of the earbuds protrudes slightly from the resting ear position, they are securely locked in by anchoring the silicon stems into the ear canal. This makes them resistant to accidentally falling out while exercising.  No matter how vigorously I shook my head, I failed to eject either earbud. This airtight fit effectively seals out external noises as well, so Sennheiser built a function in its Smart Control app called Transparent Hearing mode. This option allows listeners to hear external sounds like people talking to you or traffic alerts. The app also monitors current battery charge for both left and right earbuds and includes a rudimentary equalizer. Unfortunately, there are no custom presets in the current version, meaning that whatever soundwave shapes you form can't be saved for different listening modes. Perhaps future releases of the app will allow not only saving different waveform settings but also allow crowd-sourced audio settings akin to Jaybird's MySound app. Firmware updates for the earbuds are also delivered via this app, so it's a good app to have if you use these earbuds frequently.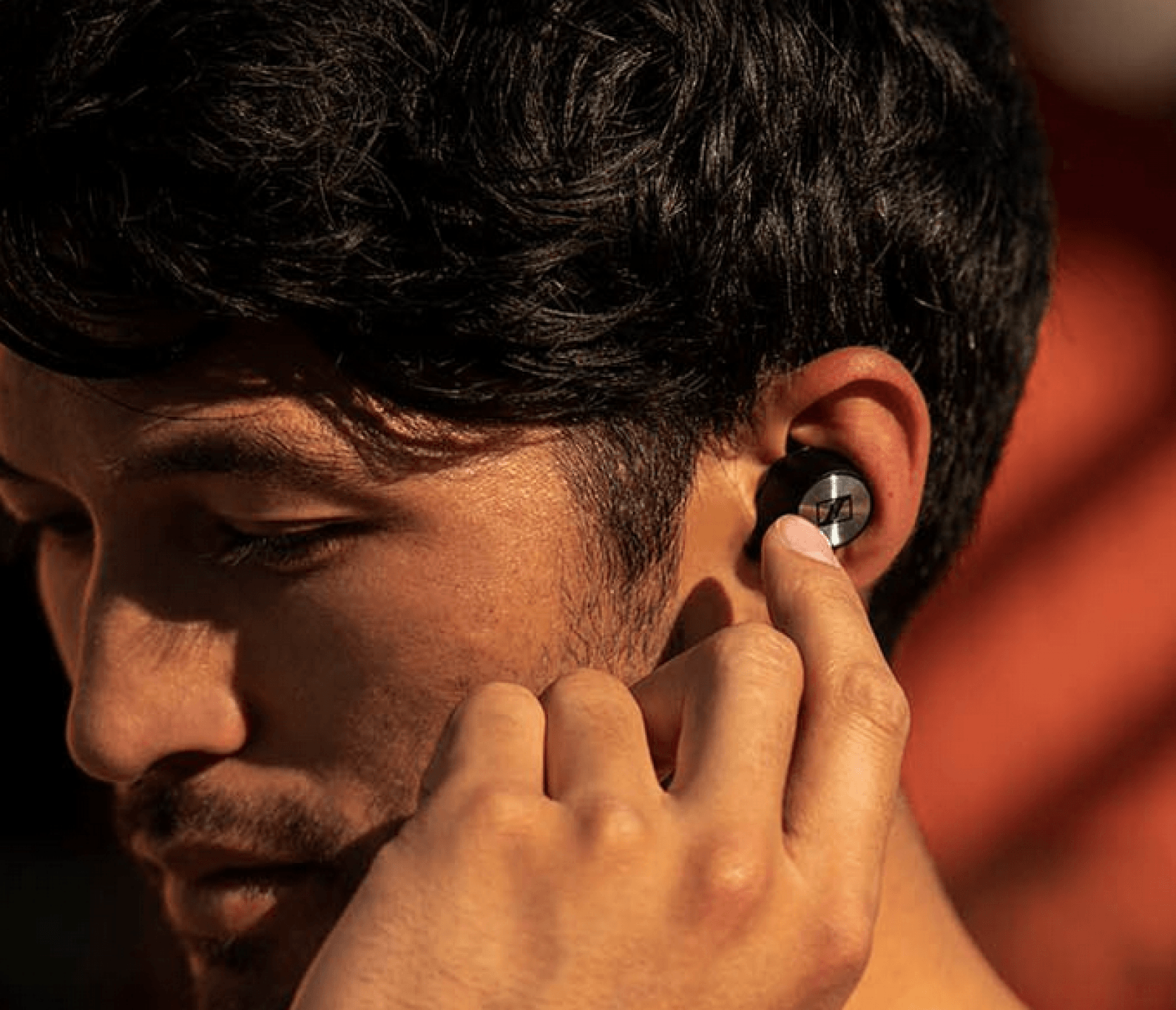 The Momentum charging case is roughly double the size of a small box of Tic Tacs, with its most welcome surprising characteristic being the USB-C charging port on the rear of the unit. This is the first wireless headset I have reviewed that has embraced this modern et charging standard. Sennheiser has included a small USB-A to USB-C charging cable, but it was a good sign to see that the designers were not beholden to the tired default microUSB charging port found on every other wireless headset case.  The case is covered by a stitched fabric, giving both a look and feel of a premium material build.
The attractive case and the earbuds' snug, comfortable design boosted my expectations for a top-notch listening experience, and I was enthusiastically relieved when the audio playback reproduced flawlessly. The 7mm dynamic drivers coupled with Bluetooth 5.0 and Qualcomm's aptX codec made the music listening experience almost magical. No matter how far I turned my head left or right, I never once experienced a single signal dropout. This was a milestone since every other wireless earbud I have tried prior to Momentum dropped out at some point. Take note competitors; Sennheiser has set a new standard for audio delivery. Audio channel dropouts from this point forward are unacceptable. Whatever wizardry the Sennheiser engineers used to attain this remarkable achievement is worth the price of admission alone. Bluetooth range was also excellent, as I was able to clean my basement wearing the earbuds while my iPhone was charging on a table two floors up without any signal loss.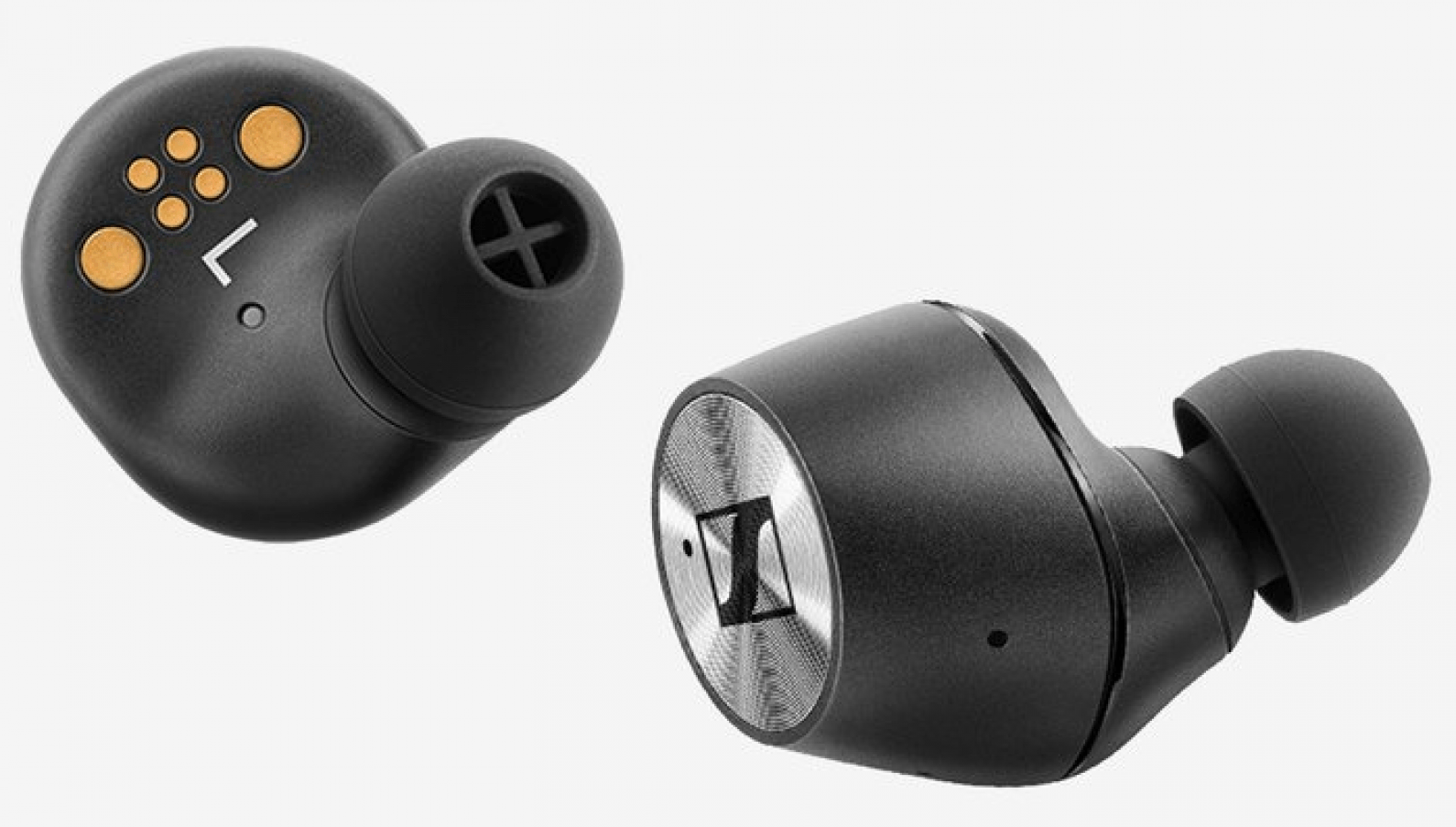 Another relief was that unlike several other cheaper wireless earbuds I have reviewed, the Momentum earbuds did not radiate any noxious chemical scent. My mouth and sinuses didn't fill with headache-inducing fumes while wearing them. Considering I wore them for nearly four hours straight, removing them only to recharge the batteries, I was thankful that the listening session was both glitch free and smell free.
The IPX4 splash-resistant earbuds use a metallic outer ring touch control to remote control audio and phone functions. A single tap on the left earbud will pause/play audio, while a single tap on the right earbud will answer/hang-up or activate Siri. Touching and holding the right or left earbud will increase or decrease volume respectively. Holding both simultaneously for five seconds will initiate the pairing sequence. The earbuds will automatically disconnect when they are placed back into the charging case (where they snuggly click into place thanks to the magnetic gold plated connectors that align the stored earbuds with the case's internal charging pins). A full recharge from a nearly empty battery takes about ninety minutes or so in the charging case. The case can recharge about three times before the case itself needs a recharge.
Pros
Exceptional sound
Very comfortable
No signal drop outs
Good battery life
Cons
Expensive
Smooth design hard to grasp
Final Verdict
If you are an audiophile seeking the most comfortable wireless earbuds with no signal loss and a premium listening experience, the Sennheiser Momentum wireless earbuds are the best recommendation I can make at this time. While you will pay twice, perhaps even three times as much for the privilege of enjoying such a comfortable, glitch-free listening experience, Sennheiser has forever altered my expectations of just how amazingly good a wireless earbud listening experience can be.