By

Elisabeth Garry
Tue, 07/13/2021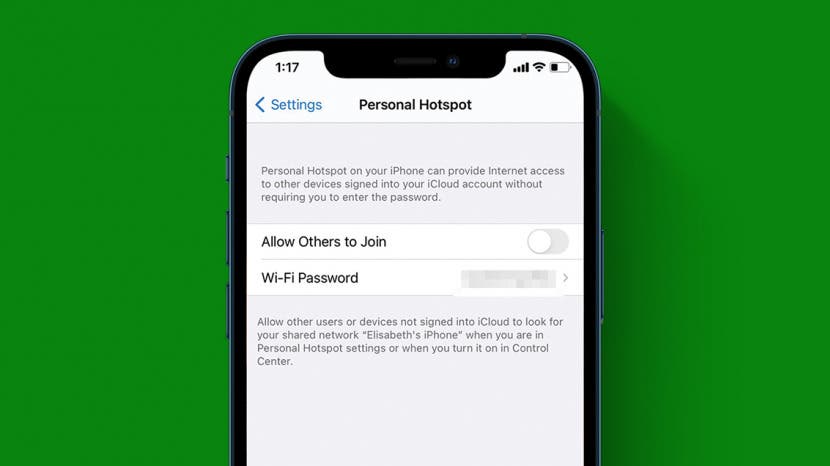 Is your iPhone hotspot not working? It can be really frustrating when you need an emergency internet connection and can't get your hotspot to work. Luckily, we have a few troubleshooting tips for you that may get your iPhone hotspot up and running.
Related: iOS 14 Draining Your iPhone Battery Life? 13 Ways to Save Battery on Your iPhone
Make Sure iPhone Personal Hotspot Is Turned On
Sometimes the best tips are the simplest ones. Before despairing that your iPhone hotspot is not working, make sure it's turned on. For more simple but life-changing iPhone tips, sign up for our Tip of the Day newsletter.

Discover your iPhone's hidden features
Get one daily tip each day (with screenshots and clear instructions) so you can master your iPhone in just one minute a day.
Open Settings.


 
Tap Personal Hotspot.


 

Toggle Allow Others to Join on.


Turn On Maximize Compatibility on Any iPhone 12 Model
If you have any iPhone 12 model, you can also try turning on Maximize Compatibility mode.
Open Setttings.


 
Tap Personal Hotspot.


 

Toggle Maximize Compatibility on.


Update to Latest Version of iOS
If your personal hotspot is enabled and still not working, you may want to try updating to the latest available version of iOS. Here's how to tell if you need an update:
Open Settings and tap General.


 
Tap Software Update.


 

If there is an update available, tap Install Now and follow the onscreen instructions to update your iOS.


Turn Your Cellular Data Off & On Again
Since your iPhone personal hotspot lets other devices use your cellular data to connect to the internet, turning your cellular data off and on again can sometimes act like a "reset," like how sometimes all you need to do to make a gadget work again is to turn it off and back on.
Go to Settings.


 
Tap Cellular.


 

Toggle Cellular Data off and back on.


Restart Your iPhone
You know how we just talked about how sometimes all you need to do to get something to work is turn it off and on again? Well, if none of the above options have worked, that's what it's time for now.
If your iPhone personal hotspot is still not working, try powering your iPhone down, then back on again.
Update Your Carrier Settings
Like iOS, sometimes your cellular carrier will need to make updates. These settings control your iPhone's ability to operate on your carrier's network: they allow you to make calls, text, and use cellular data. Since hotspots depend on cellular data to work, if these settings are out of date, you may not be able to use your hotspot until they're updated.
When carrier settings need to update, you may see a notification asking for your permission to install these updates (or, in the case of mandatory updates, letting you know that those updates are happening). If you've put off these updates, you can check for any available updates:
Open Settings and tap General.


 
Tap About.


 

If carrier settings updates are available, they should appear on this screen.
Reset Network Settings
If you're still stumped, it may be time to try resetting your network settings. I've left this tip until now because it can be a bit of pain to reconfigure your Wi-Fi and settings as you like them after resetting, but sometimes it's the only option. Here's how to do it:
Go to Settings and tap General.


 
Scroll down and tap Reset.


 

Select Reset Network Settings.


 
Enter your passcode.


 

Tap Reset Network Settings.


Now your iPhone will shut down and power back up with its network settings reset to factory settings. Now you can try to connect your personal hotspot again. Once you're back in range of your usual Wi-Fi networks, you can get your network settings back how you like them.
iPhone Personal Hotspot Still Not Working?
If you've tried all of these methods, and your iPhone hotspot still doesn't work, it may be time to look for outside help. Consider contacting your cellular provider to see if there is any reason on their end your hotspot might not be working. Apple Support is also there to help; you can either call or chat with them online for backup.