There's a "bug" with a recent iOS 14 update, and many of us are tired of seeing the "new iOS update is now available" error message. We'll go over why it's happening and how to get rid of it.
By

Erin MacPherson
Thu, 11/12/2020
I swear, if I see the "A new iOS update is now available. Please update from the iOS 14 beta" error message one more time... well I won't do anything drastic, but it's extremely annoying. If you're like me and you used the iOS 14 beta to learn about the iOS 14 update before it was released, there's a good chance you're seeing this message. Even those who did everything right when they downloaded the latest iOS 14 updates and switched from the beta profile to the new iOS are dealing with the bug. I'm sorry to say it's not the simplest fix, but when it works it's well worth it! Let's work through the best ways to get rid of the iOS 14 beta error message on your iPhone or iPad, and one method I don't recommend.
Related: How to Check Which iOS Version You're Running on Your iPhone
What's in This Article:
Why Am I Getting an iOS 14 Beta Error Message?
If you're experiencing it, you know it. You're seeing pop-ups that you can close, but the error message always pops right back up in your notifications or on your screen again after a short time or after you unlock your iPad or iPhone. Most likely, it's not your fault. Many (if not most) people who used the iOS 14 beta are experiencing this pop-up error message on their iPads and iPhones. The error doesn't seem to be isolated to any one identifiable group; that is to say, Apple hasn't specified who will experience the bug and who won't. 
According to 9to5Mac, a very similar issue happened in 2012 with the iOS 12 beta program when a coding bug assigned the wrong expiration time to a software version. Translation: the developers accidentally set an expiration date on a software version that was very wrong, and a lot of people weren't pleased. Sound familiar? That's likely what's happening now.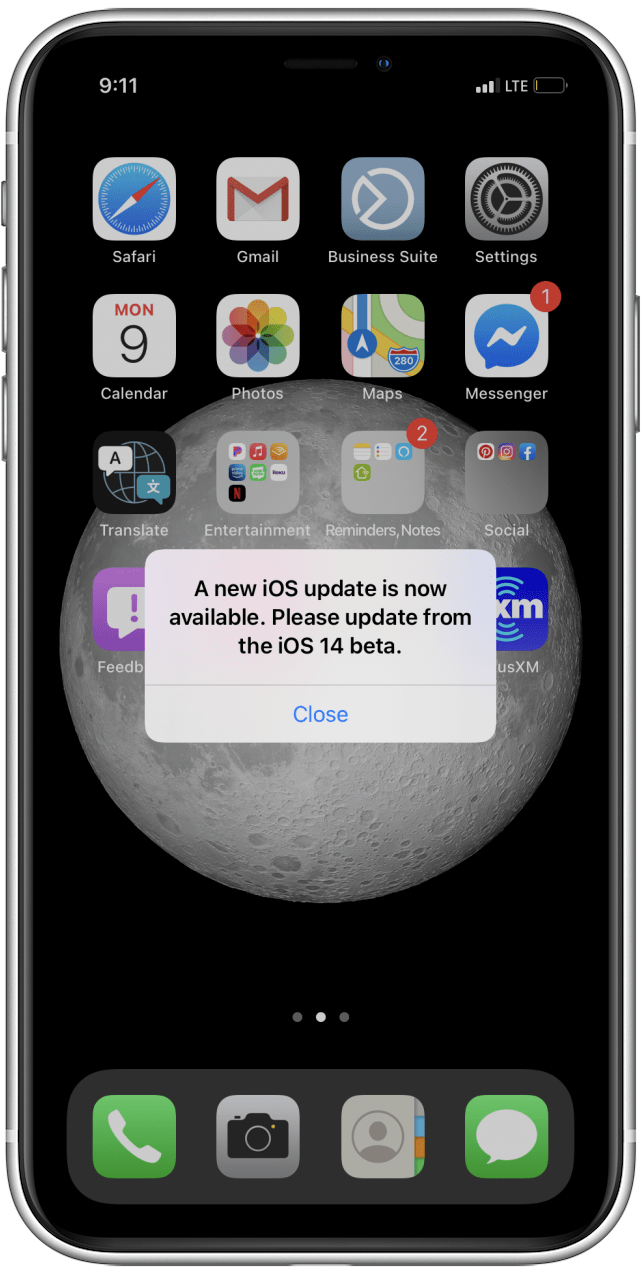 The iOS 14 Beta Error Fix We Don't Recommend
One Reddit user suggested that turning your iPhone's clock back to October 29 would keep users from receiving the iOS 14 beta pop-up error message. This fix doesn't sit well with me for a number of reasons. Turning your iPhone or iPad back to a much earlier date could potentially mess with:
App data and function
Web data and function
Reminders
Calendar appointments
While it's not particularly dangerous, I would discourage you from trying to outfox an already buggy iPhone or iPad software, unless you're truly okay with having your date and time set back a couple of weeks or more and dealing with other irritating app and data issues while waiting for a new iOS update to come out. Keep reading to learn better ways to fix the issue.
How to Fix the iOS 14 Beta Update Error
There are several methods to get rid of the error message that reads "A new iOS update is now available. Please update from the iOS 14 beta." Apple released iOS 14.2 and iPadOS 14.2 very recently; so recently that many people haven't updated to it yet, and it will likely fix the issue for most users, if not all.
We'll go over the steps in the order that you should complete them for best results. If you're reading this on the affected iPhone or iPad, it's best to open the article on a different device so that you can follow the steps without losing your spot. You can share this article with yourself to more easily access it on another device, if you'd like. The links above will help you navigate the article no matter how you're viewing it.
First: Remove the iOS 14 Beta Profile & Restart
The first thing to do is to make sure you don't have an old iOS beta profile still on your iPhone or iPad. If you used the iOS 14 beta, you probably have some idea what the Apple beta process is, but I'll briefly summarize just in case. A beta version is an in-development version of an upcoming software release, kind of like a sneak-peek behind the scenes. The beta profile is installed to allow the participating device to receive updates to the beta software as they come out, that way the user gets to experience the development improvements as they occur and report issues as they come up.
When the public release of the new software comes out, the beta profile needs to be removed in order to allow for proper installation of the new software update. Some people miss this step and experience issues. The current error message bug can be caused by this, but also happens to users who did the profile removal and subsequent iOS 14 update properly. Either way, we need to make sure you don't still have an old iOS beta profile on your device. Here's how:
Open the Settings app.
Tap General.


 
Scroll down until you see VPN.
If you have an iOS beta profile installed, you'll see Profile right below VPN. If you don't see Profile or Profiles, it means you don't have a beta profile installed, and you can skip the rest of these steps and move on to the next section. As I've removed the beta profile from my devices, I unfortunately cannot provide screenshots of the final steps, but don't worry, they're easy to navigate.


 
If you see Profile, tap on it. 
Tap on iOS Beta Software Profile.
Tap Remove Profile.
If prompted, enter your Apple ID and passcode, then tap Delete.
Restart your device by turning it off, waiting a minute or so, then turning it back on.
When your device restarts, follow the first four steps again to verify that you no longer have a beta profile installed. If you're still receiving the pop-up iOS 14 beta error message, continue on to the next section.
Next: Make Sure Your iOS Software Is Up to Date
If you are not running Apple's current iOS version, you may be able to get rid of the issue simply by updating. If you've verified that you do not still have a beta profile installed, check to see if you're running the latest iOS version. According to Apple, these are the current software versions as of November 5, 2020:
iOS 14.2
iPhone 6s and newer
iPod touch 7th generation
iPadOS 14.2
iPad Air 2 and newer
iPad mini 4 and newer
iOS 12.4.9
iPhone 5s, 6 & 6 Plus
iPad Air
iPad mini 2 & 3
iPod touch 6th generation
Update your iPhone or iPad software if an update is available.
If you're still receiving the pop-up iOS 14 beta error message, continue on to the final potential fix below.
Last Resort: Reset Your iPhone or iPad Using an Old iCloud Backup
First, please be certain that you're comfortable with this next option. It will result in you rolling back your iPhone to an earlier iCloud backup, one from before the error started.  
Unlike other instances where you may want to erase your content and settings and restore your iPhone or iPad from a very recent restore point, you don't want to restore your iPhone to the same state it's in now. You're having issues now and probably have been for days, so you'll want to select an existing iCloud backup from before the error started happening. This means many things you've done on your iPhone since then will also be rolled back, and you could lose some items, apps, or data.
This is important: if you have not had iCloud backups enabled, you won't have a backup to restore to in order to try to solve the issue, and you shouldn't continue. Also important to note is that this is not a guaranteed fix. Full disclosure: it didn't even fix this bug on my iPhone, and others have had the same issue. If you'd rather not use this option that's totally fine! Your best bet is to wait for another iOS or iPadOS update, which will likely solve the issue for you.
If you know for sure that you will have an iCloud backup available from before the error message started popping up (you've had iCloud backup enabled and haven't gone in and deleted old backups), then you can choose to reset your iPhone to factory settings and restore from a previous iCloud backup. Here's how:
Open the Settings app.
Tap General.


 
Scroll all the way to the bottom and tap Reset.
Select Erase All Content and Settings.


 
Confirm and enter your Apple ID and password as prompted.
From here, your iPhone will begin as though it's a new device.
When you get to the Apps & Data page you'll see multiple options to choose from. 
Select Restore from iCloud Backup.
From the list of iCloud backups, choose a backup date that's just before you started receiving the error message. Err on the side of caution; too early and you'll be without a lot of what you've put on your iPhone. Too late and you'll be right back where you started.
The iPhone will restore your iCloud backup to your new iPhone. Enter any passwords it asks for, and follow other prompts as needed.
Now that you've restored your device, update your iPhone or iPad using a new iOS update or the latest iPadOS version, and you should be able to kiss those error messages goodbye!