Your iPhone and iPad can magnify objects and text; no need for a magnifying glass app!
By

Conner Carey
Updated 01/25/2021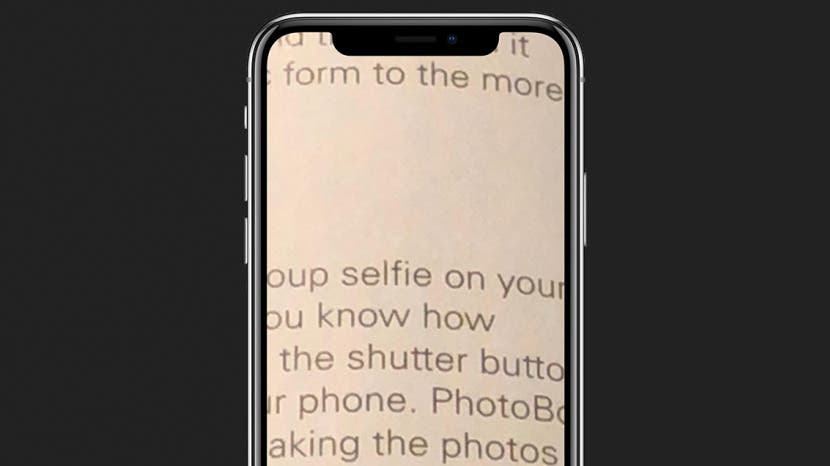 * This post is part of iPhone Life's Tip of the Day newsletter. Sign Up. *
Apple offers a screen magnifier feature on the iPhone and iPad. This "magnifying glass" is a helpful reading magnifier, especially for the visually impaired. No magnifier app needed; this magnification feature is free!
Related: 10 Siri Voice Commands for iPhone for the Blind & Visually Impaired
How to Use Your iPad & iPhone as a Magnifier
Your iPhone and iPad have great accessibility features. We've written about apps for the deaf and hard of hearing, and we've already shown you how to add accessibility features to your Control Center. For more great iPhone accessibility tutorials, check out our free Tip of the Day. Now, read on to learn how to magnify with your iPad and iPhone, as well as use the flashlight and brightness, contrast, and color adjustments. First, turn the feature on. To do this:
Open the Settings app.


 
Tap Accessibility.


 
Tap Magnifier.


 
Toggle Magnifier on. 


How To Use the iPhone Magnifier
To use your iPhone magnifier, quickly press your iPhone's Side button three times if you have an iPhone X or later, or the Home button three times for earlier iPhone versions.
If you have multiple Accessibility Shortcuts turned on, a menu will pop up; tap Magnifier. 
If not, the magnifying glass will automatically open.
You can also open the Magnifier by tapping the Magnifier app.


 
To maximize the view on your display, slide the yellow dot to the right, toward the plus sign.
To minimize the view, slide to the left toward the minus symbol.


 
Below the plus/minus slider are the Brightness, Contrast, Filters, and Flashlight icons. Tap any of these and use the slider to adjust.


 
Tap the gear icon to add or remove any of these controls.