By

Leanne Hays
Updated 09/28/2021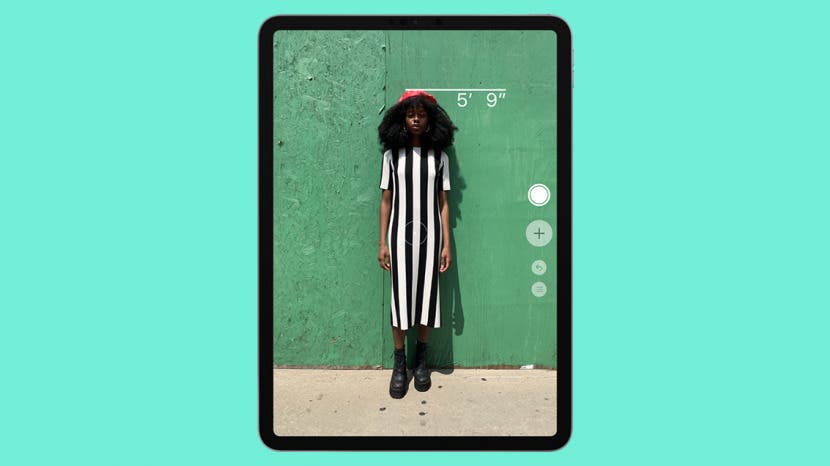 * This post is part of iPhone Life's Tip of the Day newsletter. Sign Up. *
Did you know that the Measure app (which acts as a digital tape measure and level) on your iPad Pro and iPhone 12 Pro and Pro Max can automatically take a height measurement when it detects a person in the viewfinder? Let's go over how to measure someone's height with the iPhone and iPad Measure app, then take and save a photo with their height measurement. 
Related: How to Use the Level in the Measure App on Your iPhone
The height measuring app on the iPhone 12 Pro and the iPad Pro allows you to measure a person's height just by looking at them. This tip works for iPads with a LiDAR Scanner, which includes the iPad Pro 11-inch (2nd generation) and the iPad Pro 12.9-inch (4th generation), iPhone 12 Pro, and iPhone 12 Pro Max. If you're not sure which iPad you own, we have an article that goes over all the iPad generations and models. Check out our free Tip of the Day for more great Measure app tutorials. 
Open the Measure app on your iPad Pro or iPhone 12 Pro.


 
Make sure you can see the person from head to toe on your screen.
The Measure app automatically takes a person's height from the bottom of their feet to the top of their head, hat, or hair.


 
Tap the Shutter button to take a photo of your subject and their measurement.


 
To save the photo, tap the screenshot that appears in the lower-left corner of your display.
Tap Done, then tap Save to Photos or Save to Files.
That's how to measure height with the Measure app on your iPhone and iPad. How will you use this tip? I think it would be fun to take photos of kids and grandkids with height measurements, to see how they've grown over time.