By

Conner Carey
Updated 10/29/2021
Do you really want to borrow a Kindle book that a friend owns? Chances are, that friend can loan you her Kindle book for 14 days, so long as she hasn't lent it to anyone previously. Welcome to the not-so-wide world of sharing Kindle books. There are a few points you should keep in mind before you loan Kindle books and a couple more if you'll be borrowing a Kindle book. We'll go over everything you need to know including how to share a Kindle book, how to borrow and return a Kindle book, and which Kindle books you can share and for how long. Let's get to it: here's how to share Kindle books with your friends and family.
Related: How to Delete Books from Kindle on iPhone & iPad
Table of Contents:
The Basics of Kindle Book Sharing
You can lend or borrow a Kindle book for 14 days. At that point, it will automatically be returned to its owner if you haven't yet returned it.

You do not need a Kindle device in order to lend or borrow a Kindle book; the borrower can download the Kindle app to use on iPhone, iPad, computer, or other smart device.

Books can only be lent out once, so choose who you share your books with wisely.

Magazines and newspapers cannot currently be shared.

During the period of time you've loaned out a book, you will not be able to read it.

Not all books can be shared or lent. Publishers decide whether or not a book can be shared. There are two ways to check whether or not a book is enabled for lending: view the product page and look under Product Details. The image below features a book that is not enabled for sharing. The second way to check is to follow the book sharing instructions below—if 'Loan this title' isn't an option, then it can't be shared or has already been shared before.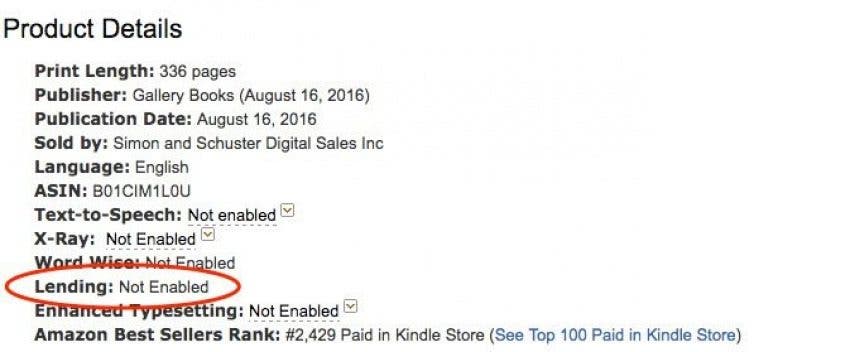 You can read Kindle books on a lot of different devices. The most obvious device being a Kindle e-reader which comes in many different models from the Kindle Paperwhite to the Kindle Fire. You can also read borrowed Kindle books within the Kindle app on iPhone, iPad, or other smart devices.
However, you can't share your Kindle books from your Kindle e-reader or smart device. All Kindle book sharing must be done from within your Amazon account online, much like Kindle book buying (but unlike Kindle book deleting, which you can do directly from the app). I recommend doing this from your computer. You can, however, share a Kindle book from your iPhone or iPad if you switch to the desktop version of the website. Without further ado, here's how to loan Kindle books regardless of what device you own:
Visit Amazon.com and log in to your account.

Hover over the arrow next to Your Account to reveal the Settings drop down menu. From this menu, click Manage Content and Devices.

Select the checkbox next to the Kindle book you want lend. Then click the three dots, known as the Actions button, next to the checkbox. From the options that pop up, choose Loan this title.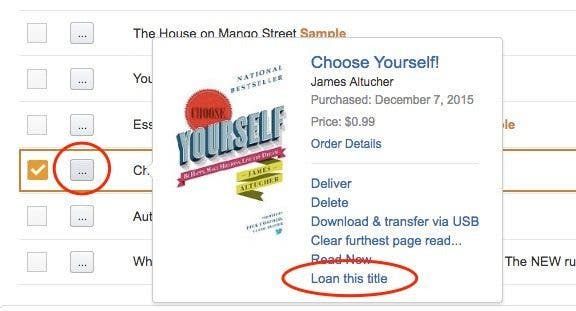 Enter the recipient's email and name. Mark who it's from and add a personal message if you want. Then click Send now. If the person does not accept the book within seven days, it will automatically be returned to you.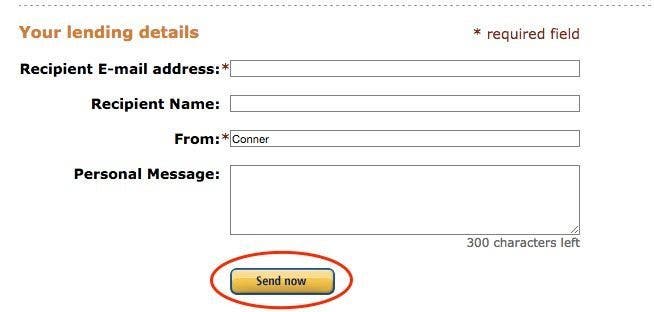 When a friend loans you a Kindle book, you will receive an email letting you know who has loaned you a Kindle book.
Open the email.

Click the button, Get your loaned book now.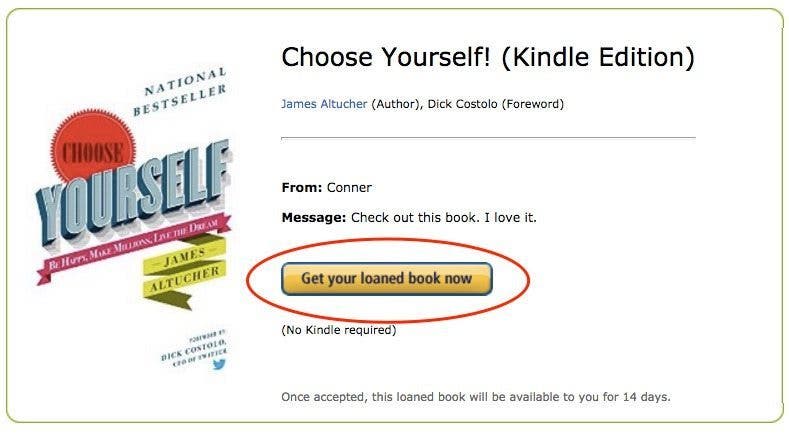 This will open a new tab to Amazon. If you're not already, log in.

On the left of the loan accept page, you will see a green box. Choose the device you want to deliver the loaned book to from the drop-down list.

Tap Accept Loaned Book.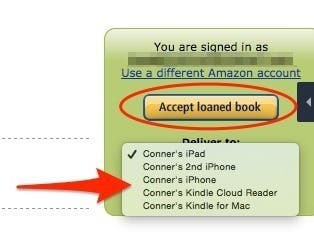 Check the device chosen to confirm the book has made it to its destination. 
If you don't return the book within 14 days, it will automatically be returned to its owner, in which case this step is unnecessary. However, if you finish a book before the 14 days are up and the owner would like it back (since it can't be read by them while you're borrowing it) you can easily return it to them. To do this:
Open a web browser on your computer, navigate to Amazon.com, and log in.

Next to My Account at the top, hover over the arrow to reveal the drop-down menu.

Select Manage Content and Devices from the drop-down menu.

Find the book you want to return. Tap the three dots, known as the Actions button, next to the checkbox of that book. Choose Delete.
Click Yes, delete permanently to confirm return.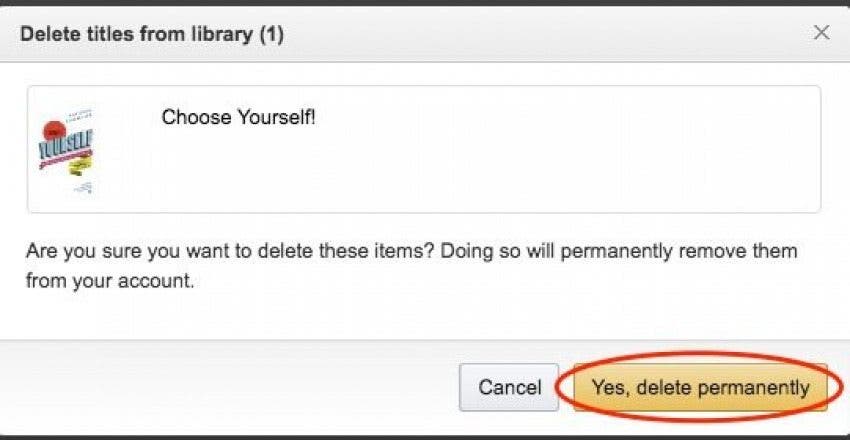 Next, learn how to buy a Kindle directly on your iPhone and how to download a purchased Kindle!
Top Image Credit: James Tarbotton / Unsplash