By

Conner Carey
Updated 07/12/2018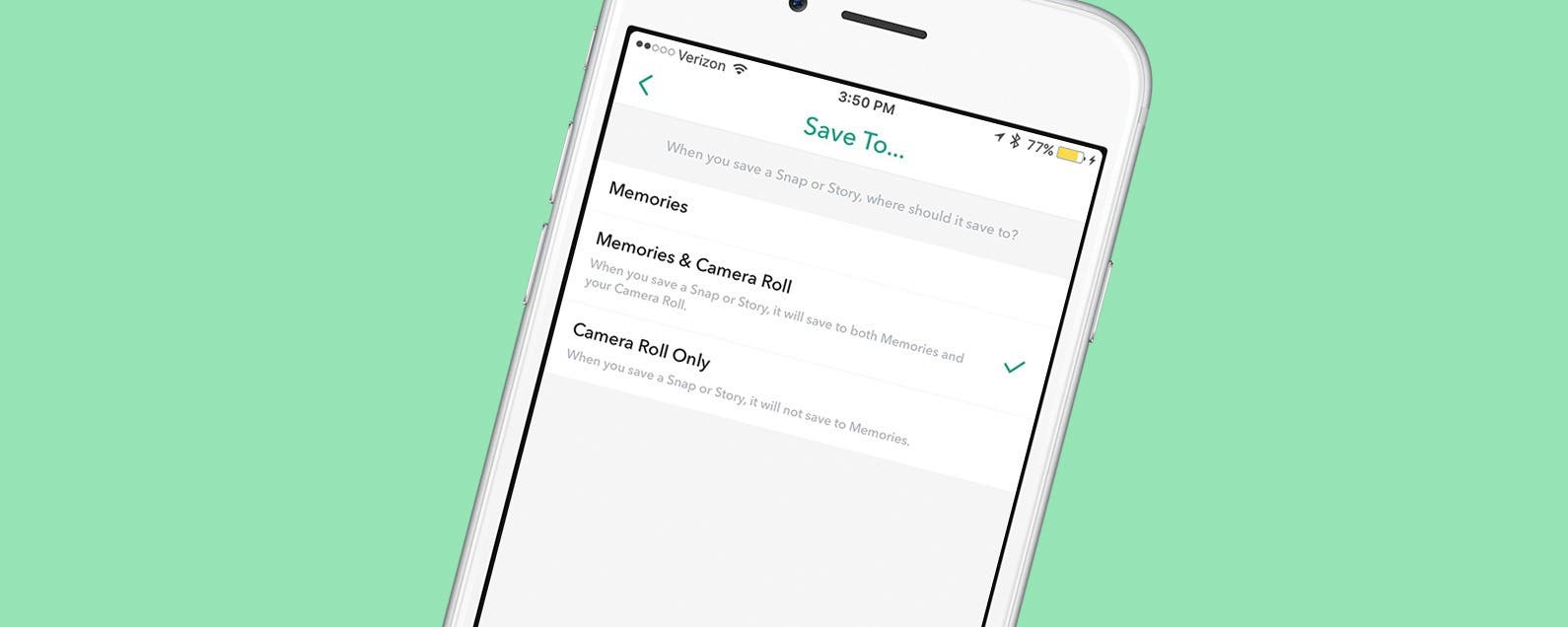 First of all, what is Snapchat? For those of you who haven't tried it yet, Snapchat is a social platform where photos, or snaps, disappear after they're viewed and pictures added to My Story vanish after 24 hours. We have a huge article on using Snapchat that I labored over; check that out if you'd like to learn more. Part of the appeal of using Snapchat for many people is the feeling that they can have a private conversation that isn't recorded. Sometimes, though, you may decide that you like a snap and want to keep it. You'll start wondering, "how can I save Snapchat pictures; is there such a thing as a Snapchat download?" It is possible to snap save; here's how to save Snapchats on your iPhone.
* This post is part of iPhone Life's Tip of the Day newsletter. Sign Up. *
Related: How to Use Snapchat: A Crash Course on Filters, Memories, Snapcash & More
Master your iPhone in one minute a day:
Sign up to iPhone Life's Tip of the Day Newsletter and we'll send you a tip each day to save time and get the most out of your iPhone or iPad.
How to Save a Photo from Snapchat
Think twice about whether the person you're Snapchatting with would be OK with you saving a Snap that they sent you under the assumption it would disappear after you viewed it. You can save Snapchat photos from other people before they disappear by taking a screenshot, but the person will receive a notification that you did so. 
There are two ways to save a photo taken by you from Snapchat. Which method you use will depend on your settings. In Snapchat, you can choose to save pictures to your Memories in the Snapchat app or to your Camera Roll in your iPhone's Photos app. We'll go over how to change this setting first. If you choose to save Snapchat photos to your Camera Roll, it's a quick tap to save a photo. If you choose to save Snapchat photos to your Memories, you'll need to go into your Memories to save the photo to your Photos app on iPhone. You can also choose to save a photo to both your Memories and Camera Roll.
How to Change Where Photos are Saved in Snapchat
Open the Snapchat app.
Tap your profile icon in the upper left corner to open your profile.
Tap the gear icon in the upper right corner to open Settings.
Tap on Memories.
Tap Save Button.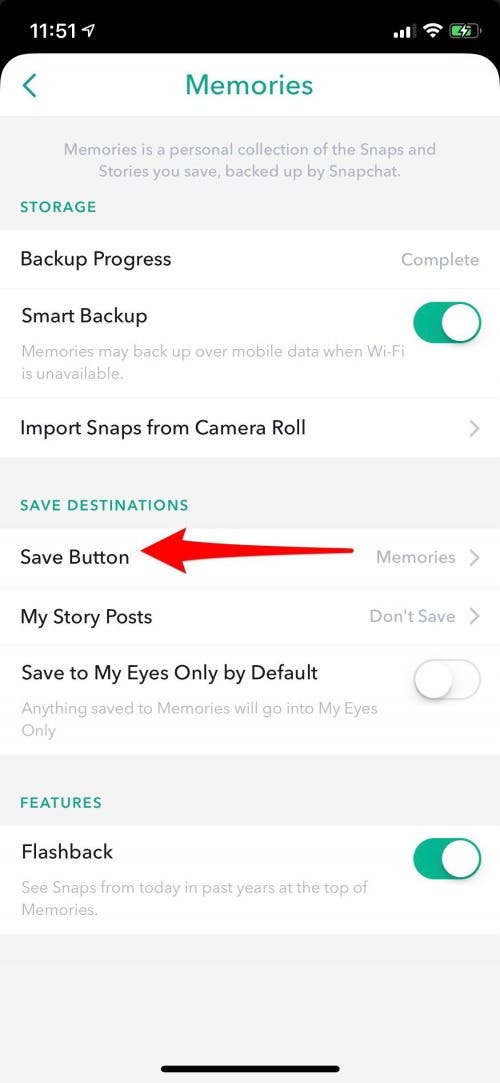 Tap Camera Roll to save your Snapchat photos to your Camera Roll.
Tap Memories & Camera Roll to save your Snapchat photos to both places.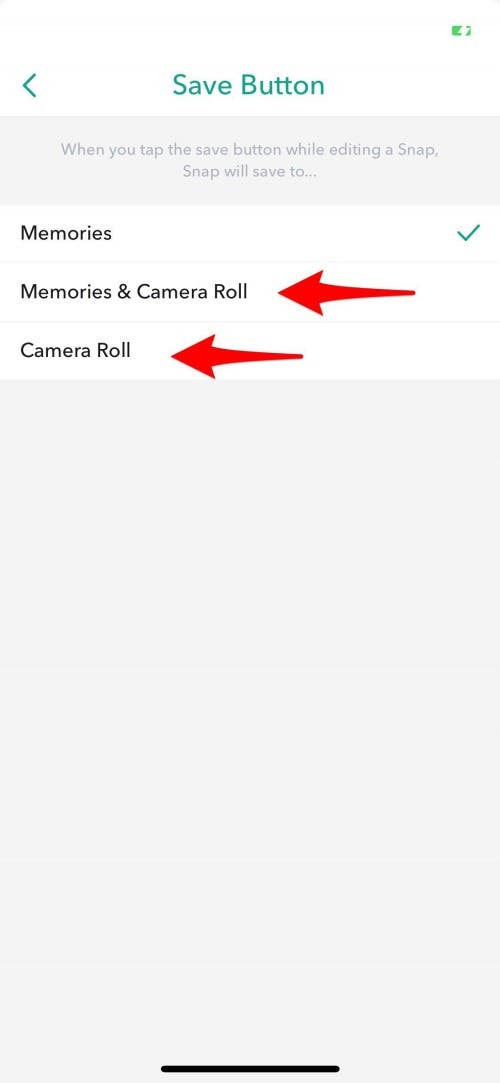 If you're going to be saving a lot of photos to your Camera Roll from Snapchat, I recommend selecting either Camera Roll or Memories & Camera Roll. The process to save a photo is much quicker when one of those two settings is active.
How to Save a Photo Straight to Camera Roll from Snapchat
Use the info above to select Camera Roll or Memories & Camera Roll in the settings of Snapchat.
Now, navigate to camera view (home screen on Snapchat) and take your photo.
Tap the save icon in the lower left part of the photo.
A check mark will appear when your snap is saved to Photos.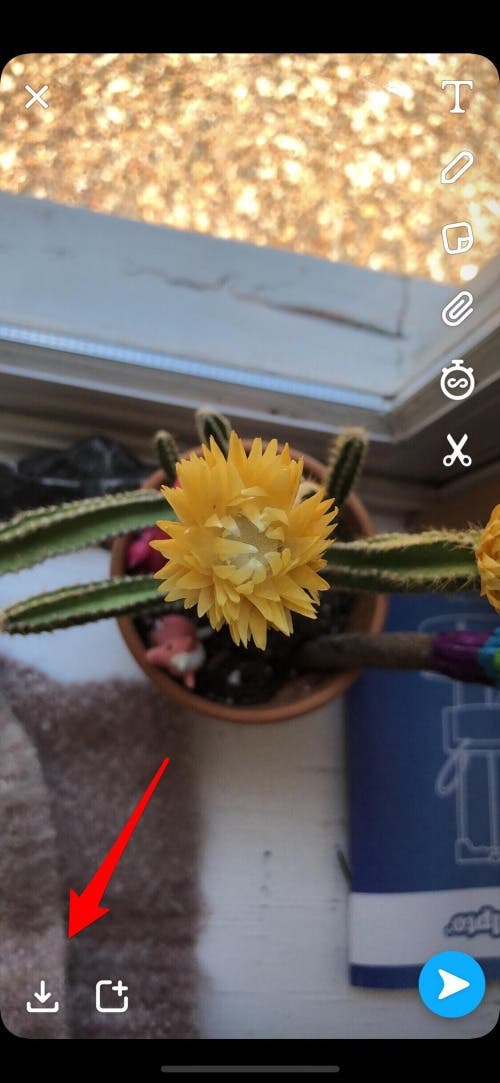 Your photo will save to Camera Roll/All Photos.
How to Save a Photo from Memories in Snapchat
If you select either Memories or Memories & Camera Roll in Snapchat settings, this will allow you to visit Memories and save photos to your iPhone. The benefit of Memories is that it collects all the Snapchat photos you save for easy access.
Open Memories from camera view in Snapchat by tapping the photos icon below the shutter button at the bottom of the screen.
Select the photo you want to save to Photos, then select the icon that looks like three vertical dots.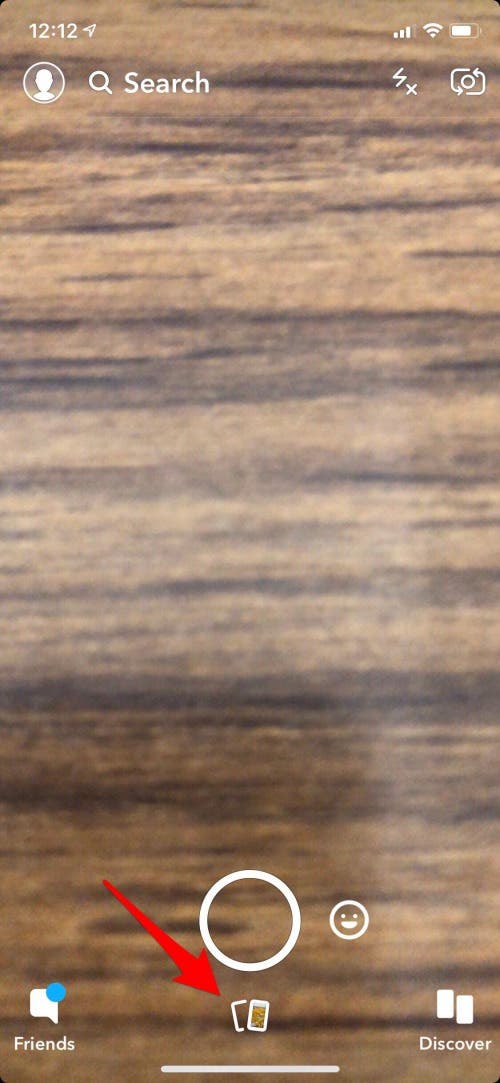 Tap Export Snap.
Tap Save Image.