By

Rhett Intriago
Updated 09/15/2022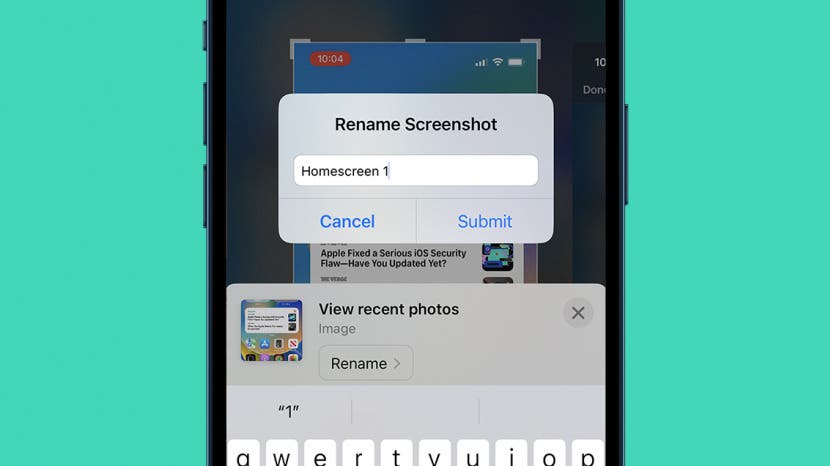 * This post is part of iPhone Life's Tip of the Day newsletter. Sign Up. *
Whether you're quickly sharing a meme or showing a friend a funny text, taking screenshots is something everyone does. With iOS 16, you can even rename your screenshots on your iPhone, allowing you to better organize and keep track of them.
Related: How to Take Full-Page Screenshots on iPhone
Why You'll Love This Tip
Easily rename your screenshots to add a more descriptive name. 
Label your screenshots so you can email them with their custom names. 
How to Rename a Screenshot on Your iPhone
In order to rename your screenshots, you'll need to have upgraded to iOS 16. You can also only rename a screenshot just after it has been taken (so you can't go hunting through your Photos Library to rename older images). To learn more about your hidden iPhone features, sign up for our free Tip of the Day newsletter. Now, we'll walk you through how to rename a screenshot on your iPhone. 
To take a screenshot on newer iPhones with Face ID, press the Volume Up button and the Side button at the same time and quickly release. To take a screenshot on older iPhones with a Home button, press the Side button and the Home button at the same time and quickly release. 
A thumbnail of the screenshot will appear in the lower left corner. Tap to open it. 



Tap the Share icon in the upper right corner.


Tap Rename.



Type a new name and tap Submit.


The new image name will appear at the top of the card. 


The ability to rename screenshots on your iPhone is a brand-new iOS 16 feature; however, it does have some limitations. As of right now, you cannot rename a screenshot and save it to your Files app with the new name. The custom name you assign will also not be saved in the Photos app (which means you cannot do a keyword search for a named screenshot to find it). We hope to see Apple further expand the functionality of this feature moving forward! For now, though, it is still a great way to rename images and email them with the new custom names. If you've been needing to back up your iPhone photos to your Mac or PC, you can also check out these easy ways to transfer photos from your iPhone to your computer.