By

Amy Spitzfaden Both
Tue, 04/27/2021
Let's look at how to navigate an iPad that has a Home button. iPad ownership starts with the basics: how to turn on an iPad, how to adjust the volume on your iPad, what the iPad side switches are, and the rest of the physical parts of your iPad. Here is your complete guide to navigating your iPad with a Home button.
Jump To: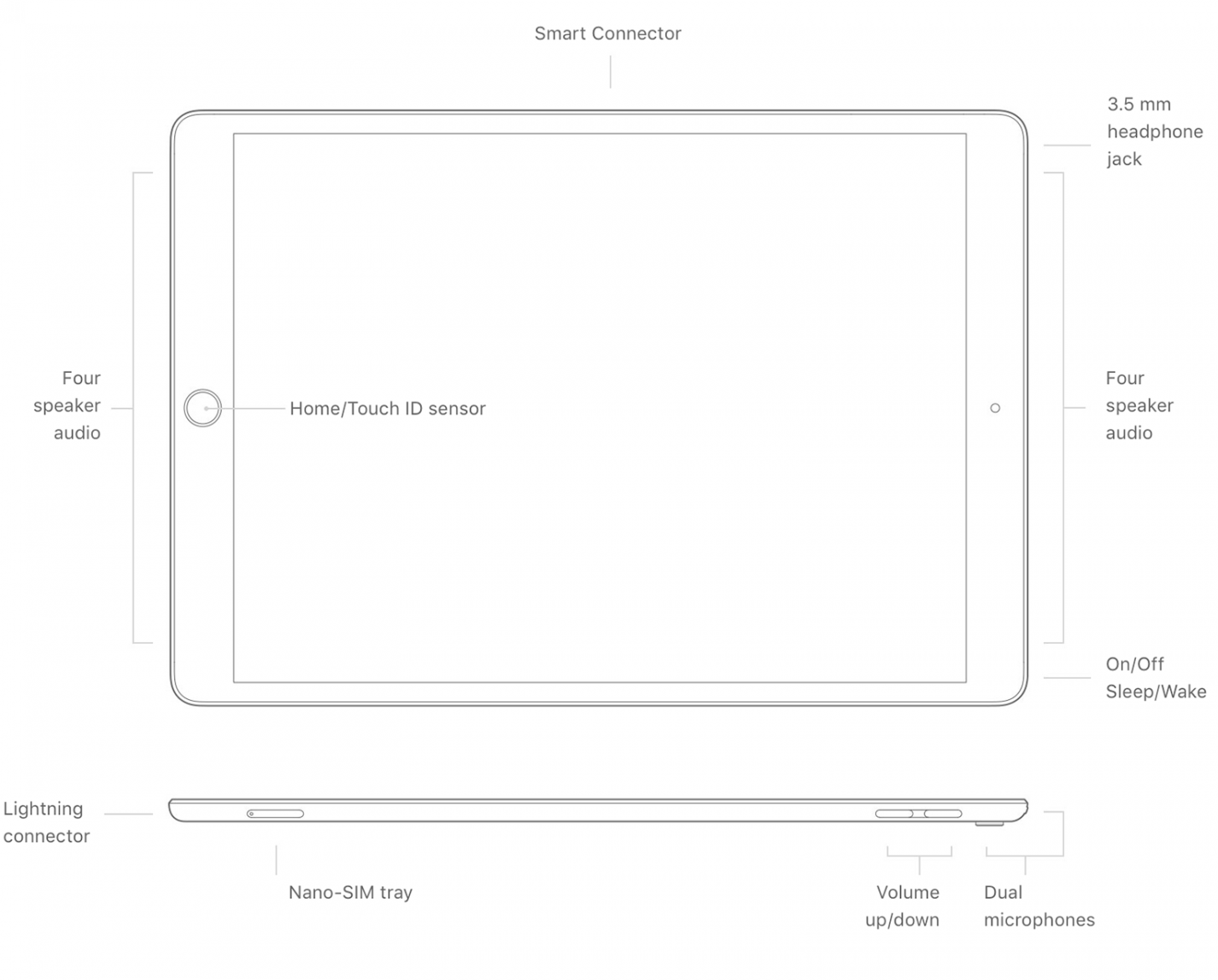 iPad Models with a Home Button
The iPad models that have a Home button are:
iPad Pro 12.9-inch (1st and 2nd generation)
iPad Pro 10.5-inch
iPad Pro 9.7-inch
iPad Air (3rd generation)
iPad Air 2
iPad (5th, 6th, 7th, and 8th generation)
iPad mini (5th generation)
iPad mini 4
Home Button/Touch ID Sensor
When holding your iPad in portrait orientation, you'll find the Home button centered below the screen. Pressing this button wakes your device and takes you back to your Home screen if you're using an app. Double pressing it takes you to your App Switcher to navigate between apps. Pressing and holding it summons your digital assistant Siri. If you have an iPad Air 2, iPad Mini 4, or iPad Pro (1st or 2nd generation), the Home button also houses Touch ID, a fingerprint scanner that authenticates your identity before unlocking your device—no need to enter your passcode!

Discover your iPhone's hidden features
Get one daily tip each day (with screenshots and clear instructions) so you can master your iPhone in just one minute a day.
Top Button: Sleep/Wake
Along the top of the iPad on the right is the Sleep/Wake button. Pressing and holding this button turns your device on and off. When your device is on and awake, pressing this button puts your iPad back to sleep. When idle, pressing it wakes your device. You can also press the Sleep/Wake button to send incoming calls to Voicemail. For more great iPad tutorials, check out our Tip of the Day!
Volume Buttons
Along the right side of your tablet near the top, you'll find the volume buttons, which can control the volume when you play videos and music as well as your ringer and alerts. You can customize what the buttons control by going to Settings > Sounds. If you toggle on Change with Buttons, you'll be able to control your ringer and alert levels with the volume buttons. I prefer to mute all alerts on my iPad and use the volume buttons just to control video and music playback.
Related: Why Is My iPad So Slow? Learn How to Fix & Speed Up Any iPad
Lightning Connector
This port is located on the bottom of your device in portrait orientation and is where you plug your iPad into the Lightning to USB charger included with your purchase.
Headphone Jack
Apple has done away with the headphone jack on most devices, but if you have an iPad with a Home button, then you also still have a headphone jack! That means you can listen to audio with wired headphones without dealing with any dongles or extra steps.
Smart Connector for iPad Pro (1st and 2nd Generations)
If you have an iPad Pro, you'll find three small holes along the bottom of your device when it's in landscape orientation called the Smart Connector. The Smart Connector lets you attach keyboards without Bluetooth pairing.
Side Switch for Older iPads
Only certain iPad models come with a side switch. You'll find this switch on the iPad 4 and iPad Mini 3 or older models. The side switch, located above the volume controls, can mute all notification and alert sounds from your device or lock the screen orientation. You can program which you'd like the switch to control by going to Settings > General > Use Side Switch To. I'd recommend programming the switch to whichever feature you anticipate using more often. I like to mute my phone often, so that's what I chose, and if I want to lock the orientation of my device, that option will appear in Control Center