Finding saved passwords on your Mac makes it easy to choose unique and secure options each time.
By

Amy Spitzfaden–Both
Updated 04/28/2022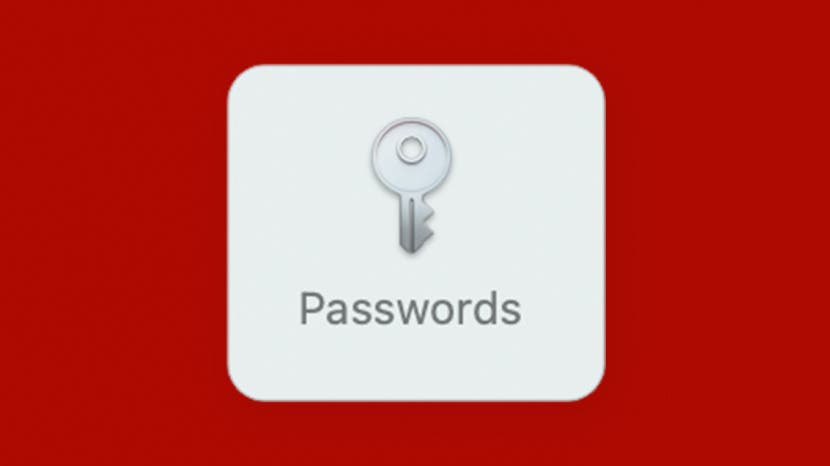 Needing to remember a million different passwords might make you want to choose simple, easy-to-remember ones, but simple and repeated passwords are a big security risk. Knowing how to find a password on a Mac empowers you to choose strong password options each time you create an account. Here's how to find saved passwords on your Mac.
How to Find Passwords on Mac
The password manager on your Mac is easy to access, but can be tricky to locate if you don't already know where it is. Your Mac might suggest a stored password when it senses a relevant input field, but when that doesn't happen (which is an annoyingly frequent occurrence) you'll need to know where your passwords are so you can retrieve them. For more Mac, iPhone, and iPad how-tos, check out our Tip of the Day.
Click the Apple menu on your Mac.


Click System Preferences.


Click Passwords.


Enter your computer's password or use Touch ID.


Scroll through the list of all your saved passwords or use the Search function to find a specific one.


These are all the passwords that have been saved to your iCloud keychain, so if you created and saved the password on your iPad or iPhone, it should still show up here, and vice versa. Just like on your iPhone, your Mac will show you weak or compromised passwords, indicated with an exclamation point symbol. 
If you have saved passwords to Chrome the process will be different in that browser, so you can learn how to connect iCloud Keychain and Chrome. For outdated login information, you can also learn how to delete saved passwords on your iPhone. As an added bonus, here's a handy shortcut to minimize all windows on a Mac at the same time.