Let Siri do the work for you! Set new reminders, create useful lists, modify existing lists, and more with Apple's virtual assistant.
By

Erin MacPherson
Mon, 05/10/2021
Can Siri speak reminders? Can Siri create a daily reminder that repeats at a certain time? We'll cover these questions and more in this in-depth guide on how to manage and set reminders on your iPhone or iPad using Siri Reminders app commands.
Jump To:
How to Use Reminders on an iPhone with Siri
There are so many ways Siri can help you make the most of the Reminders app, but first, you'll need to be using the current iOS or iPadOS version to make sure everything works the way it should.
One of the most common things Reminders users do is to simply ask Siri to set reminders or to create lists within the Reminders app. I use this feature regularly to create and maintain to-do lists and grocery lists, especially while I'm driving and can't type on my iPhone but don't want to forget what I needed to create a reminder for.
This hands-free benefit got me thinking: can Siri speak reminders, too? Yes! If you tell Siri "go to my reminders," the virtual assistant will not only bring up your Reminders app items, it'll actually start reading them to you! This is another nice touch-free function (as long as you have "Hey Siri" enabled), and has saved me the trouble of digging through lists more than once.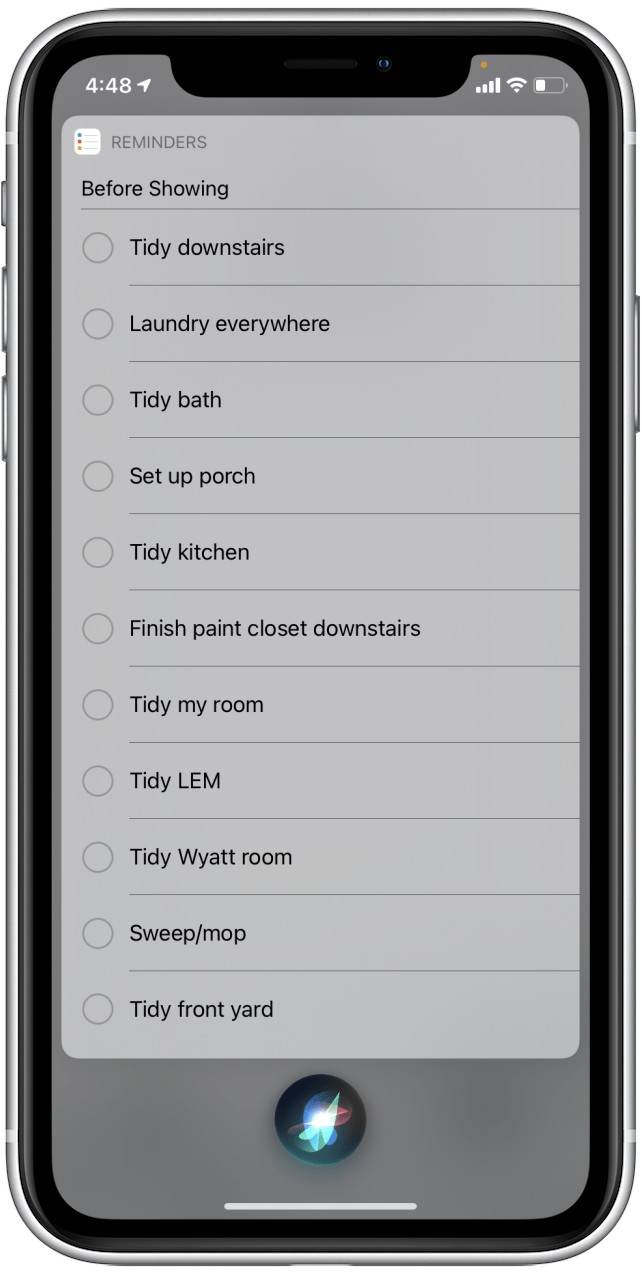 Siri Suggestions can also recommend reminders for you based on your Mail and Messages app activity. Don't worry, this isn't a privacy concern; it's actually a helpful function of Siri that stays between you and your device. You'll see these reminders on your Reminders app main screen if there are any suggestions.
In the next sections we'll show you how to create a new reminder with Siri, and how to modify a reminder if it doesn't come out quite right. We'll also show you how to have Siri remind you about something you saw when browsing on your iPhone or iPad so that you don't forget the web page or app you saw it in. Once you're done learning those quick tips, check out our list of Siri reminder commands for more ideas!
Create a New Reminder with Siri
The Apple Reminders app has come a long way, and is now more useful than ever. Recent updates brought some truly useful improvements to the way Siri integrates with the app and its contents! Here's how to use Siri to set a reminder on your iPhone or iPad:
Activate Siri, either by saying "Hey Siri" or by clicking and holding the side button (for iPhones without a Home button) or the Home button (on iPhones with a Home button).
Tell Siri to remind you to do something. Here are some example Siri reminder commands:
 

"Remind me to call Kevin tomorrow at noon."

"Remind me to take out the trash when I get home."

"Remind me to feed the cat every day at 9:00 in the morning."
"Remind me when I text Mark to ask him if I can borrow the ladder."
 

Siri will show you a preview of your reminder.

 

If you need to retry dictating your reminder, tap

Change

.

 

Siri will ask you what you want to change. Go ahead and re-dictate the whole reminder.

 

If you need to edit the details of the reminder but don't want to dictate the reminder again, tap on the reminder itself.

 

You'll be brought to that reminder in the Reminders app.

Tap on the title of the reminder to edit it.

 

Tap the

info icon

to change the settings of the reminder.

 

You'll be taken to the

Details menu

, where you can change things like the date, time, and more.
And that's it! If you opt to keep it simple and not specify a time for your reminder, Siri will automatically remind you at 9:00 a.m. on the day you ask the reminder to occur. 
Ask Siri to Remind You of Something from an App or Web Page
Did you know you can use the Reminders app to remind you of an email, a web page, or other app activity? Even more exciting: you can have Siri do it for you, so you don't run the risk of accidentally navigating away from whatever it is you want to be reminded about while manually creating the reminder. Here's how to ask Siri to remind you of something you found in an app or on a web page:
While on the page you want to remember, activate Siri, either by saying "Hey Siri" or by clicking and holding the side button (for iPhone without a Home button) or the Home button (on iPhones with a Home button).
Say "remind me of this [your chosen reminder date and/or time]."
Siri will pop up a preview of your reminder.
This reminder will include a link to the page you've set the reminder for, and will include the title of that page as well.


Note that this only works with Apple's native apps, such as Mail, Safari, Messages, and others. 
Common Siri Reminder Commands
There are so many ways to create detailed and customized reminders with Siri. These are some of the examples we felt best illustrated the perks of using Siri for reminders, but you can get creative with your Siri reminder commands. If Siri misunderstands you, you can always modify the reminder or start over!
Managing Lists
"Mark 'feed the dog' as complete"
"Read me my Work to-do list"
"Add olive oil and French bread to the grocery list."
"Mark 'onion' as complete on my grocery list."
"Show me my flagged reminders."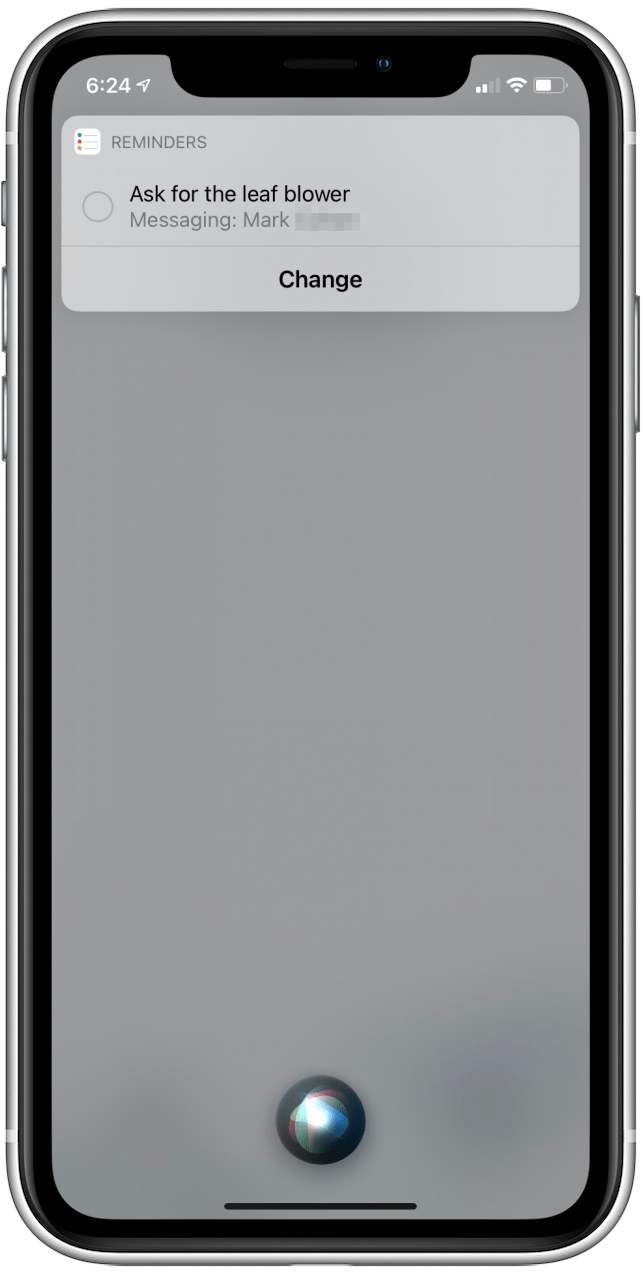 Don't Forget...
"Remind me when I message Rheanne to ask about video guides."
"Remind tomorrow at 5:00 p.m. that I have a dentist appointment on Thursday at 8:00 a.m."
"Remind me to ask for the ladder when I get to Mom's house."
"Remind me when I leave here to get gas."
"Remind me to ask Noah for his old iPhone when I get to work."
"Create a flagged reminder to buy trash bags."
For a proud list-maker like myself, the Reminders app is a daily tool. Siri takes the benefits and convenience of this app to the next level!