Get your Beats headphones & earphones sparkly-clean.
By

Gressa Cedergren
Updated 01/18/2023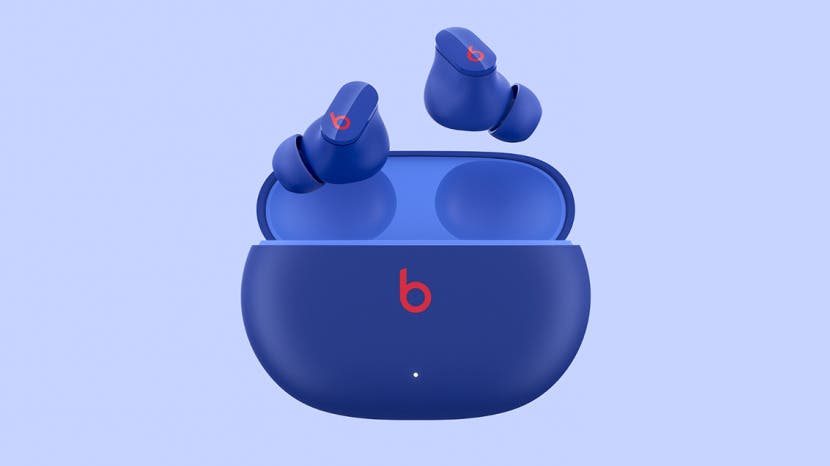 Cleaning your Beats headphones may sound like the last way you want to spend your free time. But a quick ten minutes starts to sound pretty rational if you consider that the build-up of sweat, earwax, dirt, and bacteria can lead to an ear infection, lower sound quality, and perhaps worse of all, a horrible smell that lingers. Below, we'll cover how to clean your Beats headphones and earphones safely and properly.
Materials Needed
What to Use to Clean Beats Headphones or Earphones
Lint-free cloth (such as a lens cloth)
Soapy water
Clorox wipes
Q-Tips
What NOT to Use to Clean Beats Headphones or Earphones
Products containing bleach or hydrogen peroxide
Window cleaners, household cleaners, or aerosol sprays
Compressed air
Abrasive materials (such as paper towels or other materials with harsh fibers like wood pulp)
How to Clean Beats Headphones
For more tips on how to use and care for your Apple devices, sign up for our free Tip of the Day Newsletter. Ready to remove the sweat smell from your Beats headphones? Follow the simple steps below for the best way to clean Beats headphones: 
Start by carefully removing both ear pads.
Use a dry cleaning cloth to wipe dust and dirt from the headset.
Use a slightly damp cloth moistened with soapy water or a Clorox wipe to carefully clean the headphone cushions and sliders.
Apple recommends using only a dry cloth on the Beats earpads. However, if your headphones have the dreaded sweat smell or you're a germaphobe like me, it's pretty safe to squeeze out a Clorox wipe and gently use it on your earpads before wiping with a dry cloth. A quick note on storage: The next time you put away your headphones, I also recommend throwing a silica gel packet or two inside the earpads. These little magical packets help stave off the dreaded headphone stench by absorbing moisture and keeping the humidity level balanced.
How to Clean Beats Earbuds
While the above steps cover how to clean your headphones, what about cleaning your Beats earbuds? Here's how to clean your Beats earphones: 
Start by carefully removing the soft eartips.
Either use a damp cloth moistened with warm soapy water or a Clorox wipe to clean the built-up residue. If the eartips have a lot of ear wax on them, you can dip the end of a Q-Tip in warm soapy water and carefully scoop out the residue.
Make sure that you rinse off all of the soap before setting the eartips to dry (and make sure your eartips are completely dry before putting them back on your earphones).
To clean the wires and earphones, use a Clorox wipe or a damp cloth to gently wipe and clean off any residue.
The final step is to enjoy your freshly cleaned headphones or earphones for your next headbanging session! Happy cleaning!