Pass on your favorite digital memories to loved ones with Apple Digital Legacy.
By

Ashleigh Page
Updated 12/15/2021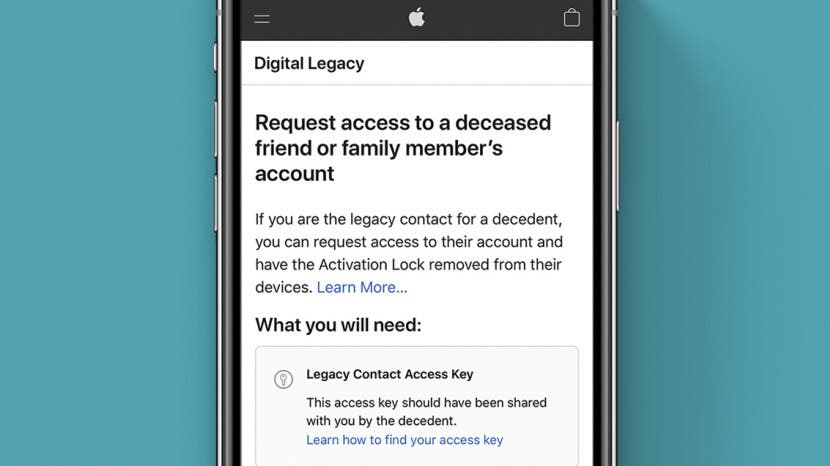 Losing a loved one is difficult. Having their digital memories, such as photos, allows us to cherish the times we spent together. With the Digital Legacy progrsm in iOS 15, Apple allows you to securely and easily pass on your digital data after death. Read on to learn more about this feature.
Related: How to Retrieve Deleted Text Messages on iPhone
Jump To: 
What Is a Digital Legacy?
In iOS 15, the Digital Legacy feature allows you to pass down your digital data to friends and family members designated as Digital Legacy contacts after you're gone. This feature is both sentimental and practical, as it gives your Legacy contacts access to both your digital memories (photos, videos, and notes), as well as data such as billing and insurance emails. 
At this time, the Digital Legacy program has been announced but will not be available on iOS 15 until sometime this fall. 
How Does Apple Legacy Work?
You begin by setting up one or more individuals as your Digital Legacy contact. This process is very simple and requires only that you enter their name in the contacts field. When you add someone as a Legacy contact, a digital Access Key is generated. Save this Access Key as a PDF, then text or email it to your Legacy contact. 
Once they are designated as a Legacy contact, your loved ones can request a copy of your data on Apple's website using this Access Key and a copy of the death certificate. After the death certificate and Access Key are verified by Apple, a zip file is generated for download. This zip file has an expiration date that Apple will notify you of at the time of the data request. A set number of days after this zip file is generated, this content will be deleted and your Legacy contact will no longer have access to your data. 
Once added, a Digital Legacy contact can be removed from your account at any time. Access Keys can also be re-downloaded if your set contact loses their Access Key. 
After you've added a family member as a Digital Legacy contact, they'll be able to access all the data linked to your account, including text messages, emails, contacts, photos, videos, documents, notes, and calendar events.
It is important to note that trusted contacts won't be able to view information like your iCloud Keychain, payment information, and subscriptions (unless records of this information are saved in your email). So if you would like to have certain passwords and financial information passed on to your loved ones, the Digital Legacy feature may not be the solution you're looking for. 
Yes. When you request a copy of the data, the digital content is securely packaged into a zip file for download. This process is encrypted, and none of the data is seen by Apple.  If you ever change your mind about a trusted contact, they can be removed from your Legacy contact list at any time. This revokes their Access Key, and they will not be able to download your content.
The ability to pass on your favorite photos, videos, and digital scribbles to your loved ones is certainly an appealing thought, and it seems that the Apple Digital Legacy program will prove to be a valuable iOS 15 addition.
Now that you have all the facts, you can follow these steps to set up Apple Digital Legacy!