By

Conner Carey
Mon, 09/18/2017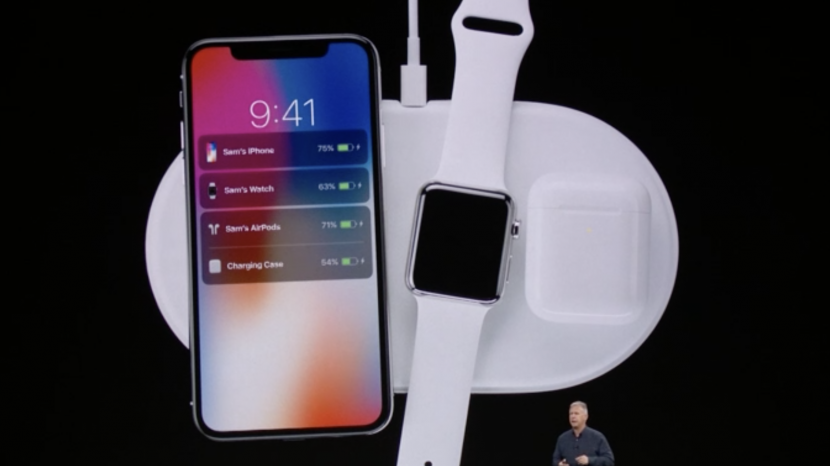 We've all anticipated wireless charging on the iPhone for many years. And to our surprise, Apple is using the standard Qi wireless charging system, which means any current wireless charging stations you own will work with the iPhone 8, iPhone 8 Plus, and iPhone X. Next year, Apple will release its own wireless charging station for the iPhone, called the AirPower. But there are a lot of questions to answer. First of all, how does wireless charging work? Most importantly, which devices will be able to charge on the AirPower? And lastly, when does Apple's wireless charging pad come out and how much is it going to cost. We've got all of the latest details below.
Related: Apple's New Product Lineup—and Why It Matters
Interestingly enough, there are some drawbacks to wireless charging, which may be why Apple waited so long to implement the technology. While it's improved in the past couple years, wireless charging is generally slower than wired charging and you can't exactly pick up and use your device while your iPhone is charging on the pad. However, it does seem like the new iPhones will have the both the option to charge wirelessly or via the lightning jack. But how does this whole wireless charging thing work?
How Does Wireless Charging Work?
Let's talk science. Wireless charging works by creating an electromagnetic field. Both the phone and charging pad contain induction coils. Those coils plus a bit of electromagnetic induction equals electricity that can transmit energy from one device to the other. This energy, in the electromagnetic field that's been created, is turned into an electrical current that charges your device. Proximity (your device laying directly on the wireless charging pad) is still currently necessary for wireless charging, though it's rumored that Apple is working on distance wireless charging for a future device.
Overall, it's important that Apple added this capability to the iPhone. Whether users love it or not, this move will help make wireless charging better. As more people use a technology, there's more reason for companies to make technological advancements in regard to that tech. Qi wireless charging is no different.  
What Devices Will Work with Apple's AirPower Charging Pad?
Older models of iPhone will not work with the new wireless charging pad; they simply don't have the internal components necessary to make it happen. Apple Watches, on the other hand, have always used wireless charging; therefore, all models of Apple Watch old and new will be compatible with Apple's AirPower charging pad. So, what's going to be compatible with Apple's AirPower?
iPhone 8 & iPhone 8 Plus

iPhone X

All Apple Watch Models (including the Apple Watch Series 3, 2, original Apple Watch, Apple Watch Hermes, and Apple Watch Nike)

The currently unreleased wireless charging pod for AirPods. At its fall event, Apple mentioned a new charging pod for AirPods that's Qi wireless will be available next year.

Any other devices that wirelessly charge via the Qi wireless standard.
How Much Will Apple's Wireless Charging Pad Cost?
So far, we only have rumors. Most charging pads of a similar nature go for about $60, but Apple is always one to raise that price ceiling, so my guess would be about $80 for the Apple AirPower charging pad. Although, it's designed to charge multiple devices simultaneously, so Apple may add a couple extra twenties for that. Place your price wager in the comments below.
When Will AirPower Be Released?
The most specific answer we have, direct from Apple, is, "next year." 2018, people. Which is an odd move since everyone upgrading to a new iPhone will likely want to buy a wireless charger they can use immediately. Somehow, I doubt Apple is worried.
Can't Wait? Alternative Wireless Charging Pads for iPhone
Both Belkin and Mophie released wireless charging stations for the new iPhone 8, iPhone 8 Plus, and iPhone X. Although, you can use any existing Qi wireless charging station for the iPhone; because for once in the history of Apple (slight exaggeration), it's using the industry standard. The first two charging stations below are sixty dollars, made by well-know reputable brands, and coming soon; however, I've also included a Qi charging pad that's available now for only $12.99 with solid reviews on Amazon. These are some good options and you have many more, which we'll feature in another article soon. Let's get to it.