If you want to video call Android phones, FaceTime is now an option! iOS 15 lets you connect with your Android-using friends over Apple's video chat platform.
By

Amy Spitzfaden–Both
Mon, 08/16/2021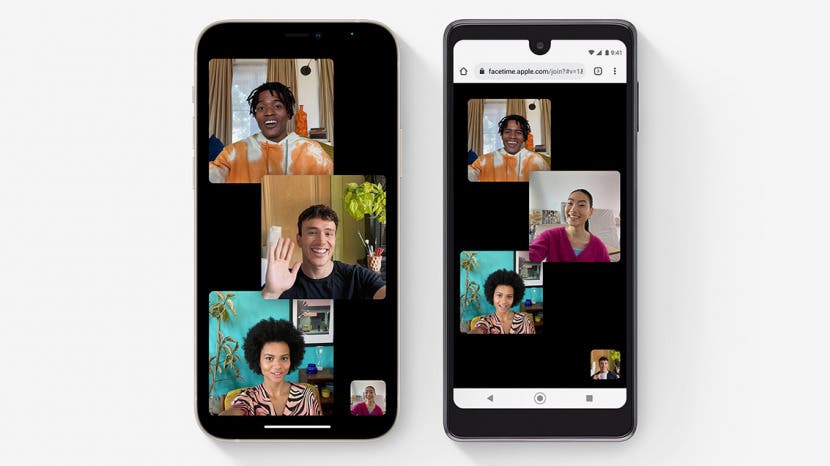 Can you FaceTime on Android? Yes, you can! Thanks to iOS 15 you can FaceTime Android phone users, allowing you to connect over video chat with friends and families with other devices without third-party apps that can slow down your device and take up a lot of room. It's simple to do, and offers a whole new realm of communication options. Let's learn how to FaceTime on Android.
How to FaceTime on Android
Can I FaceTime on Android? With iOS 15 you can. The shipping version of iOS 15 comes out this fall and the iOS 15 beta software is available now. You'll need an iPhone user to invite you, so this article will focus on how to create that invitation and send it to your Android-using friends and families for the full FaceTime experience. The Android user will have to open the link in Chrome, so make sure they have that downloaded and ready to go. For more FaceTime tutorials, check out our Tip of the Day!
Related: How to Know If Someone Blocked Your Number on iPhone 
Open FaceTime and tap Create Link.


Choose how you want to share the link. For this article, I used Messages.


Enter the contact you'd like to invite.


Send the link.


Tap FaceTime Link under Upcoming.


Join the call and then see other participants by tapping the box that says FaceTime.


Accept or reject the other waiting members.


Tap Done.


Enjoy! When you are finished, just exit the FaceTime call as you would normally.