Wondering how Apple's return policy works? We'll explain what you need to know.
By

Belinda Sanmiguel
Updated 01/17/2023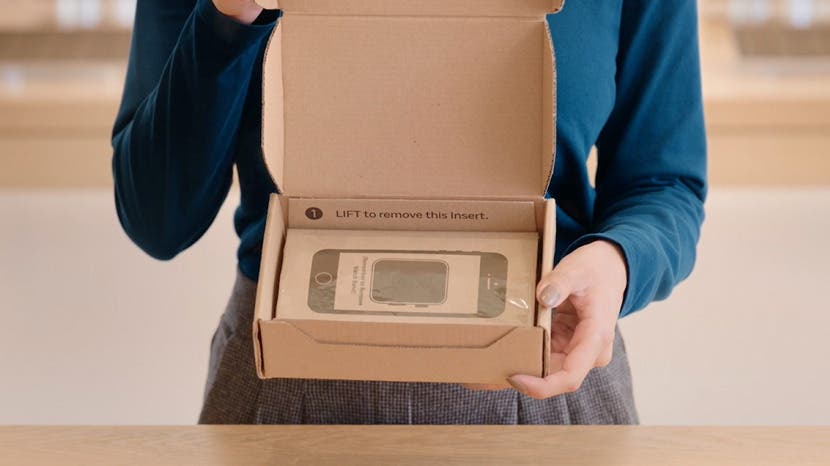 You bought an Apple product, how exciting! Perhaps you splurged on a new Apple Watch or received an iPad as a gift. But unfortunately, it might have arrived damaged or not have been what you expected. So, how do you return Apple products? Here's what you need to know about exchanging or returning Apple products.
Jump To: 
Apple's Return Policy & Products You Can Return
According to Apple's return policy, undamaged products are returnable within 14 days from the date you received them. You can only return products purchased from Apple.com or an Apple retail store. If you purchased the Apple products from a third-party dealer, such as Amazon or AT&T, you will need to review their refund policies. These products must be returned to the third-party seller and cannot be returned to Apple. If you purchased your Apple products from Apple.com or at an in-person Apple store, you have two options: you can return the product in-store or ship it back. When you return a product, all accessories (such as chargers or cables) and any documentation should be included with the return. 
Apple's return policy is pretty generous, and you can return nearly all products. There are only a few exceptions, as you cannot return opened software (software purchased in-store that has already been installed on a device), electronic software downloads or upgrades, Apple Print products, or Apple Gift Cards ( this includes the previous generation Apple Store Gift Cards and App Store & iTunes Gift Cards). You also cannot return Apple Developer products, such as membership or WWDC tickets. But outside of the exceptions listed, any device or product purchased from Apple can be returned within the 14-day period. 
If you bought a product, such as an iPhone or iPad, and have already set it up for cellular service, you may still have to contact the wireless service associated with that account. Each wireless carrier will have different cancelation policies, and returning an Apple device doesn't guarantee the service will be canceled with your cellular provider. So make sure you call your provider and cancel service for the returned device!
How Do Apple Exchanges Work?
If you opt to do an Apple product exchange, you will need to visit the Apple Store in person. As long as you've purchased your item from an Apple Store or online in the United States, you'll be able to take your items to any U.S. Apple Store for an exchange. If you exchange a product, you will need to bring the original receipt, packaging, and any included accessories within 14 days of the date you received the product. Remember that when exchanging Apple products, the availability of items is not always guaranteed. It's best to check Apple.com to see if the product you want to exchange is in stock at an Apple Store near you.
Apple's return policy states that engraved items and custom-configured Macs are not eligible for an exchange. You can only return custom-configured Macs or engraved items for a refund. If you choose to return your engraved item or custom-configured Mac, your refund will be issued to the original payment method you used on your order. Also, if you ordered an item online and the product arrived damaged, you can return it to any Apple Store, or by contacting Customer Service at 1-800-676-2775. 
Related: How to Buy Kindle Books on iPhone & iPad
How to Return an Apple Product Online
So, how do you return an Apple product online? First, you need to sign in to your Apple account. You can locate your order by entering your order number and email address or signing into your Apple account. Follow the steps below to return your Apple products:
Go to Order Listing Page.
Log in using your Apple ID or enter your order number and email address.

Select any items you wish to return.
Click Start a Return.

Click Get Started.
Click Initiate Your Return.

Select the items you wish to return.
Click Print Now to print the address and shipping label.
Apple will notify you when it receives your items and issue your return. If you're interested in learning how to make the most of your Apple devices, sign up for our free Tip of the Day Newsletter. 
Returning Apple Products as a Gift Recipient
If you received an Apple product as a gift but do not wish to keep it, you can just as easily return the item online. To do so, you will need either the serial number of the device you wish to return (this is listed on the device, the product packaging, and receipt) or the order number and Universal Product Code (the UPC is the number listed near the barcode on the retail box). Once you have this information handy, follow the steps below to complete your gift return: 
Go to Gift Returns.
Enter your Serial number (listed on the device), or enter the order number and the Universal Product Code.

Select the items you wish to return. 
Enter your contact information. 

Select Continue to submit your return. 
Print the return label and pre-paid shipping label. You can then schedule a pickup or drop-off at the carrier's location.
Apple will notify you once they receive your items, and will then email your refund as an electronic Apple Gift Card. Then, you can use your Apple Gift Card to purchase other Apple devices and services.
Hopefully, this article has answered your questions about how to return Apple products! We all hope that we won't have to return these products, but sometimes it happens. The good news is that Apple has made returns easy, whether you opt to do so online or in person. If you have additional questions about your specific return, you can also contact Apple directly.