What does IMEI is blocked mean on an iPhone? Can you use IMEI blocked phone? All your questions about blacklisted iPhones answered here!
By

Leanne Hays
Updated 01/12/2023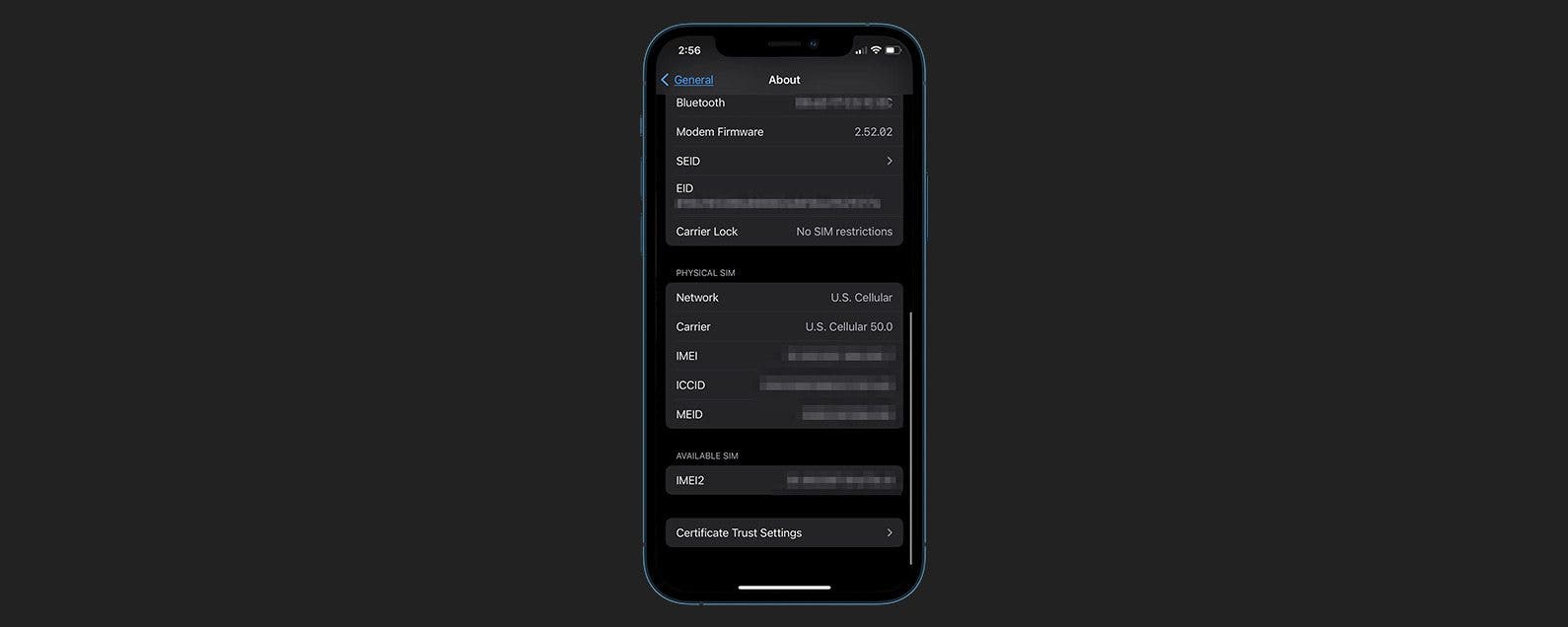 What's blacklisting, and what does IMEI is blocked mean on an iPhone? Let's go over what happens if your IMEI is blocked, how to get unblocked, and how to make sure you don't buy a blacklisted iPhone.
Related: What to Do If Your iPhone Is Stolen or Permanently Lost
Jump To:
What Is an IMEI Number? 
First things first, what is an IMEI number? IMEI stands for International Mobile Equipment Identity. Every iPhone has one of these unique, identifying 15-digit numbers; dual-SIM iPhones have two! If you're curious, we have an article that can help you find your IMEI number. Sign up for our free Tip of the Day newsletter to learn more about your Apple devices.
Why Does IMEI Get Blocked? 
Can a stolen phone be blocked? Yes! A blacklisted phone has its IMEI number blocked because it's a stolen or lost iPhone, or one that's been flagged due to unpaid bills, lack of accurate contact information, or even phone insurance fraud.
What Does IMEI Is Blocked Mean? 
If an IMEI number is blocked, the cellular carrier associated with that phone adds it to a list of blacklisted devices. So, can you use an IMEI blocked phone? No, not really. A blacklisted iPhone can't access its associated cellular network to use data or make calls. The iPhone can, however, still connect to and use Wi-Fi networks.
What's more, in some countries, including the United States, Canada, Australia, and the UK, an IMEI block or blacklist means that the iPhone won't be able to access any cellular network in the entire country. This means that you won't be able to unblock the IMEI by simply changing cellular service providers. There's a growing international IMEI database, but it doesn't yet extend worldwide. So if your phone is taken to a country outside the database, it could be unblocked and used there.
There are several third-party services that will purchase or unlock blacklisted iPhones. So if your iPhone is stolen, it's possible the thieves could bypass the IMEI blacklist. 
Can You Unlock an IMEI Blocked iPhone? 
Can you unlock an IMEI blocked iPhone? If you reported your iPhone stolen or lost and your cellular service provider added it to the IMEI blacklist, you'll need to contact them again to get your IMEI unblocked. Requirements for IME unblocking varies slightly between providers, but most will want proof of iPhone ownership.
How to Do an IMEI Lookup on iPhone 
"Can I search an IMEI number?" Of course! If you're in the market for a used iPhone, you'll want to find a good IMEI checker, so you can avoid purchasing a blacklisted iPhone. There are three ways to know if your iPhone is unlocked. The first is to check in the Settings app to make sure there's no carrier lock. The second is to use a SIM card. Finally, you can use an IMEI checker to make sure the iPhone you want to purchase isn't blacklisted. 
If you want to check an IMEI number for free, here's a free IMEI checker I've used with great results.