The iPad Apple Pencil is an invaluable tool for iPad artists and all those who love longhand note-taking.
By

Elisabeth Garry
Updated 06/22/2022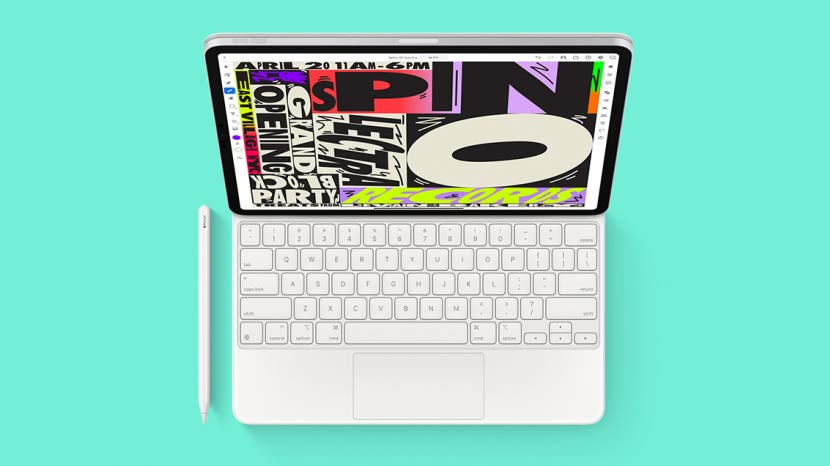 If you have an iPad that gets a lot of use, you may be wondering if it's worth it to invest in an Apple Pencil to go along with it. Maybe you're an artist wondering if the Apple Pencil can help you get into digital art on your iPad, or maybe you're more a note-taker who wants the freedom of longhand writing without having to lug around a bunch of notebooks. In this article, we'll go over who the Apple Pencil will be good for and who might want to take a pass.
Related: What iPad Do I Have? How to Identify Apple's Different iPad Models & Generations
Is the Apple Pencil Worth It for Artists?
If you are a digital artist who already has an iPad: buy the Apple Pencil. The price tag of $129 for the second-generation Apple Pencil or $99 for the first generation isn't chump change, but it's very affordable compared to the upwards of $600 you might spend on a Wacom Cintiq. Pair the Apple Pencil with a program like Procreate—available on the App Store for $9.99—and you have a very workable artist's setup for a fraction of the price. Of course, this isn't factoring in the cost of the iPad, but if you are already in possession of a compatible iPad, investing in an Apple Pencil gets you a long way for a comparatively small price tag.
You should keep in mind that your iPad can't run the fully functioned macOS versions of Adobe programs like Photoshop and Illustrator, so even with the Apple Pencil, you will be giving up some functionality to use these programs on your iPad. The artists I know love the Apple Pencil for its pressure sensitivity and how it unlocks the potential of art apps for the iPad, but it may not be quite enough to get you the professional experience, if that's what you're looking for.
Note-Taking & Marking Up
If there's one app I use on my iPad more than Procreate, it's Notes. I am a chronic note-taker, and I use the Notes app to record meetings, brainstorm stories, and jot down the obscure and otherwise fleeting thoughts that pop into my head unbidden at all hours of the day and night (okay, so maybe I should lay off feeling like I need to document the latter, but that's between me and my therapist). At least, I do now that I have an Apple Pencil. Trees everywhere thank the Apple Pencil for bringing my compulsive note-taking into the digital realm.
Not only does the Apple Pencil let you take longhand notes, but it can also convert those notes into text (it's pretty good at reading my handwriting, though it does frequently think my "Os" are "0s," which has given me a minor complex). My favorite thing about using the Apple Pencil with the Notes app is that I can easily change the color I'm writing in, highlight what I've written, and even select and move my handwritten notes from one part of the note to another. This gives me both the ability to organize my notes the way I intuitively would when writing in a physical notebook and the freedom to copy/paste and reorganize thoughts like I would when typing in a Google Doc. In short: I love it.
The editors here at iPhone Life also rave about how their Apple Pencils help them with proofing articles. You can use the Apple Pencil to mark up PDFs up on your iPad, which many easier and more convenient than trying to mark up documents using external keyboards (or, heaven forbid, your fingertip). To learn more about using your iPad for productivity, check out our Tip of the Day newsletter.
iPad Navigation
So far, I've given you reasons why the Apple Pencil is worth it for specific situations. But what if you aren't an artist, and you don't use your iPad to take notes and mark up documents? What if all you really want to use your iPad for is browsing the Internet, reading, checking emails, and using some apps? Is the Apple Pencil worth it just for general iPad navigation? In my opinion: No. It's much easier to navigate your iPad, tap on links, open apps, and zoom on photos using the iPad's trusty old multi-touch interface. The Apple Pencil is a specialized tool for specialized situations; it's not as useful as an all-purpose stylus.
Apple Pencil Compatibility
So, you've decided that you want—nay, need—an Apple Pencil. Now the only thing to determine before you start scribbling away to your heart's content is what iPads are compatible with Apple Pencil.
Apple Pencil (2nd Generation)
iPad Pro 12.9-inch (3rd, 4th, and 5th generation)
iPad Pro 11-inch (1st, 2nd, and 3rd generation)
iPad Air (4th generation)
Apple Pencil (1st Generation)
iPad (6th, 7th, and 8th generation)
iPad Air (3rd generation)
iPad mini (5th generation)
iPad Pro 12.9-inch (1st and 2nd generation)
iPad Pro 10.5-inch
iPad Pro 9.7-inch
Now, you should be ready to get drawing, taking notes, or just pressing your pencil thoughtfully to your lips as you stare out the window with your iPad Apple Pencil. If you need help getting started, read this article on how to connect your Apple Pencil to your iPad!