By

Conner Carey
Updated 11/29/2018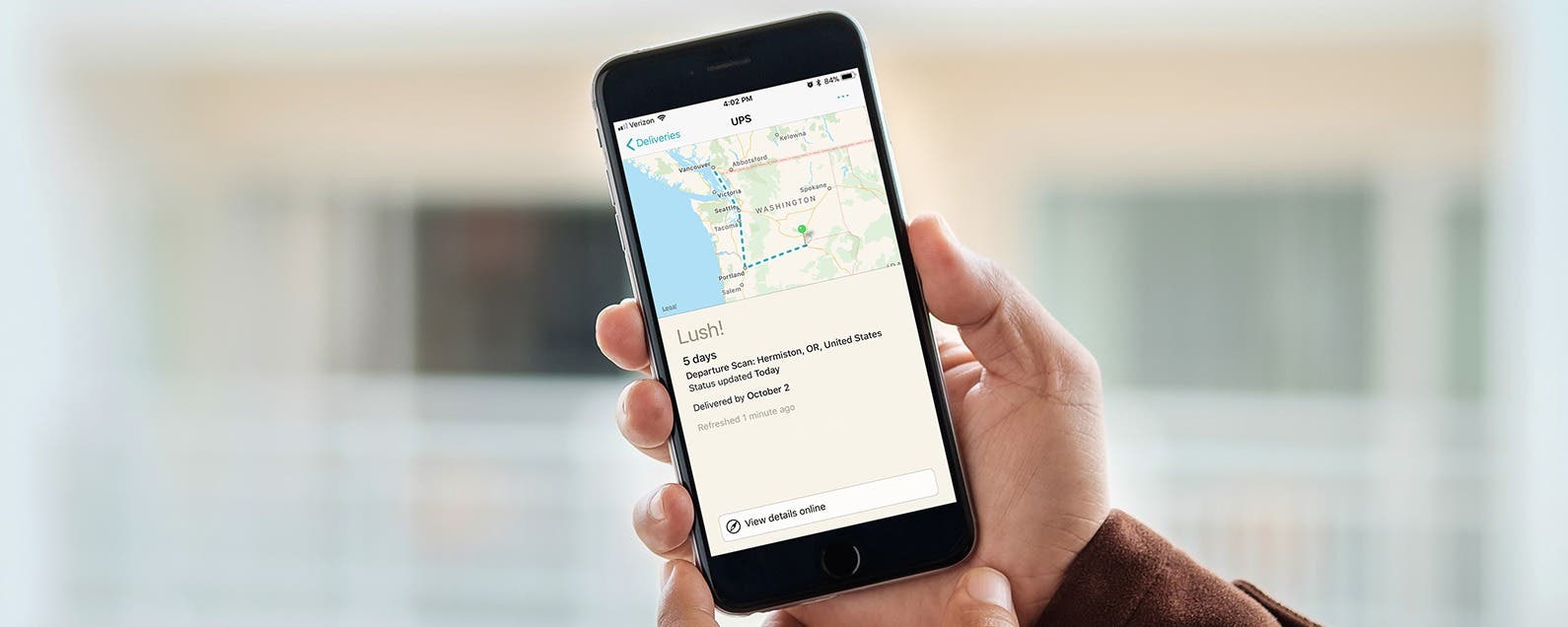 Online shopping is more popular than ever. Not only is it super easy to click and have a product show up on your doorstep, but also shipping prices and wait times are low enough to make you want to buy just about everything online. But once you've ordered something (or many somethings), you start receiving tracking numbers. And then to check the status of a package, you end up searching through emails trying to find your tracking number again. But what if there was an app that seamlessly synced across all of your devices, tracked your packages, and alerted you about arrivals? Ah yes, say hello to Deliveries: A Package Tracker ($4.99). Whether on iPhone, iPad, or Apple Watch, you'll always know the status of your packages. Here's more on what Deliveries does and why we love it.
* This post is part of iPhone Life's Tip of the Day newsletter. Sign Up. *
Related: My Mail App Icon Disappeared from My iPhone Home Screen. How Do I Get It Back?
Master your iPhone in one minute a day:
Sign up to iPhone Life's Tip of the Day Newsletter and we'll send you a tip each day to save time and get the most out of your iPhone or iPad.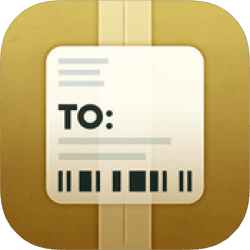 What It Does
When you're sent the tracking number for your package, open the Deliveries app and add it to your list. The app is automatically set up for Amazon, Apple, FedEx, UPS, and U.S. Postal Service, but you can also simply enter the tracking number for any package from any company to begin.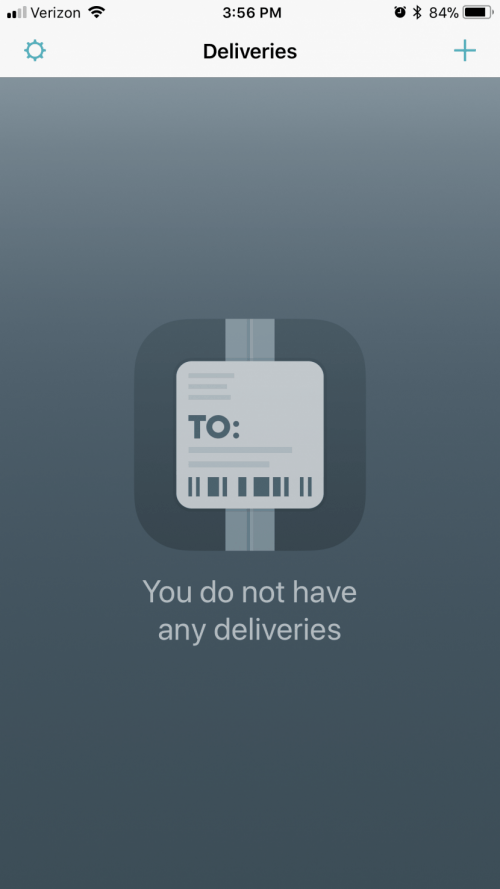 The app will automatically try to guess wich shipping service that number is coming from. In this case, the app was able to recognize that my package is coming via UPS. Then, I can add an item name to the delivery so it's easy for me to see what items will be arriving.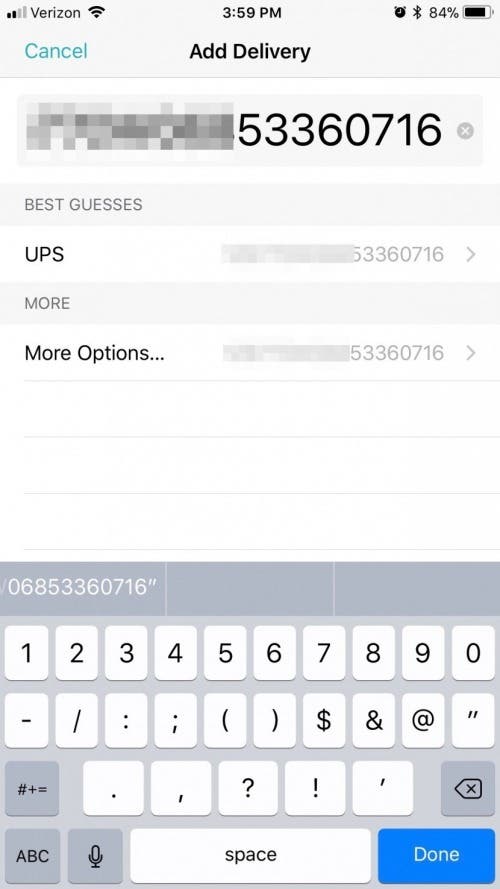 Once you add a delivery, it appears in your list of deliveries. There's an estimated time until delivery to the very left of each item on the list, then the item name you entered, the latest scan, and a delivered-by date. You can tap on a package and see even more details, including a map that shows where your package started and how far it has traveled.
Why We Love It
This is an easy app to love. Setting up deliveries to track is super quick and easy. You can even visit Settings in the Deliveries app and turn on Notifications, which allows the app to alert you when a package has been delivered.
I personally love how beautifully it organizes my upcoming deliveries in an easy-to-view list that presents all the information I need without even needing to tap for more details. It saves me the headache of searching through my mail trying to find that one email with the tracking number, and it offers peace of mind if something is taking a bit longer than anticipated.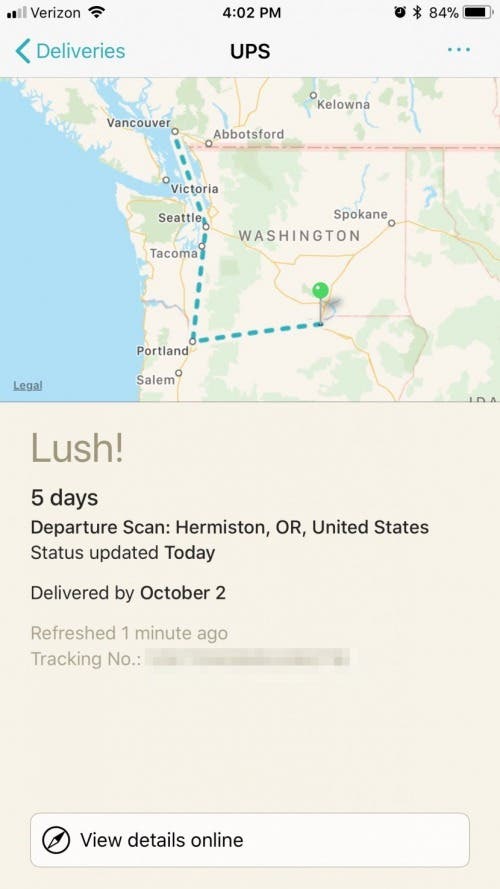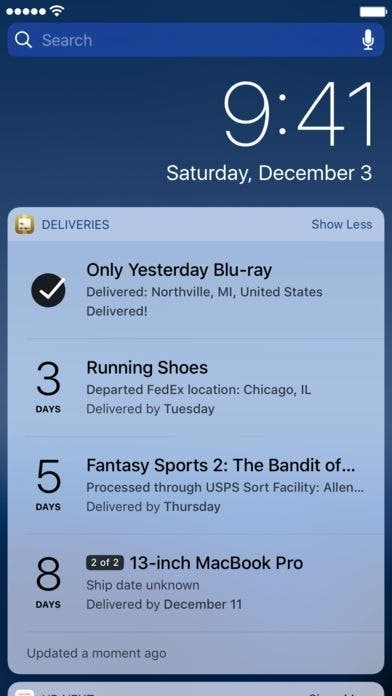 As far as I can tell (don't send me an angry email if I'm wrong!), there are no in-app purchases within the app. It's the one-time price of $4.99. Once a package has been delivered, you can choose to delete the listing or archive it for easy reference in the future.
It's also good to note that this app is equally as fantastic on Apple Watch; and if you don't mind the extra purchase, there's a Mac app version too. Overall, I'm in love this app and will certainly use it again and again and again. If you're someone who, like me, tends to shop online often, Deliveries: A Package Tracker is more than worth the buy.
Top image credit: d8nn / Shutterstock.com