By

Dig Om
Fri, 07/10/2015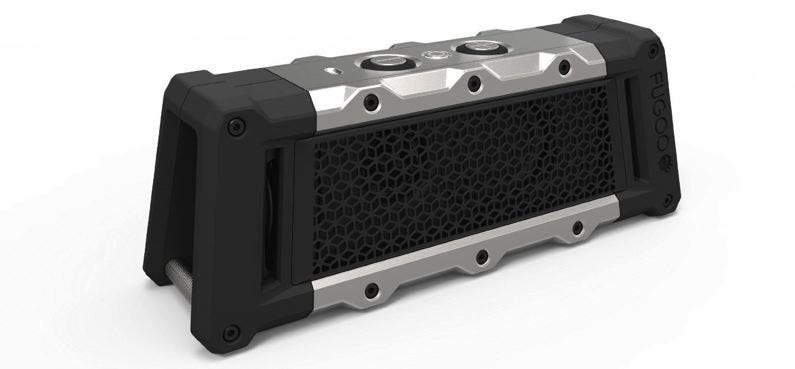 If you own an Apple Watch, you already know that the built-in speaker it comes with is not designed to deliver high-quality audio, at any appreciable volume. Yet with a respectable onboard storage capacity for your music, the Apple Watch has the potential to store and deliver great sounding audio wherever you go, if you have a quality Bluetooth speaker that is. A good Bluetooth speaker can also work wonders when it comes to phone calls and FaceTime chats, as most Bluetooth speakers these days also house a built-in microphone for such purposes. Here are three of our favorite Bluetooth speakers that serve as perfect complements to the Apple Watch.
All of the speakers included here include the following attributes that make them well-suited for folks using the Apple Watch on the go:

Discover your iPhone's hidden features
Get a daily tip (with screenshots and clear instructions) so you can master your iPhone in just one minute a day.
A rugged, durable construction.
A compact form factor.
Excellent audio quality.
Divoom Voombox Travel ($39.90)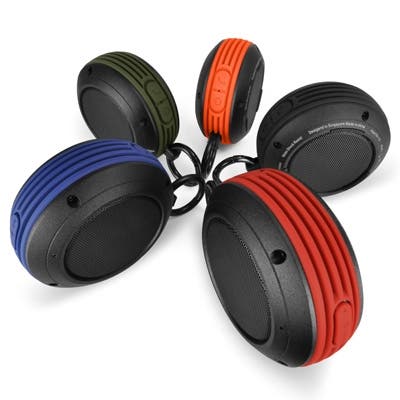 The Voombox is a ruggedly designed and water-resistant speaker; the one I have has lasted me through almost two years of seriously rough treatment. It is the smallest Bluetooth speaker included in this collection, but don't let that fool you. Despite its small size, it packs an incredible sonic punch! This is thanks in large part to the fact that the Voomboox manages to squeeze not one, but two speakers into its tiny frame. The mid- to high-range driver sits on the top side of this tiny speaker, while its passive bass radiator faces down. Of course, with the Voombox Travel, up and down are only relative terms (unless it happens to be resting on a flat surface), as this lightweight speaker is really designed to be clipped on, whether to a belt loop or to a carryall's strap. As its name indicates, this is a very portable speaker and it fits into the Apple Watch ecosystem seamlessly.
Scosche BoomBOTTLE H2O ($99.99)

The BoomBOTTLE H2O delivers slightly better sound than the smaller Voombox, in part due to the placement of its bass speaker grills, which allow air and sound to resonate more fully and accurately, whether it's clipped to a bag, attached to a lanyard in a kayak or just resting on a kitchen table. The BoomBOTTLE H2O, as its name references, is a waterproof speaker, so you needn't worry about exposing it to water as long as its ports are properly plugged. The BoomBOTTLE H2Ois the next step up from the more compact, non-waterproof Voombox Travel.
Fugoo ($199.99 - $229.99)

The Fugoo Bluetooth speaker is an impressive feat of design. With an array of speaker drivers and bass radiators facing in all different directions, the Fugoo is a portable speaker that is not to be underestimated. It blasts sound in a full 360-degree radius and boasts one of the most impressive battery lives of any rechargeable Bluetooth speaker I've come across. Another awesome feature of the Fugoo is its interchangeable protective "jacket" system. The jackets range from elegant to extreme-duty, but don't worry too much over the jacket you want. While different jackets may provide a dramatically different look, the underlying functionality of this sturdy speaker remains unchanged; it is a rugged, waterproof speaker regardless of the shell you opt for.  Obviously the more protective jackets will make a formidable speaker even more impervious to abuse, but the solid underlying architecture of the speaker means that regardless of the jacket you select, your speaker will handle almost anything you throw at it. The Fugoo also has an assortment of add on accessories that allow it to attach to a pole (think windsurfing or biking) as well as tripod and strap mounting systems. Of the speakers included here, the Fugoo has the loudest, most dynamic, and most impressive acoustics; and with a 40-hour battery life, the Fugoo is ready for prolonged adventures away from a wall outlet and even away from your iPhone, as long as you have your favorite tunes onboard your Apple Watch.
It's worth mentioning that while all of the speakers featured here are relatively  small, each one has a larger, louder version of itself available at their respective websites. If you like the Bluetooth speakers featured here, but want something a little bigger —say for primarily around the house, as opposed to on the road—then their bigger models might be worth further investigation.