By

Sarah Kingsbury
Wed, 12/14/2016
Our iPhones and iPads are powerful productivity tools. These 10 iPhone 7 productivity tips will help you learn how to use the iPhone Calendar, iOS Mail, Notes, and Reminders apps to get the most out of your iPhone or iPad.
Related: 
1. How to Use iOS Mail's VIP Feature
Use iOS Mail's VIP feature to group messages from specific contacts into a folder and receive notifications when they email you. In the Mailboxes view of the iOS Mail app, tap Edit and select VIP, then tap Done. Tap the info icon next to the new VIP mailbox and tap Add VIP to designate contacts as VIPs. Now you can find all your important emails in one place. Next, tap VIP Alerts to enable VIP notifications. Turn off other Mail notifications in Settings > Notifications > Mail so you only get notifications for VIP emails. 
2. How to Email Attachments from Your iPhone Like a Pro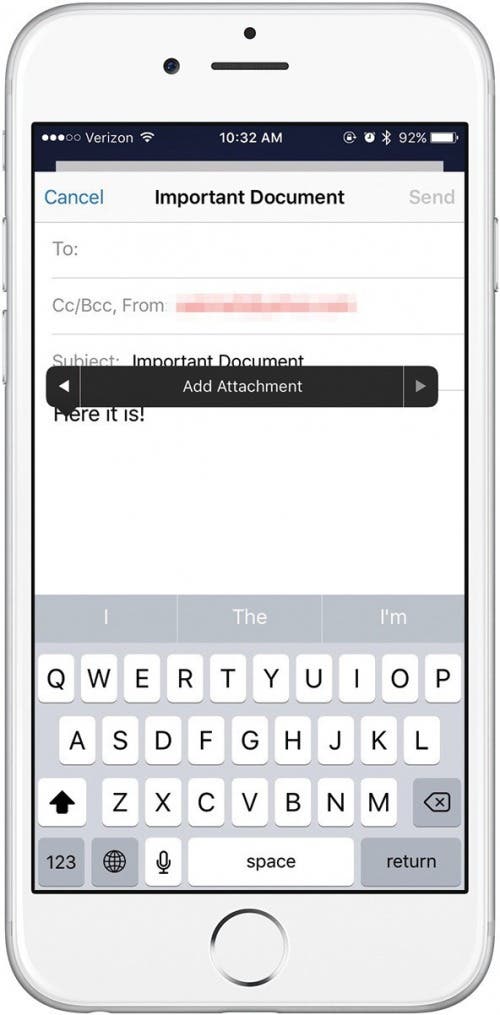 First, make sure your files are saved in Photos or iCloud Drive. Then, when composing an email, tap the body of the email and choose Insert Photo or Video or Add Attachment. Next, select the file you want to attach from the Photos app or iCloud Drive. Attachments from other apps must be shared to Mail from within those apps. For example, to email a PDF file from iBooks, open the PDF, tap the share icon, and select email.
3. How to Save Drafts in iOS Mail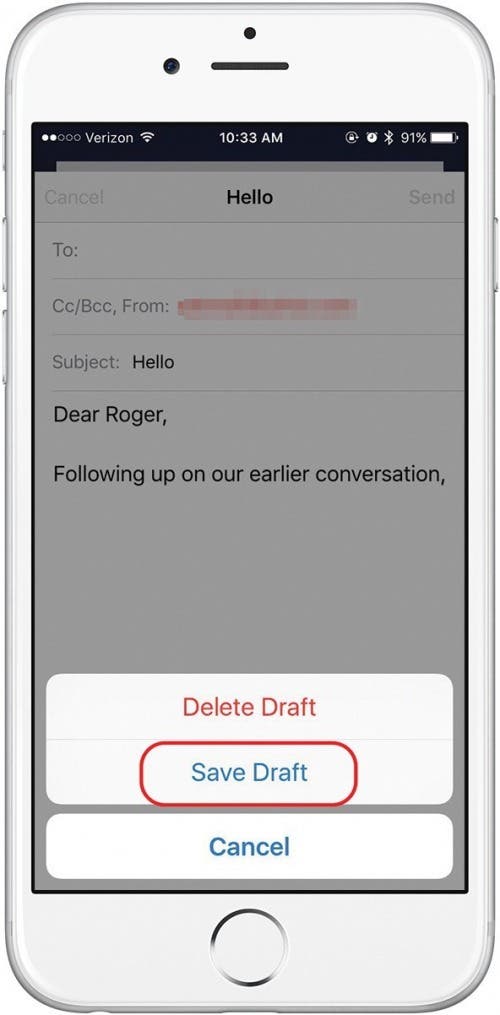 Save an email draft on your iPhone by tapping Cancel in the upper right corner and selecting Save Draft. You can find it later in your Drafts folder. If you want to close the email temporarily while you refer to another email, just press on the email subject and swipe the draft down out of the way. Only the title will be visible at the bottom of the page. When you're ready to return to it, just tap the title again.
4. How to Set Location-Based Reminders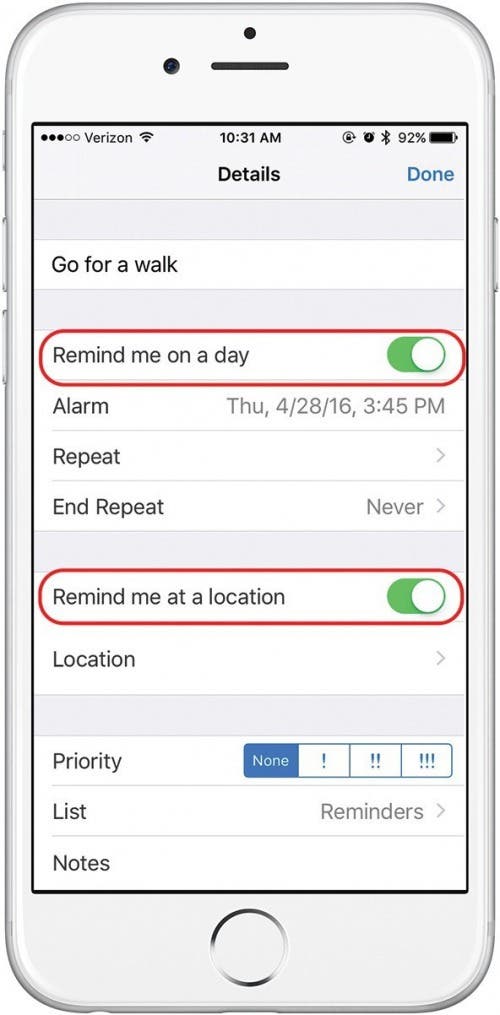 Setting reminders based on time or location makes them even more useful. After you enter a reminder, tap the info icon to set specifics. To set a day and time for your reminder, turn on "Remind me on a day" then tap on Alarm. To set a location-based reminder, turn on "Remind me at a location" and then either tap on your current location or type in a location. Then choose to be reminded when you arrive at or you leave that location. 
5. How to Reschedule Events in Your iPhone Calendar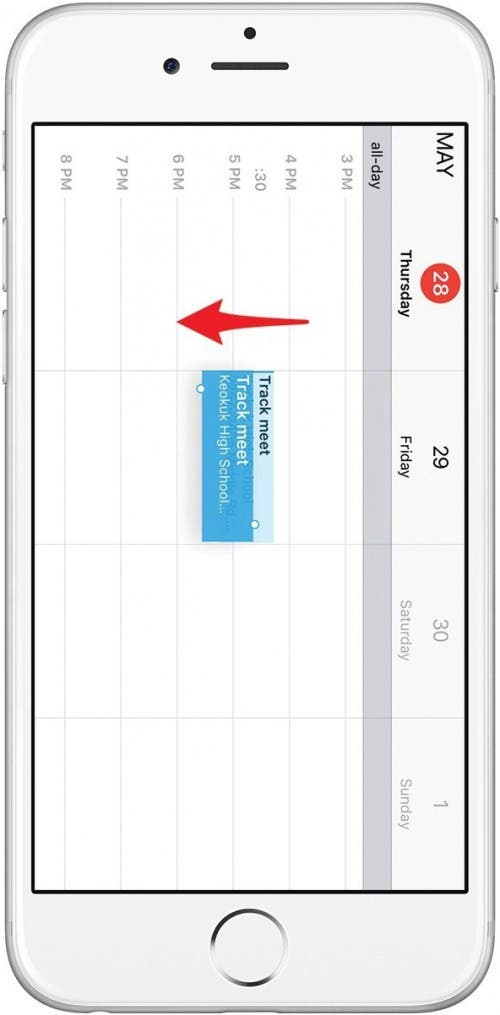 In the iPhone Calendar app, press and hold on the event until it becomes opaque in color and then drag the event up or down to a new time or left or right to a different day. You can also place your finger on one of the small circles on the top or bottom and drag to adjust the event's start or end time. Using Siri to edit Calendar events is even faster. Just say something like, "reschedule my haircut from Tuesday at 2 p.m. to Wednesday at 3."
6. How to Add Events to Your iPhone Calendar from the Mail App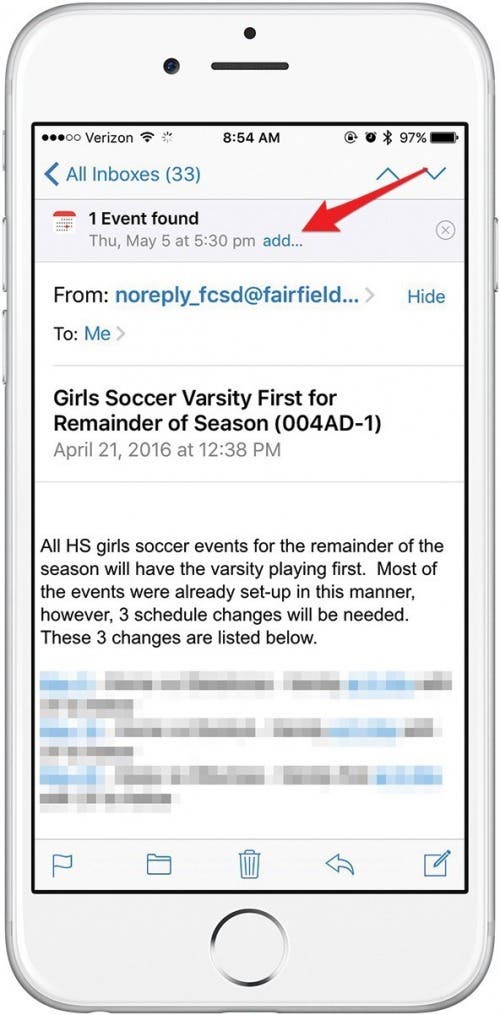 There's a feature in Settings that allows for Events Found in Mail to automatically be added to your Calendar app. Go to Settings > Mail, Contacts, Calendars and toggle Events Found in Mail on, if it's not already. Now when you receive an email with an event in it, a notification will appear at the top of the email. Tap Add to create the event in your Calendar app. Tap Add again to save the event.
7. How to Password Protect Individual Notes on Your iPhone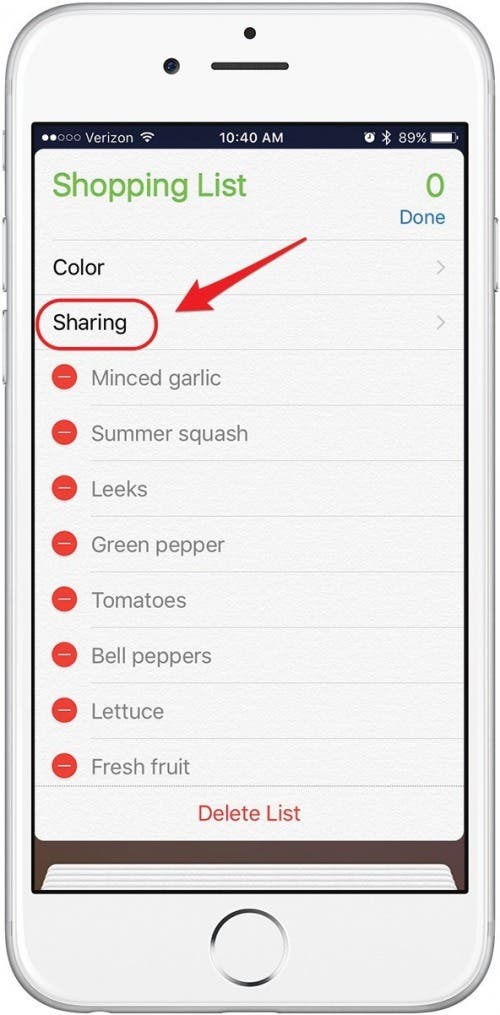 Go to Settings > Notes > Password. You'll be prompted to create a password with a hint. If you have Touch ID, enable it as well. Tap Done. In the Notes app you can now lock a note by tapping the Share icon and choosing Lock Note. Enter your password or use Touch ID. A lock icon will appear in the upper right corner. Tap to lock. To unlock it, tap View Note and enter your password, or use Touch ID. 
8. How to Share Reminders
Sharing a reminder list lets others also add and check off items from the list. A shared Family Reminders List is automatically created when you use Family Sharing. But any list can be shared with another iOS user. Just open the list you want to share and tap Edit > Sharing > Add Person and enter the email address associated with the person's iCloud account. You will receive a notification once they have accepted your request.
9. How to Search All Your Notes Folders at Once
Search in the Notes app is limited, since you can only search within one folder at a time. Fortunately, you can use Spotlight to search all your notes at once.  Go to Settings > General > Spotlight Search and enable Notes. The next time you want to search Notes, swipe down from the center of your Home screen to open Spotlight and then type your search term. The note should appear in the search results. Tap the note to open it.
10. How to Integrate Travel Time into Your Calendar Events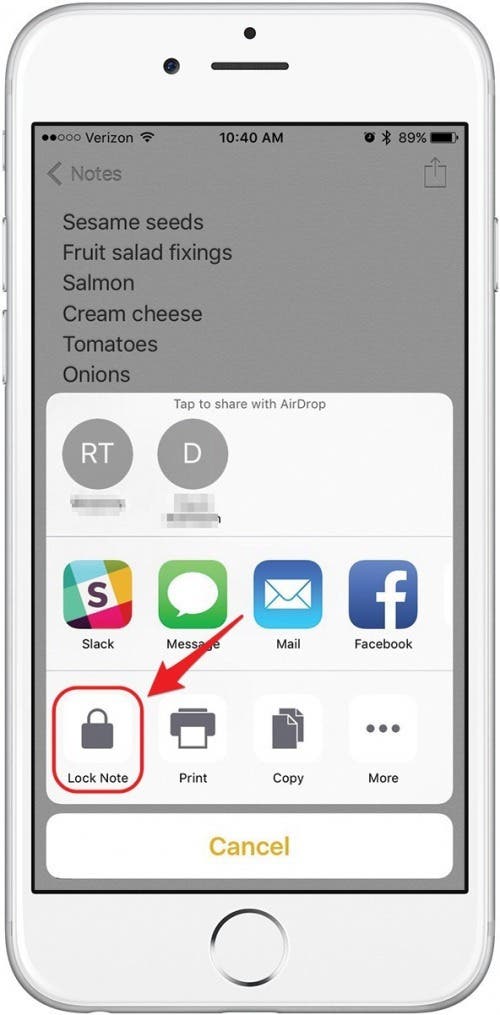 Open the event in the Calendar app and tap Edit.  Enter the event's location. Allow Calendar to access your location if prompted to do so. Next, tap Alert and select Time to Leave. Now you will receive a reminder to leave based on travel time from your location. Tap Edit Event and choose Second Alert. Here you can set a reminder for up to two weeks in advance. When finished, tap Edit Event and then Done.