By

Leanne Hays
Updated 02/24/2020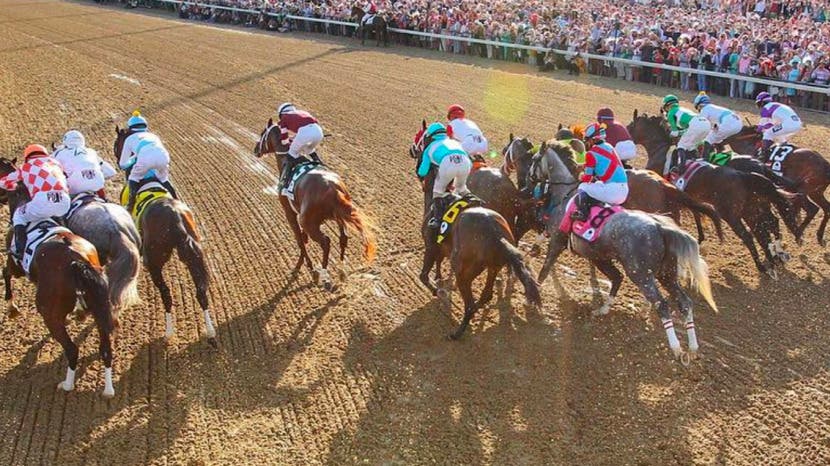 New racing enthusiasts may ask, "When is the Kentucky Derby?" Experienced fans will let you know; the Run for the Roses is always the first Saturday in May. The Kentucky Derby is an American tradition that's been going strong since 1875, and in 2020 we have more options than ever before for watching not only the race itself, which is over in less than three minutes, but all the pageantry and tradition surrounding the event. If you own an Apple TV, you can catch the 2020 Kentucky Derby in 4K high-definition resolution; but first, you'll need to find out what channel the Kentucky Derby is on, what time is the Kentucky Derby race time, and, of course, locate a Churchill Downs live stream. Let's learn how to watch the Derby 2020 live on the Apple TV, iPhone, or iPad.
Related: Apple TV: Your Complete Guide to Setting Up & Streaming On-Demand Content    
What Channel Is the Kentucky Derby On?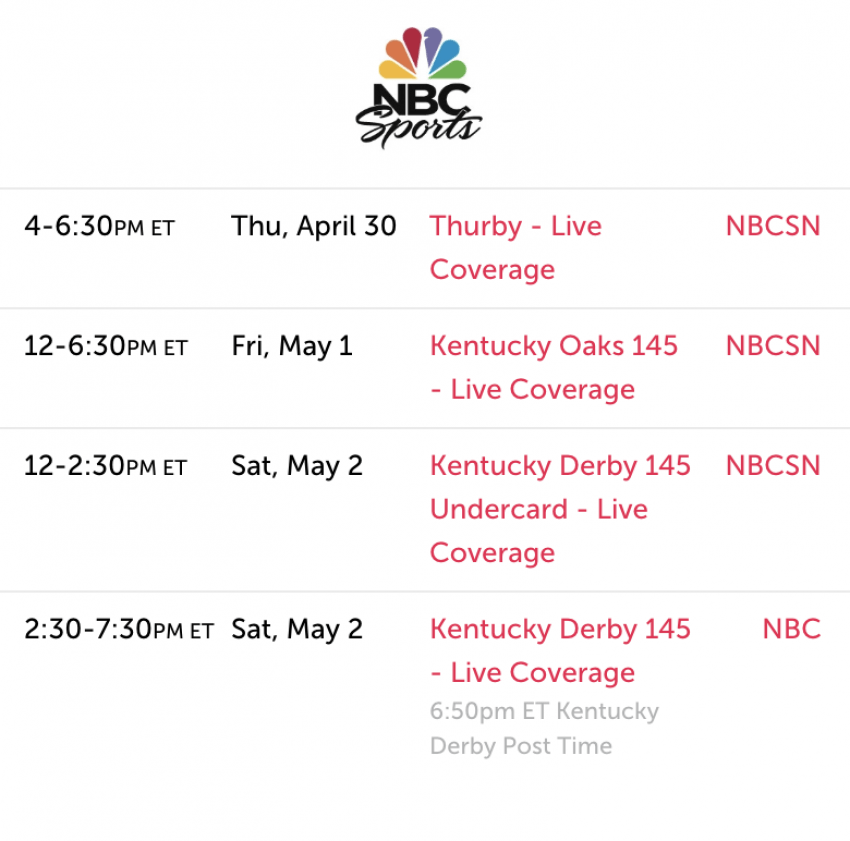 Excellent news! All of the Kentucky Derby events leading up to the race will be broadcast on NBC Sports Network (NBCSN), and you'll find race coverage on NBC. Post Time is set for 6:50 p.m. ET, so be sure to have your live stream up and going well before then so you don't miss the race! All you need to do is find an over-the-air satellite, streaming service, or app that offers access to both NBC Sports and NBC, and you'll be able to catch every bit of Kentucky Derby coverage.
Master your iPhone in one minute a day:
Sign up to iPhone Life's Tip of the Day Newsletter and we'll send you a tip each day to save time and get the most out of your iPhone or iPad.
How to Stream the 2020 Kentucky Derby Live on Your Apple TV without Cable
I wish I could tell you to download the NBC app for free, then AirPlay all the derby coverage to your Apple TV, but sadly I can't. The NBC app requires you to enter a code from your satellite or cable provider to start streaming, so cable-cutters can't use this app. 
Watch the Kentucky Derby Live on OTA TV

OTA stands for over the air, in other words, an antenna! Yes, it's true, you can legally pick up locally broadcasted channels and stream them to your Apple TV with an antenna. While you might be envisioning the old-fashioned version that looks like a laundry rack attached to your roof, there are now lots of OTA options that stay right inside your house. Some can boost signals, as well, which is really helpful if you live in a rural area. There are lots of choices, so look into whether NBC is broadcast in your area, or could be picked up with an antenna that features signal boosting. If you can pick up NBC with your OTA antenna, you'll be able to catch all of the main race-day coverage, including the race itself, and the Winner's Circle Ceremony. Some OTA buying options include AirTV, SiliconDust, and Mohu, but there are lots more out there. Check out the Mohu website for a handy tool that lets you enter your zip code to find out how far major broadcasting towers are from your location, then choose an antenna powerful enough to pick up those signals. 
Stream the 2020 Kentucky Derby with fuboTV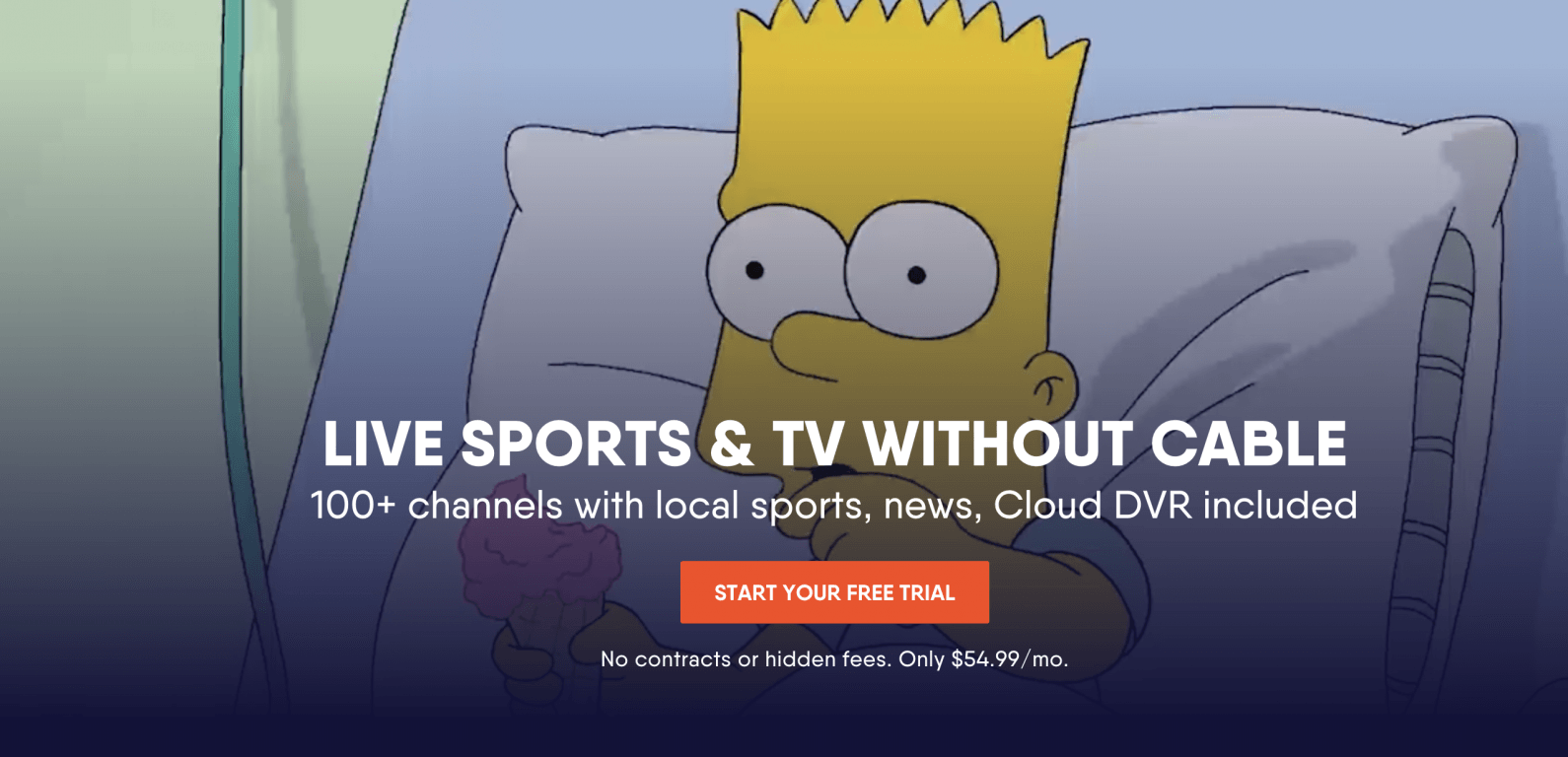 Compatibility: fourth-generation or later Apple TV, iPhone, iPad, or iPod Touch running iOS 10 and later
Cost: $59.99 a month 
Pros: Seven-day free trial period with no commitment
Con: Channel availability varies by region
FuboTV is a TV-streaming service with a heavy focus on live sports. The basic package, fubo Premier, offers more than 70 channels of content, and in my area includes NBC Sports, but doesn't include NBC.
To sign up for FuboTV and find the Apple TV app, click here. For the iPhone and iPad app, follow this link.
Stream Kentucky Derby 2020 on AT&T TV Now
Compatibility: Fourth and fifth-generation Apple TV, iPhones and iPads with iOS 11 or later 
Cost: $65 per month
Pros: Seven-day free trial period, streaming included for AT&T Wireless Customers
Cons: NBC and NBCSN live not available in all areas
DirecTV Now is DirecTV's streaming offering, and I was super excited to find that its lowest-cost plan includes NBC Sports and NBC. Then I looked at the small print to the right of each channel and noticed small boxes indicating Live, VOD, or both. Live is pretty obvious, live streaming is available, but VOD? That stands for video on demand, and if only VOD is offered, you won't be able to live stream games from that network. Check with AT&T TV Now to make sure that live, not VOD, NBC Sports and NBC are included in your area. 
2020 Kentucky Derby Live Coverage with Sling TV 
Compatibility: Fourth and fifth-generation Apple TV, iPhones, iPads, and iPod Touch with iOS 11 or later 
Cost: $5 for your first month, then $30 per month for Sling Blue
Pros: 10 hours free Cloud DVR storage
Cons: NBC and NBCSN live not available in all areas
Sling TV is an à la carte streaming tv service that allows viewers to pay far less than a cable subscription would cost. Customers can choose Sling Orange, Sling Blue, or both. As an added bonus, Sling offers free Cloud DVR.  This way, you can record the Kentucky Derby and watch it later if you have work or family plans to accommodate. Sling Blue, at $25 a month, includes both NBC and NBC Sports, but offerings vary from region to region. Make sure both channels are available in your area. 
Here are step-by-step instructions to help you find and install the Sling TV app on your Apple TV. 
Watch & Replay Derby 2020 with Hulu 

Compatibility: Fourth-generation Apple TV and later, as well as iPhones and iPads running iOS 12 and later can run the new Hulu app
Cost: Hulu + Live TV is $54.99/month with commercials and $60.99/month with no commercials
Pros: Personalized profiles for each family member, record and save up to 50 hours of content with Cloud DVR
Cons: NBC and NBCSN are not broadcast in all areas
If you live in the right area, $54.99 a month will get you NBC and NBC Sports and the entire Kentucky Derby experience on one live-streaming service. If you live in an area where Hulu Live provides NBC and NBC Sports, you can learn how to set it up on your Apple TV here. To download the Hulu app for iPhone and iPad, click here.
Kentucky Derby Live on YouTube TV
Compatibility: Fourth-generation and later Apple TV, iPhones, iPads, and iPod Touch with iOS 11 or later, stream to your TV using AirPlay
Cost: Free trial, then $49.99/month
Pros: Free recording with unlimited storage
Cons: NBC live not available in all areas

Here's another option that includes NBC, NBCSN, and over 70 other channels as well! Make sure that NBC live is included in your service area before subscribing. 
The Best Way to Watch the 2020 Kentucky Derby
It seems that Sling TV and Hulu are the best options for catching the Kentucky Derby in my area. Channel offerings may be different for you, so be sure to check well ahead of time to make sure both NBC Sports and NBC are offered live. As an alternative to streaming services, and if you only care about the race itself and not the lead-up, check if NBC broadcasts close enough to your home to pick up their signal on OTA. Of course, there's always the option to join a friend who has cable for derby day. Bring one of these excellent dishes to share, and I'm sure you'll get invited back every year!
Top image credit: instagram.com/kentuckyderby