By

Erin MacPherson
Tue, 12/08/2020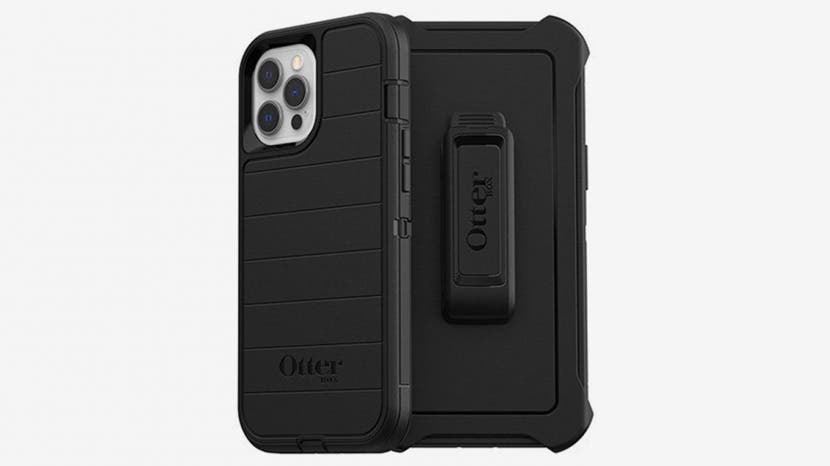 An adventurous or active lifestyle means you're more likely to invest in an iPhone that takes great pictures and videos to capture your favorite memories, such as the iPhone 12 Pro or Pro Max. Unfortunately, adventure and shenanigans go hand in hand with an increased likelihood of dropping or damaging your phone. I can't count the number of times my iPhone has fallen off of a rock climbing wall, slipped out of my backpack on a hike, or tumbled from a saddle bag while riding. Needless to say, I'm a bit of a protective iPhone case connoisseur, and I have high expectations of any case I use. With that in mind, I've put together a list to help you narrow down your search for the best drop-tested, shock proof, or otherwise strong and durable iPhone case.
Related: The Best iPhone Cases of 2020: 7 Phone Wallet Cases You'll Love
The 5 Best iPhone 12 Protective Cases
I'm a big fan of protective phone cases that combine utility with aesthetics, but I always want to hear reviews from other users before committing to buying one. These top picks should help you narrow down your search for the best iPhone 12 case to keep your phone safe from drops, shocks, and scrapes, no matter your budget.

Discover your iPhone's hidden features
Get one daily tip each day (with screenshots and clear instructions) so you can master your iPhone in just one minute a day.
1. My Favorite Protective iPhone Case: LifeProof NËXT ($79.99)
Top features:
5G compatible
MagSafe compatible
Qi wireless charging compatible
Drop proof, dirt proof, snow proof
Military grade drop protection to two meters (MIL STD 810G)
Global warranty protection for 1–2 years depending on location
I'm a big fan of this iPhone case. I'm most thrilled by the ability to use such a protective phone case while still having direct-touch access to my iPhone's screen, thanks to the silicone gasket surrounding it that offers protection not only from shocks, but also from minor water intrusion (hence the snow proof rating). It does, however, mean that I'll have to buy a separate screen protector.
This case is thinner than most truly rugged cases, and it's clear so I can still see my iPhone through the back of the 55 percent recycled plastic shell. There's also a rubberized clear seal around the camera on the back and the inside edges of the case halves, which offers further protection from snow, dust, and dirt, and which allows the NËXT case to claim a 2-meter military-standard drop protection capability. This seal can also be found around the buttons, microphone, and speakers. The silicone outer ring, where you see the gorgeous Clear Lake, Napa, or Black Crystal color, is the final layer of protection, and guards the entire outer edge of the case (and your phone) from scuffs and cracks. It also includes a Ring/Silent toggle, and a flap that secures itself over the charger port opening when the port is not in use.
While being able to see my iPhone through the back of an iPhone case is a huge bonus, I'm skeptical that the case will remain clear and unmarred for long. Scuffs happen, and they're especially apparent on clear plastic. Still, this case won me over for its size, ease of installation, and apparent toughness.
 
Top features:
5G compatible
Qi wireless charging compatible
4x military grade drop tested (MIL STD 810G)
Antimicrobial, dust and dirt proof
Limited lifetime warranty
Included holster with kickstand
The OtterBox brand is synonymous with protective cases for a reason; the brand's cases are well-known for their durability. While OtterBox cases are by no means cheap, they tend to last quite a while, and that has a lot to do with how they're designed. In the case of the Defender Series Pro, the two-part inner polycarbonate shell is lined on the back with a special foam piece, which contributed to military-standard drop-test success. The outer slipcover is made of synthetic rubber and infused with a silver-based additive to inhibit microbial growth, and includes flaps that fit snugly over the charger opening and the Ring/Silent switch to keep dust and debris out, but to allow user access to each when needed. This three-part design does make the Pro case bulky, but that's quite common with the toughest phone cases.
Like all of the cases on this list, the Defender Series Pro case doesn't include a screen cover, but the raised lips around the front edge and the rear camera help protect both from scratches and shattering when dropped. 
This iPhone 12 protective case comes in several fun colors, my favorite being the Berry Potion Pink shown above (rugged doesn't mean it can't be pink). It also arrives with an holster that doubles as a kickstand. This bonus item seemed cheesy to me at first, but I have to admit that I can picture it coming in extremely handy to keep my phone accessible but also secure.
My one hangup with OtterBox cases is that they almost never come with installation instructions. You'll need to look at the company's how-to video for tips if you struggle with the more complicated Defender Series three-part design.
3. The Toughest, but Not the Prettiest: Pelican Shield G10 ($60.00)
Top features:
21-foot military grade drop protection 
Intuitive design
Lifetime replacement guarantee
Antimicrobial
Included holster with kickstand
At first glance, this protective case feels kind of intense, but when you look at it, everything has a purpose, and it all functions well. It's solid but not overly thick, and it even features metal bolts that appear to be holding the five-layer G10 fiberglass laminate case together. It's not elegant, but it's certainly not ugly either—you can tell the focus was on simplicity and craftsmanship, and to those ends the case absolutely succeeds.
The Pelican Shield G10 is made up of two parts that snap together with a satisfying click, and which are further secured by three hinged latches that also snap shut to keep the case from splitting open on impact (one of these latches doubles as the charger port access). On the inside edges and around the camera, there's a rubberized layer that lends additional shock and shatter protection. Ironically, despite being logical and simple to install, this is the only case in this list that came with installation instructions in the package.
The buttons are mobile and easy to press, and there's a flexible press-closed flap that covers the Ring/Silent switch. This flap is a bit small, meaning you may need a tool to switch your iPhone's ringer on and off if you don't have longer nails. A snap-in holster with a kickstand is included in the package, but I actually struggled to get the kickstand to stay open on the first couple of tries. Once the kickstand loosens up, however, it does function better.
21-foot drop rating makes this the best military grade protective phone case on my list, which is a big deal. This particular case also features MICROPEL technology, which the company says inhibits growth of microbes.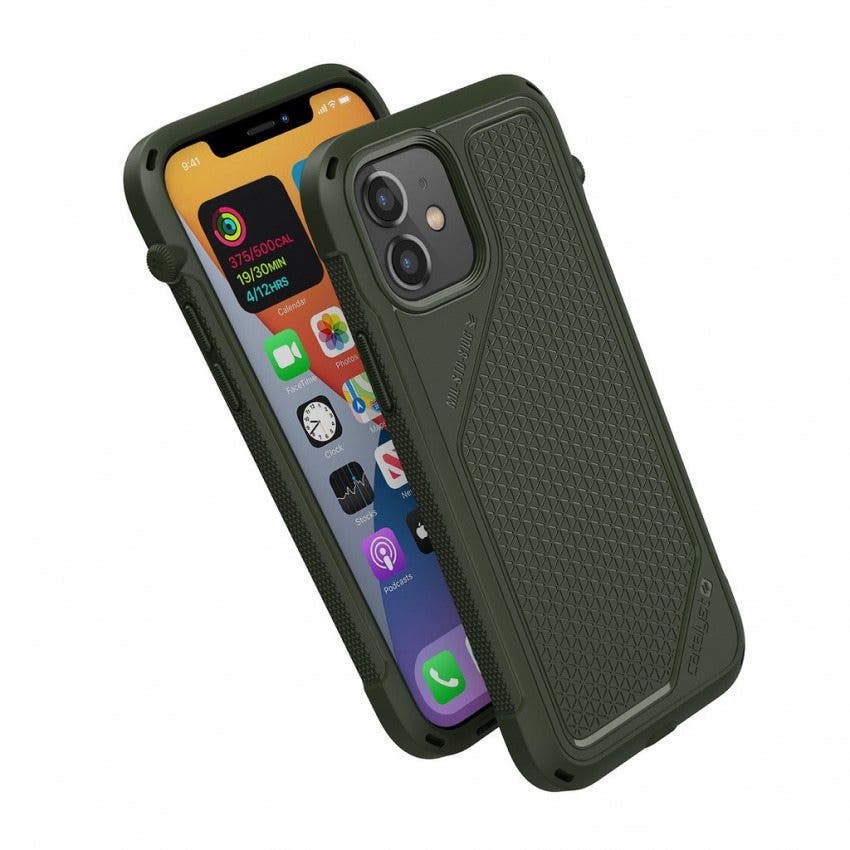 4. The Strong, Simple Type: Catalyst Vibe ($39.99)
Top features:
Textured sides for improved grip
Included wrist lanyard or other strap accessory can attach to any corner
10-foot military grade drop rating
This no-frills one-piece iPhone 12 protective case is easy to install and has a kind of understated appeal to it. The Army Green color has a neat geometric design on the back that gives it more character, and the Stealth Black version has a very nice satin-finish carbon fiber design on the back that feels smooth and satisfying to touch. Both colors include texture on the sides that's reminiscent of the grip you'd find on the handle of a weapon, which makes the case easier to hold securely while your iPhone is inside. 
The buttons are a bit stiff, but not enough to cause problems, and the Ring/Silent switch is operated by a clever knob that reminds me of the crown on my Apple Watch. Raised edges protect the camera and screen, of course, but instead of any softer impact-absorbing silicone, this case utilizes built-in air pockets to limit the effect of drops and impacts. Personally, I would prefer it if it had that softer rubberized protection around the edges and the buttons—something about the stiffness feels inadequate to me, though the Vibe's drop test ratings would disagree with me on that, so I guess it's more of a preference. 
The wrist lanyard is great, but I prefer not to have a heavy phone dangling from my wrist while I'm exploring, so I prefer the Coiled Carabiner lanyard ($19.99) which extends and retracts as needed and clips on securely to your belt loop or a loop on your backpack.
One other note about the Catalyst Vibe protective phone case is that it does have cool channels for the iPhone speakers to help protect them, but the buttons don't get the same treatment, so I could see dust and dirt becoming an issue over time.
5. The Most Affordable Protective Case: Smartish Gripzilla ($19.99)
Top features:
Well-designed, textured grip
Optional customization
Great reviews for drop protection
Okay, so this is admittedly not the most high-tech case on this list, but it's here for a reason. Just handling the case itself, I can feel the heft of it, and it feels secure to me. I'm also quite partial to the textured grip; my hands are fairly tough from rock climbing, so sometimes I don't have great luck with smoother surfaces. Both the unique shape and the logic behind the one-piece, slip-on design of the Gripzilla seem promising. I'll give credit for the clever colors, too: Black Tie Affair is a sleek all-black design, Gray Area is a dual-toned gray with a very crisp look, and there is also a sumptuous gray wood-grain that I'm particularly drawn to and a woodland camo design that I could see outdoor enthusiasts preferring. If you really want to, though, you can actually personalize this iPhone 12 protective case to include a photo, letters, and more. The price for the custom iPhone case is still affordable at $34.99, though the design process is a little tedious.
The edges are raised and appropriately protective of the iPhone camera and screen, the primary plastic of the shell has a nice, sturdy flexibility to it, and the interior lining seems like it's of fair quality. The main drawback of this protective phone case is that the speakers and charger port are not covered by any protective material, which means that the primary functions of this case are drop protection and grip instead of weather or dustproofing.
All in all, if you're looking for an affordable but rugged-enough and still protective iPhone case, this one is a great option.