By

Mike Riley
Wed, 03/22/2017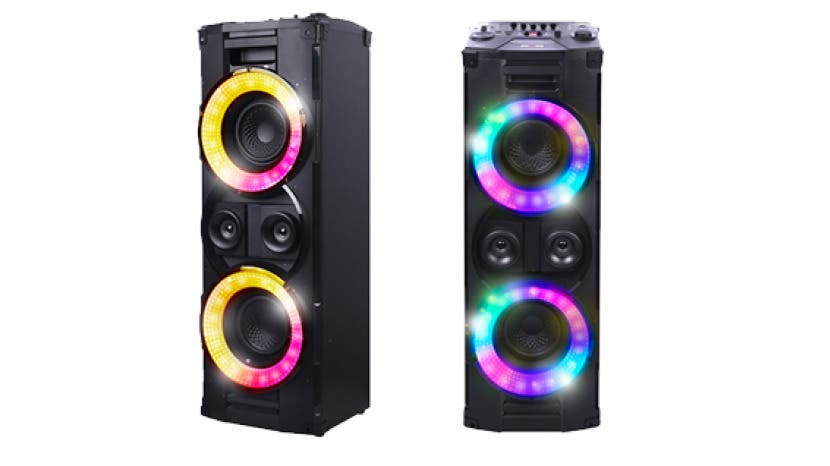 The number of Bluetooth wireless speakers available on the market is staggering, and choosing which one to buy is like choosing which outfit to wear. Depending on the occasion, the right speaker can make the difference between an enjoyable experience and an infuriating one. While some manufacturers have designed for very specific use cases, others, like 808 Audio, have opted for a kitchen sink approach. Hence, its Hex Encore XL Wireless Speaker ($399.99) is the Swiss army knife of speaker units. Does it accomplish these objectives successfully and, more importantly, does it sound great doing so? Read on to find out.
Related: Wireless Speaker Review: Best Bluetooth Speakers of 2016
The Hex EncoreXL party system is a complete party room sound station within a single unit enclosure. In addition to providing Bluetooth connectivity to your iOS device, the EncoreXL also allows a variety of other data inputs including two standard USB ports, an SD card slot, and an audio line in jack.  For karaoke enthusiasts and singers, there are two quarter-inch mic jack inputs (one handheld microphone is included in the package). The speaker even has an FM antenna jack on the back of the enclosure.
Master your iPhone in one minute a day:
Sign up to iPhone Life's Tip of the Day Newsletter and we'll send you a tip each day to save time and get the most out of your iPhone or iPad.
The stereo enclosure contains a pair of subwoofers and tweeters, and stands over three feet high. To help move and position the speaker to wherever you want to use it, the EncoreXL also has two wheels affixed to the bottom rear, which help turn the speaker into a dolly of sorts. This makes transporting its a simple affair.
Setting up the speaker is as easy as unboxing it, plugging in the power cord and pairing it with your iPhone or iPad. The top of the speaker even has a ridge near the rear where you can prop up your phone or tablet for easy access to your display. Even this design addition makes smart use of the top surface since you will likely be accessing your playlists on your phone or tablet, and rather than lying it on top of the speaker where it might fall as a result of the pounding bass tempos, the ledge offers a bit more stability and a lot more visibility to your device.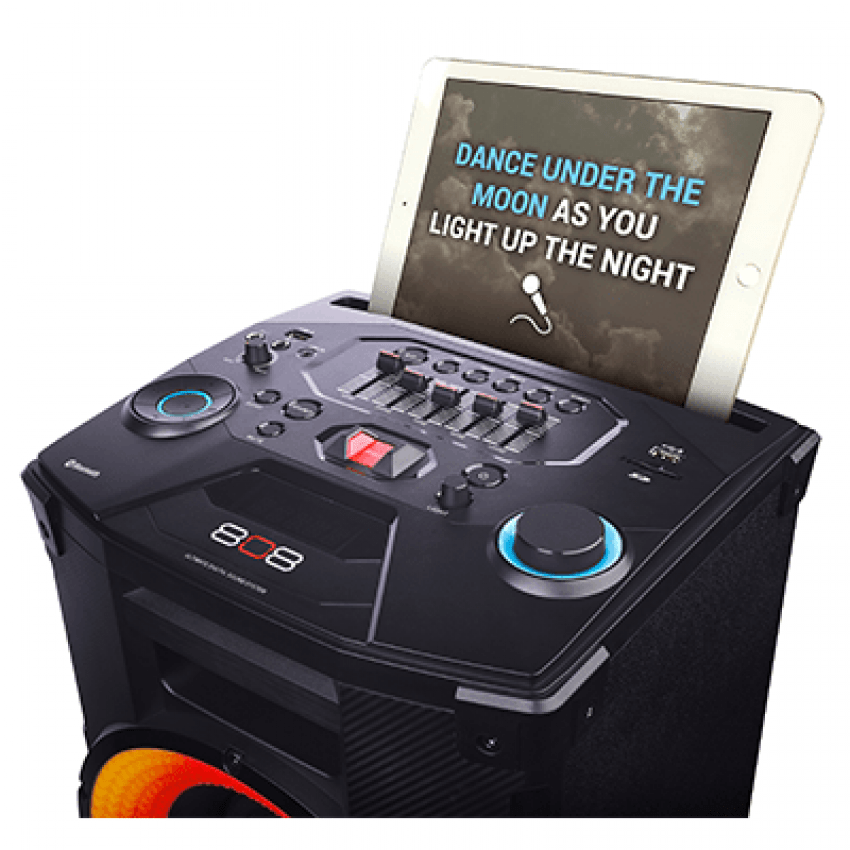 Most of the speaker's inputs and features are located at the top of the unit. Additionally, there is an onboard five-band equalizer to help fine tune sound to your liking. The equalizer also features five audio presets, which includes pop, rock, jazz, funk, and samba settings. Unfortunately, there isn't an option to save your own equalizer presets, though it isn't too difficult to take a photo of the equalizer slider settings with your iPhone to provide a sound setting reminder later.
So how does it actually sound? After pairing your device with the speaker and setting the volume on your phone or tablet, the volume dial on the top of the speaker quickly increases or decreases its audio output. Overall, the sound wasn't bad, but it wasn't outstanding either.  Pressing the orange bass button on the top of the unit kicks the output into overdrive with a 4 x 100-watt boost, and those bass speaker cones pound out the audio levels. Combined with the volume dial cranked up all the way and you're sure to rattle your windows (and quite likely those of your neighbors as well). But while the sound blasting out of the speaker can give you a good face massage, the audio tends to get a bit muddy. So while the EncoreXL certainly provides remarkable versatility at just under $400, 808 Audio opted to compromise slightly on the actual speakers within the enclosure itself.
To be fair, I'm an audiophile so anything less than stellar audio reproduction is a huge distraction. When I asked my family what they thought of the EncoreXL's sound quality, they responded with pretty good! As such, if you're a stickler  for superior audio quality, you might be slightly disappointed in the EncoreXL's output. For others who desire a comprehensive package with decent audio, you will be well satisfied with 808's XL feature set.
One other very visible EncoreXL enhancement is its LED lighting encircling the two large bass speakers.  These complete the party room package by pulsating lights that can be set to a variety of different colors and flash rates to help set the mood. The control pad and volume dial on the top of the speaker are also very well lit, allowing easy access to modifying the output in a darkened room.  What makes this feature so satisfyingly round out the whole Encore XL package is literally wheeling in the speaker, plugging it in and playing your playlist from your phone to have an instant party machine.  And with the multiple inputs (especially the SD card slot supplied with your own SD card filled with MP3 files), you don't even need your phone or tablet. Everything is entirely self-contained.
In summary, I was mostly impressed with the broad and well thought out set of features that are included in the EncoreXL package. Even though the sound doesn't match that of high-end disco or rock concert theater quality, the portability and all-inclusive party-in-a-box functionality that the EncoreXL delivers is impressive. For the price, it's a great addition and a welcome accessory to bring to any party that could benefit from a comprehensive audiovisual entertainment package.