By

Dig Om
Wed, 11/30/2016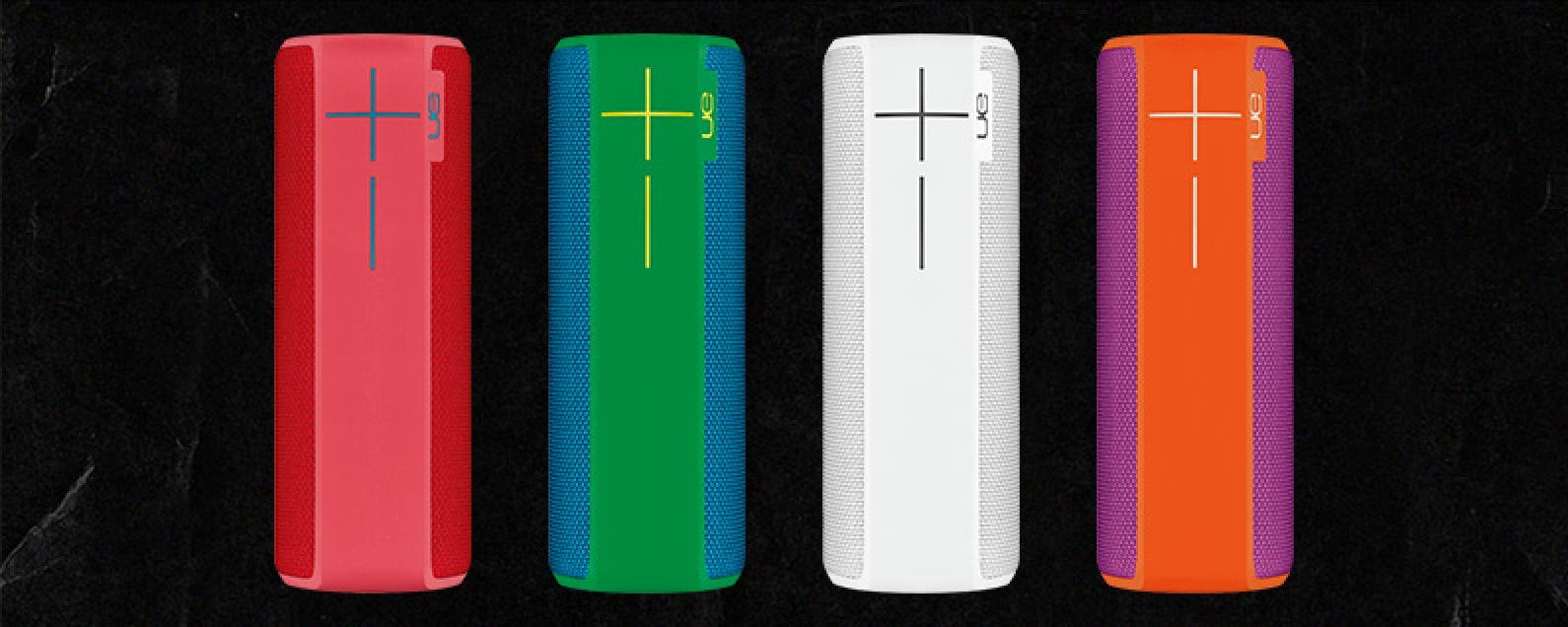 With the elimination of the headphone jack, Apple has effectively thrown its full weight behind Bluetooth technology. After years of being considered a faulty and glitchy transfer medium, Bluetooth has finally come into its own after years of refinement and technological advancement. The quality of playback that a Bluetooth speaker can pump out can easily be CD quality, depending of course on the source. Certainly it's been consistent and of a high enough caliber to fool die-hard audiophiles in blind acoustic tests. The following speakers are all top of the line Bluetooth speakers, each with its own merits and unique characteristics.
Related: Wireless Headphones Review: Best Bluetooth Headphones of 2016
With the exception of the first speakers listed, the Monoprice home theater speakers, all of the Bluetooth speakers included on this list incorporate built-in microphones, allowing them to also function as speakerphones. Also, with the exception of the Monoprice speakers, all of these speakers have a 3.5 mm audio input jack for any time that you may want to connect a device via a wired cable.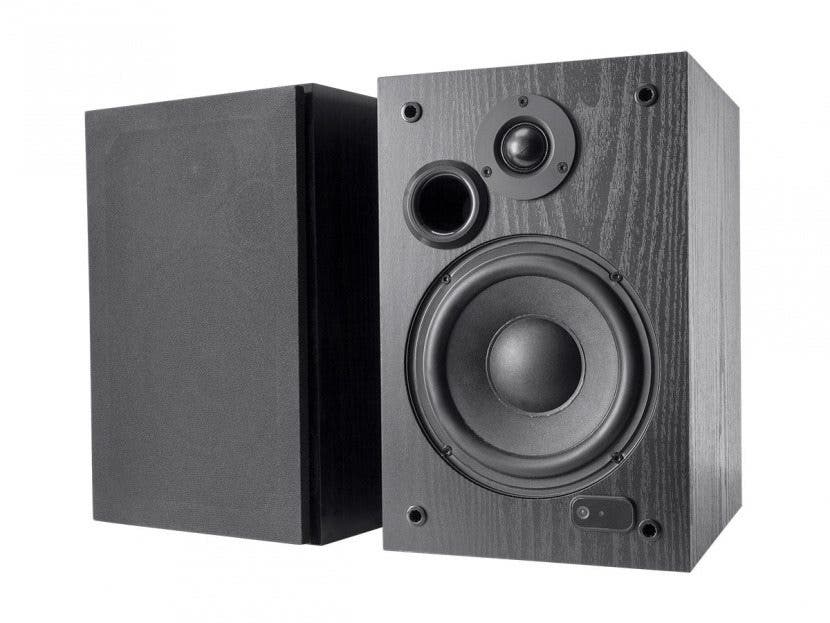 I've tested this powerful pair of speakers and let me warn you, they are some of the loudest Bluetooth speakers you'll find. Like ridiculously loud. Like, you-might-upset-your-neighbors-if-you-crank-them-all-the-way loud. So if you are looking for a room-shaking, monumental sounding set of room speakers, these are one of the best deals around for loud Bluetooth speakers. You've been forewarned, use these with care and consideration, or you might have someone knocking on your door. These speakers are visually discreet and acoustically powerful. Each of the speakers contains its own amplifier, woofer and tweeter. They also offer several connectivity options, including allowing direct connection from a PC as well as RCA and Digital Audio jacks. This speaker set is perfect for college students, especially ones who like their audio loud. They are also ideal for medium to large sized rooms. These are the only wireless Bluetooth speakers on this list that require plugging in to a power source in order to operate, as they have no internal battery.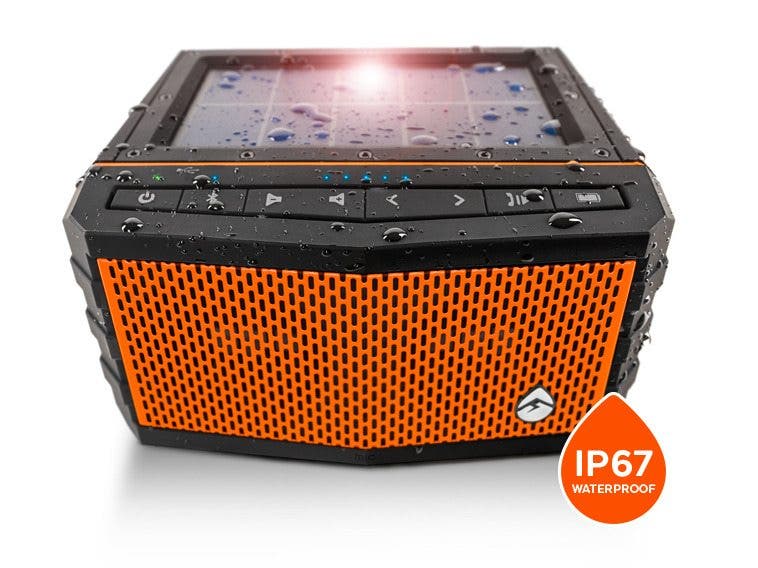 This handy outdoor wireless Bluetooth speaker is the ultimate modern off-grid accessory. The Sol Jam is a portable, waterproof Bluetooth speaker and it floats, but there's much more to it than that. In addition to its overall rugged and durable design, the Sol Jam is a solar-powered Bluetooth wireless speaker with a built-in solar panel on its topside. Not just any solar panel either, the Sol Jam's solar panel is uniquely able to draw a charge from lower light conditions, which only adds to its functionality. It's a great sounding speaker; and since it floats, it can play your music while floating beside you in the pool or on a lake. And if it falls into the water while doing something like sailing or kayaking it's not going to get too far since it won't sink. The Sol Jam also has a rechargeable internal battery that can double as a charger for your iDevice, making it the one indispensable portable Bluetooth speaker to take on any extended off-grid adventures.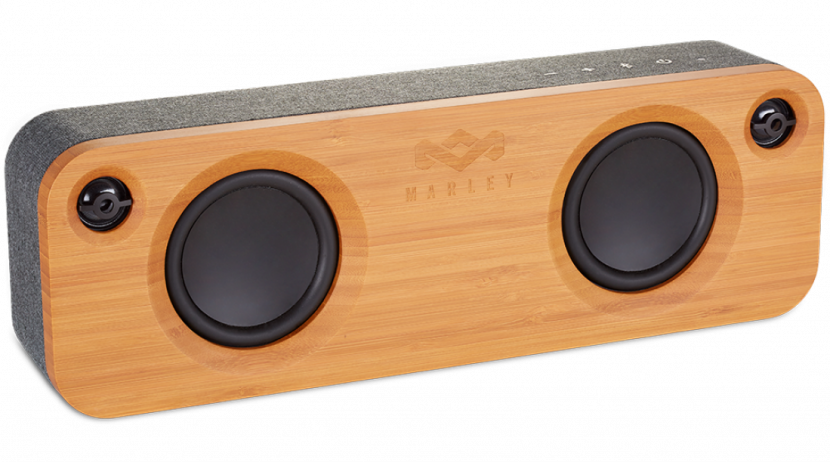 The House of Marley Get Together loud, portable Bluetooth speaker has a distinct flair of classical elegance, thanks to the FSC-certified wood paneling on its front. Like all House of Marley accessories, this Bluetooth speaker is ecologically friendly and sustainably produced. The patented Rewind fabric used in its design is manufactured from recycled plastics spun together with natural hemp fibers. The Get Together is small enough to be portable and it's easy to carry around on outings or for special events, yet it's large and powerful enough to fill a medium sized room with pristine audio. Along with being ecofriendly, another plus to this House of Marley speaker is that the Marley family donates a portion of the proceeds from its sales to charity.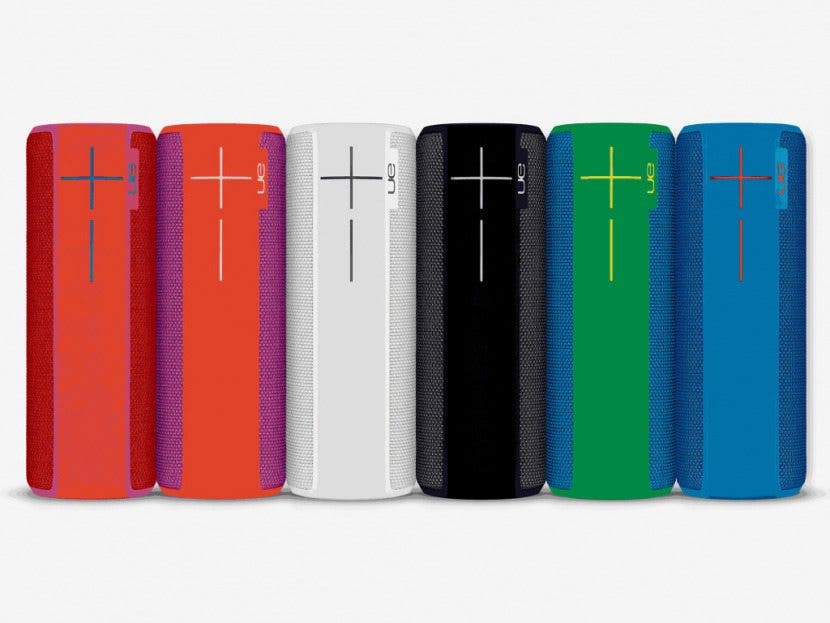 The BOOM 2 is a spectacular wireless Bluetooth speaker. It's available in a wide variety of bright, bold colors and pumps out impressive 360° sound. The BOOM 2 is an exceptionally loud Bluetooth speaker, particularly for its size, which is roughly the size of a water bottle. The BOOM 2 has an accompanying app which really opens up its special features, like the touch-sensitive control pad on the speaker's topside, and the capability of pairing with another BOOM 2. Additionally the BOOM 2 is a rugged and waterproof Bluetooth speaker, making this one of the best looking, best sounding and most versatile wireless speakers in its class.

 

If you are looking for the best small Bluetooth speaker, the Voombox Travel 3 is one of your top options. Thanks to a well-planned design, the Voombox Travel 3 actually manages to squeeze two audio sources into its petite frame. It has one articulate driver on its front/top side, and a robust, passive bass radiator on its back/bottom side, for a combined effect that is unrivaled in a speaker of this size and at this price. If you are on the hunt for a miniature ultra-portable Bluetooth speaker; one that can come with you just about anywhere and is capable of filling your personal space with crisp, clear, and relatively loud audio, the Travel 3 is one of the best I've come across.
6. Fugoo XL ($229.99 - $329.99)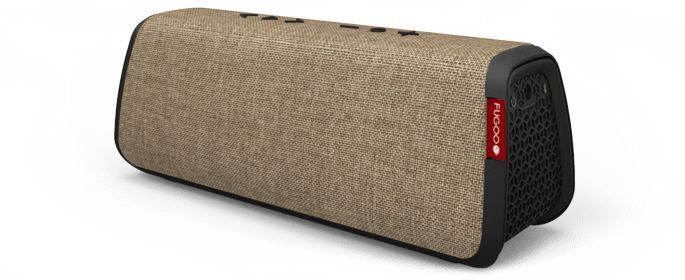 The Fugoo XL is, at its core, a remarkably designed wireless Bluetooth speaker with incredible versatility. Internally it is packed with eight acoustic drivers for full-bodied, 360-degree sound. It's also a fully waterproof Bluetooth speaker, and it even floats. Even though its rugged specs rival the best of them, this Bluetooth speaker's appearance is anything but utilitarian, depending of course, on which "jacket" you pick. Fugoo's jackets are external shells for the core speaker unit. You can select one of three jackets, but regardless of which you choose, its core structural integrity remains the same. The Style offers the most fashionable alternative, with its hemp colored, fabric weave design. The Sport jacket is slightly more durable and looks more athletically oriented, constructed of durable and shock absorbent plastics, while the Tough jacket is just that, the company's toughest, most structurally reinforced option, capable of withstanding the most extreme abuse. The XL also has a huge internal battery, capable of delivering over 30 hours of playback and the speaker also has the convenient ability to recharge your mobile devices.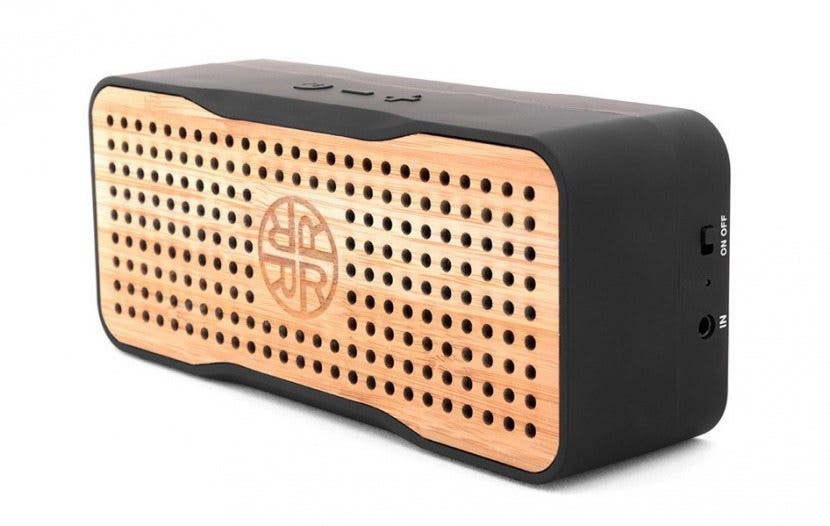 The Reveal is the perfect portable Bluetooth speaker for the eco-loving, environmentally conscious person in your life. Not only is it made with classy looking, sustainable wood front paneling, it also has a solar panel built into its back. This allows it to charge whether in use or not, as long as it's kept in a spot where it catches the light, meaning that with the Reveal, you are much less reliant on plugging it in to a wall charger. With the Reveal, you can also charge your iPhone, all from the power of the sun. This portable Bluetooth wireless speaker delivers fantastic audio and it's small enough to fit easily in a purse or messenger bag so you can carry great sounding audio with you, wherever your adventures may take you.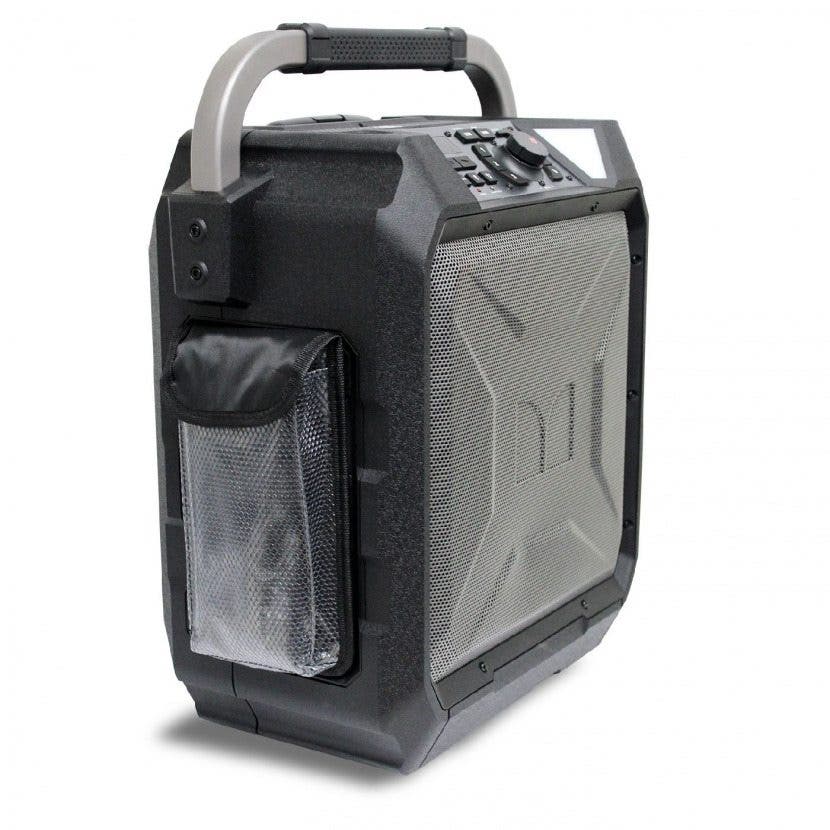 The Monster Rockin' Roller 2 Bluetooth speaker is well equipped to be your go-to outdoor Bluetooth wireless speaker for outdoor adventures or indoor events when you need to be able to fill a medium or large sized room with sound. It is weather resistant, includes a built-in FM radio reciever so you can listen to broadcasts without tethering to a device, and it has a convenient storage compartment for you to keep smaller valuables safe, such as your keys or iPhone. In addition to being one of the loudest Bluetooth speakers, it is easily portable, despite its size and weight, thanks to its roller wheels and retractable luggage-style handle. One of my favorite pluses of the Rockin' Roller 2 happens to be the two, extremely bright LED lights, which are built into its control panel, making this a perfect accessory for the handyperson as well as outdoor adventurers.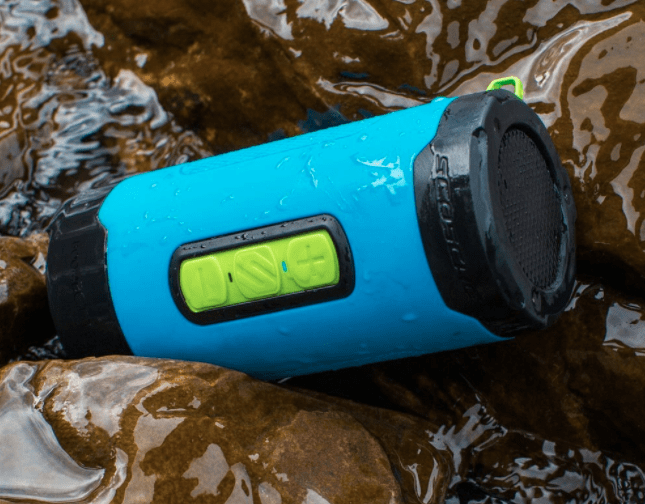 This personal-sized, portable Bluetooth speaker is aptly named, as its form factor lends itself to being able to easily slip it into any designated water bottle or cup holder. The BoomBottle H20+ is perfect for bike rides or even hooking on to a child's stroller. It also comes with a carabiner allowing you to clip the BoomBottle H2O+ onto any backpack or even a belt. Thanks to the fact that this waterproof Bluetooth speaker also floats, it is also perfect for accompanying you on such things as kayaking, paddle board or windsurfing adventures.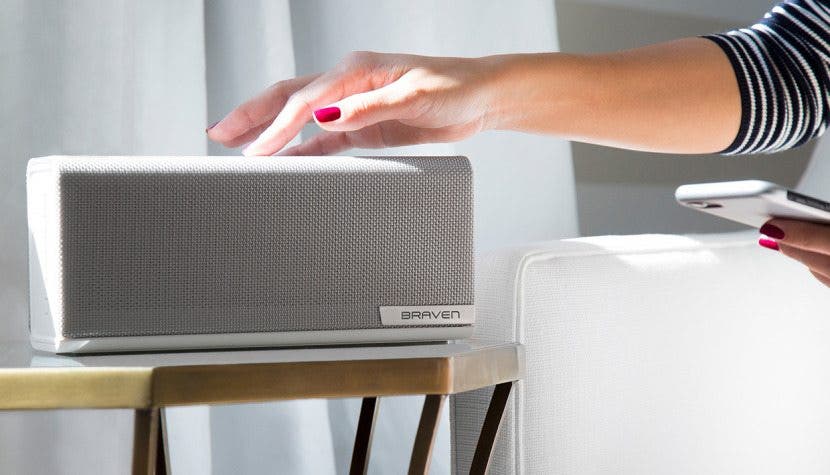 The Braven 1100 home Bluetooth wireless speaker produces brilliant and beautiful sound, which is complimented by its premium quality, fabric exterior. It is ideal for a small to medium sized room, and it'sand it's one of the best Bluetooth speakers with bass powerul enough to shake the room. The 1100 is a relatively conservative, professional looking speaker, one that would be perfectly suited for either a home or office setting, especially in a room where you are looking for a speaker that accents an elegant and modern decor. Additional features of the Braven 1100 include a 28-hour internal battery that can also charge your iDevices and the built-in technology to allow you to wirelessly pair two different 1100 units to the same audio source.