By

Mike Riley
Mon, 05/17/2021
Even though Apple products have made remarkable strides in battery life performance, they still haven't quite made it to a full day of non-stop use. And with the iPad Pro and Mac line moving their charging connectors to USB-C, the old USB charging bricks no longer suffice. This article takes a look at three power-related products to help you decide which one may be best for your mobile computing work and play styles.
Billed as a laptop power bank, this USB-C, USB-A and USB-A with QuickCharge 3.0 support can also double as a phone and tablet charger. Perfect for travelers, campers, and anyone who needs a recharge on demand, this power bank delivers 63 watts from its 20,000mAh battery. The three ports can simultaneously recharge connected devices, making it super convenient to bring a single power bank on trips. The digital read-out showing battery charge percentage is a nice touch, especially since I find bar-based battery indicators infuriatingly bad at telling me exactly how much charge remains.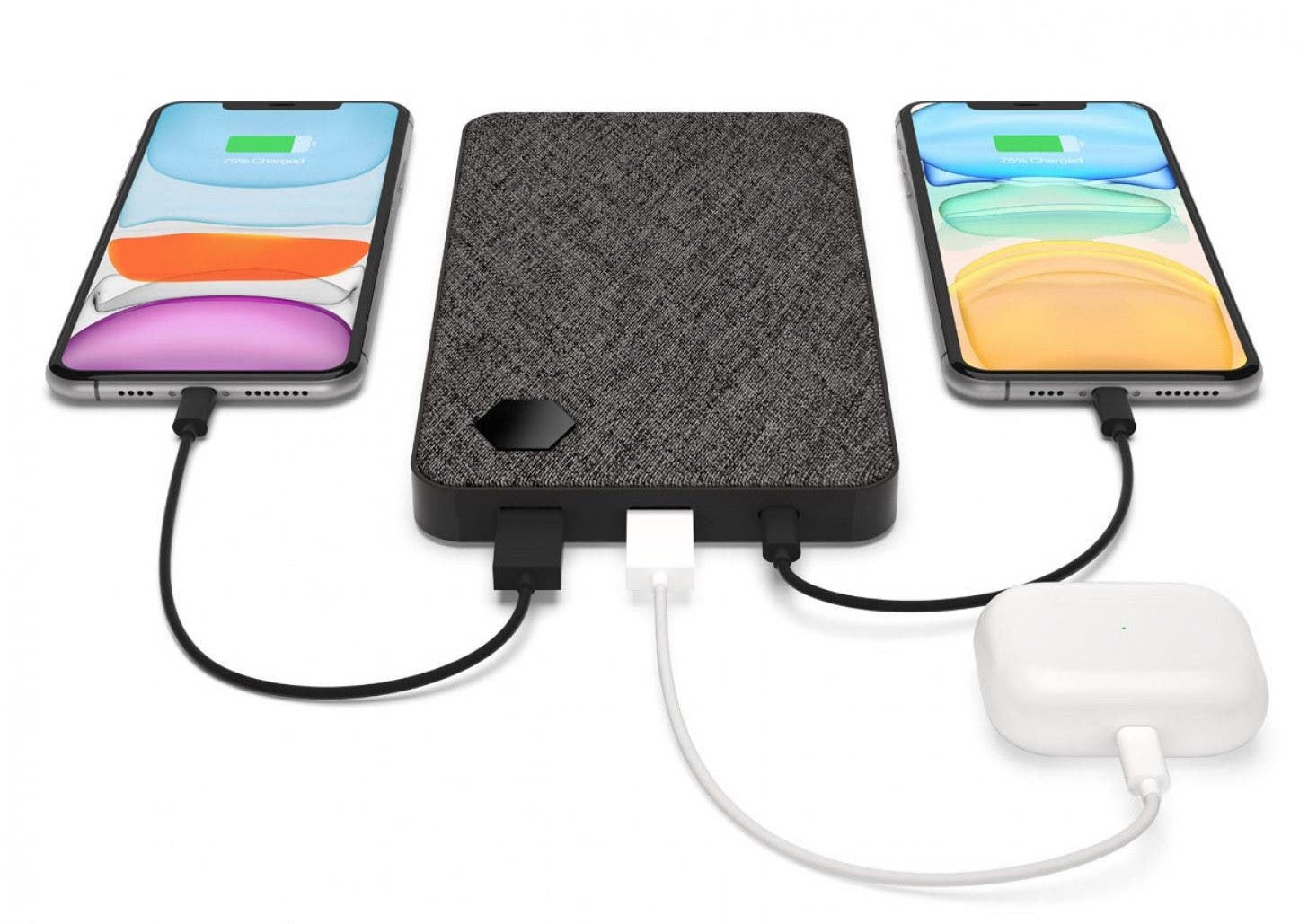 This power bank is also sleek and not much larger than an iPhone Max Pro 12, but it is considerably heavier and thicker. Fortunately its top and bottom are skinned in an attractive canvas, with the center wrapped with a rubberized edge for grip stability and drop protection.

Discover your iPhone's hidden features
Get a daily tip (with screenshots and clear instructions) so you can master your iPhone in just one minute a day.
Besides missing a base capable of wireless charger, this power bank also does not come with a charger. You need a decent USB-C charger (one that can deliver at least 30 watts) to recharge the battery within an acceptable amount of time. If you already use a USB-C MacBook or modern PC laptop that was bundled with a USB-C charger, you can use it to recharge this power bank. But it would have been more convenient to include a built-in charger (or at the very least, include one in the box) to complete the package.
Pros
Multi-charge power bank with USB-C, USB-A QuickCharge and standard USB support
Attractive, sleek footprint with accurate battery charge percentage indicator
Powerful battery specs for mobile device re-charging on the go
Cons
No built-in wireless charger
No USB-C charger power adapter to recharge the battery included in the package
Final Verdict
For mobile power users who prefer a good looking, high-quality portable power bank that can multi-charge a laptop, tablet and phone at the same time, the Eggronic is one that easily fits in a gadget or laptop bag and keep you recharged for a long time.
Claiming to be the world smallest 240W Power Bank, the Intelli ScoutPro packs an enormous amount of battery charge into its portable enclosure. While small compared to other chargers of that wattage, the ScoutPro is nevertheless heavier and larger than other 20,000mAh power banks, akin to the size and weight of a drinking flask. Sporting two USB-C and one USB-A QuickCharge 3.0 port, it also includes wireless charging coils on its rubberized top to simultaneously recharge an iPhone and an Apple Watch. All these connections can be used to maximize your multi-device recharge efficiency. The USB-C ports can deliver up to a whopping 100 watt output, capable of recharging even the hungriest USB-C-based laptop. The ScoutPro completed a successful Kickstarter at $159, and is expected to retail for $349. That retail price is too high for what you get, but it is likely that the price will be discounted once it goes on sale beyond Kickstarter backers later this year.
The one criticism is that the ScoutPro display battery charge status using my personal pet peeve of bars instead of actual numerical display like that found in the Eggtronic power bank. Thanks to the size of the ScoutPro, the bar indicator is large, well-lit, and easy to identify, but it still leaves me in the dark as to how much of that last bar do I have before the remaining charge is exhausted? Perhaps Intelli can incorporate a digital readout for charge remaining in their second generation of this power bank. And like the Eggronic, the Intelli ScoutPro also does not include a USB-C power adapter in the package to recharge the power bank.
Pros
Huge amount of power within a relatively small size package
Wirelessly recharge an iPhone and Apple Watch at the same time
Recharge up to 5 devices simultaneously
Cons
No digital charge remaining readout, uses bar indicator instead
Heavy and a bit bulky, though still portable enough to fit in a gadget bag
No USB-C charger power adapter included
Final Verdict
If you need a large wattage for your mobile computing needs, the Intelli ScoutPro is the smallest 240W power bank you will likely find. The wireless phone and watch charging coils on the top the unit give it an edge in device recharge flexibility.
So what do you do when you have these high-capacity power banks that lack a heavy duty power adapter to charge them? You either use the one that came with your laptop or tablet, or buy one that can handle the load. Fortunately one such power adapter for the modern USB-C and USB-A QuickCharge exists in the form of the HyperJuice 66W charger.
This very cool power adapter is nearly the same size as an Apple iPad power adapter, yet it packs up to 66W output, delivered by its two built-in USB-C and one USB-A QuickCharge ports. The HyperJuice's compact size makes it easy to include with power banks, along with any other USB-C and USB-A based devices. I really like how portable yet powerful this 3-port gem can efficiently deliver the goods.
Pros
Huge 66W power adapter delivery
Roughly the same size as a standard iPad power adapter
Cons
Final Verdict
This was one of those products that I didn't know I needed until I had it. The HyperJuice charger is now my USB-C/USB-A charger of choice, ready to power and recharge everything from power banks and laptops to tablets and legacy USB-A devices. It's a keeper for sure.