By

Conner Carey
Wed, 05/03/2017
The new home of Apple headquarters, Apple Park, is nearly complete. With a spaceship for an office building, the 2.8 million square feet of space will be home to some 12,000 employees, bringing Steve Jobs' vision for a new Apple campus to life. The campus spans a whopping 175-acres; and everything runs on 100 percent renewable energy, which is a massive feat for one of the largest office buildings in the world. Before his death, Steve Jobs worked to get the city of Cupertino to approve construction of the spaceship-like building. And now, at the highest point of the Apple Park campus stands the Steve Jobs Theater, which will no doubt be the auditorium of choice for the upcoming iPhone 8 release.
"Steve's vision for Apple stretched far beyond his time with us," said Tim Cook, Apple's CEO. Cook has consistently worked to honor Jobs' legacy, with Apple Park's 1,000 seat auditorium, named after the late founder, being only the most recent. "Steve was exhilarated, and inspired, by the California landscape, by its light and its expansiveness. It was his favorite setting for thought. Apple Park captures his spirit uncannily well," said Laurene Powell Jobs.
The campus is designed to provide a holistic environment for not only the planet but the employees who work there and the public that comes to visit. The courtyard at the center of the spaceship building will house 30-acres of green area with small orchards of apple, olive, and apricot trees, along with a sprawling meadow and pond. The surrounding parklands offer two miles of walking trails for employees. And instead of covering land with asphalt, Apple partnered with Foster + Partners to replace "5 million square feet of asphalt and concrete with grassy fields and over 9,000 native and drought-resistant trees."
"Connecting extraordinarily advanced buildings with rolling parkland creates a wonderfully open environment for people to create, collaborate, and work together," said Jony Ive, Apple's chief design officer. Operating on 100 percent renewable energy, the spaceship building has a 17 megawatt rooftop solar. It's also the world's largest naturally ventilated building, requiring no heating or air condition for nine months out of the year.
But that doesn't mean it came cheap. Once it's all said and done, Apple Park is estimated to cost about $5 billion. On the campus property, Apple built two separate highly secure buildings specifically for research and development. Beneath the giant four-story tall spaceship building rests another three stories underground. The parking lots are built to accommodate 14,200 employees with one located beneath the spaceship office building and two other large structures dedicated to parking elsewhere. And since Apple Park resides in good 'ol Silicon Valley, those parking lots will have over 300 car-charging stations and 2,000 spots for parking bicycles. The spaceship building will also house a 100,000 square foot fitness center and cafe with 3000 seats for employees. If you're in the market for a new job, it's definitely a good time to work for Apple.
Luckily, all this beauty isn't reserved for Apple employees alone. Apple Park will include a visitor's center with Apple Store and cafe open to the general public. Plus, I'm sure we'll get a chance to see the Steve Jobs theater from the comfort of home when Apple debuts the iPhone 8. Apple estimates it will take a full six months to completely move everyone in, and the finer details (such as landscaping) will be completed over the Summer. Nonetheless, I expect the company will be happy to show off Apple Park during its Fall event.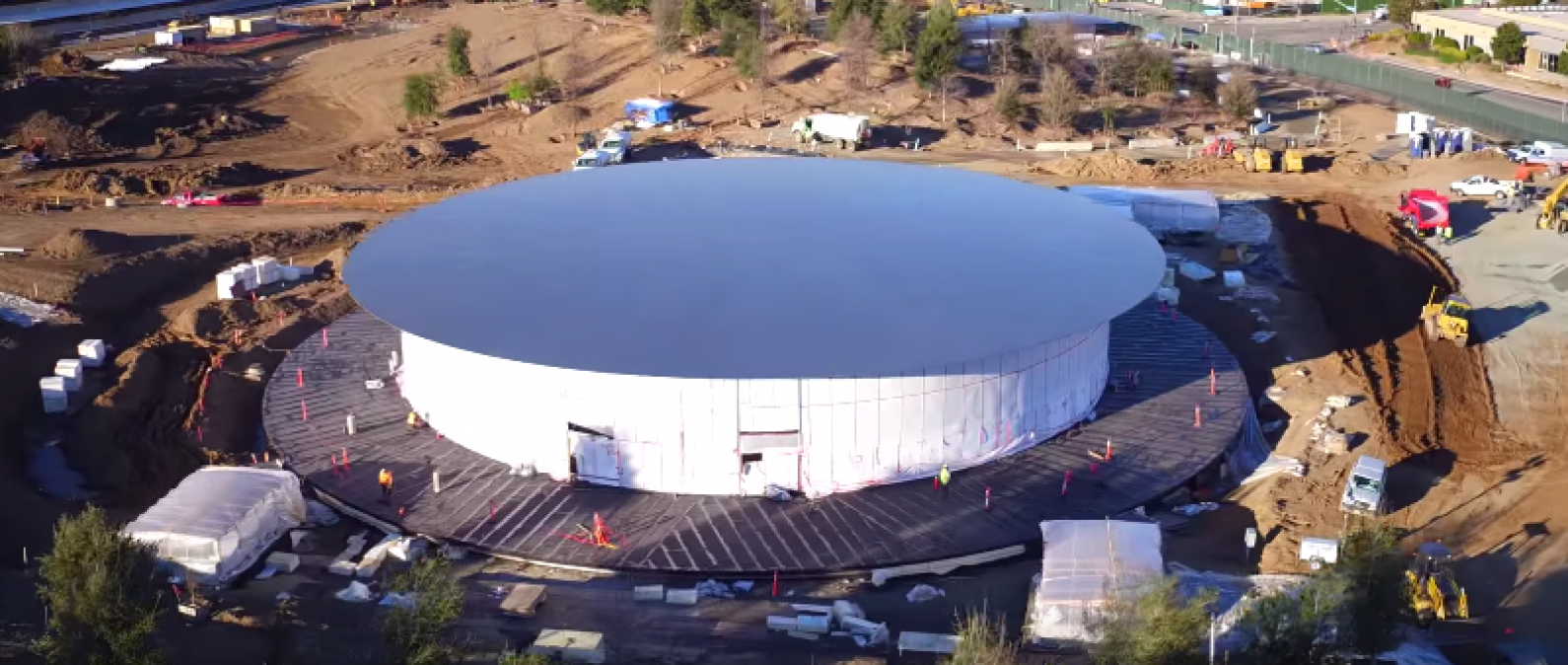 The vision for Apple Park came directly from Steve Jobs, but British architect Norman Foster designed it. Foster is known best for his egg-shaped ecological building seen in London's skyline. And the spaceship design of the main Apple Park office building was inspired by London squares, wherein a park is surrounded by houses. Foster said that the spaceship design, "didn't start as a circular building, it really grew into that. So the idea of one building with a great park was really borne out of a very intensive process."
Jobs' visions for Apple Park was simple: he wanted to bring the California landscapes of his childhood to Cupertino. 80 percent of Apple Park will be green spaces, according to Apple VP of Environmental Initiatives, Lisa Jackson. 7,000 trees will be planted on the land. Everything about Apple Park, from the spaceship building to the landscaping, is designed to be private, secure, and a generally enjoyable and inspiring place to work.
Interestingly enough, Apple shareholders were largely against Apple Park in 2013. They saw its construction as "wildly extravagant" while costing too much and not creating direct profit in return. But considering that Apple has over $200 billion in cash reserves, I think the company can afford it. While the shareholders couldn't see the value in Apple Park, Tim Cook certainly does,
"The workspaces and parklands are designed to inspire our team as well as benefit the environment. We've achieved one of the most energy-efficient buildings in the world and the campus will run entirely on renewable energy."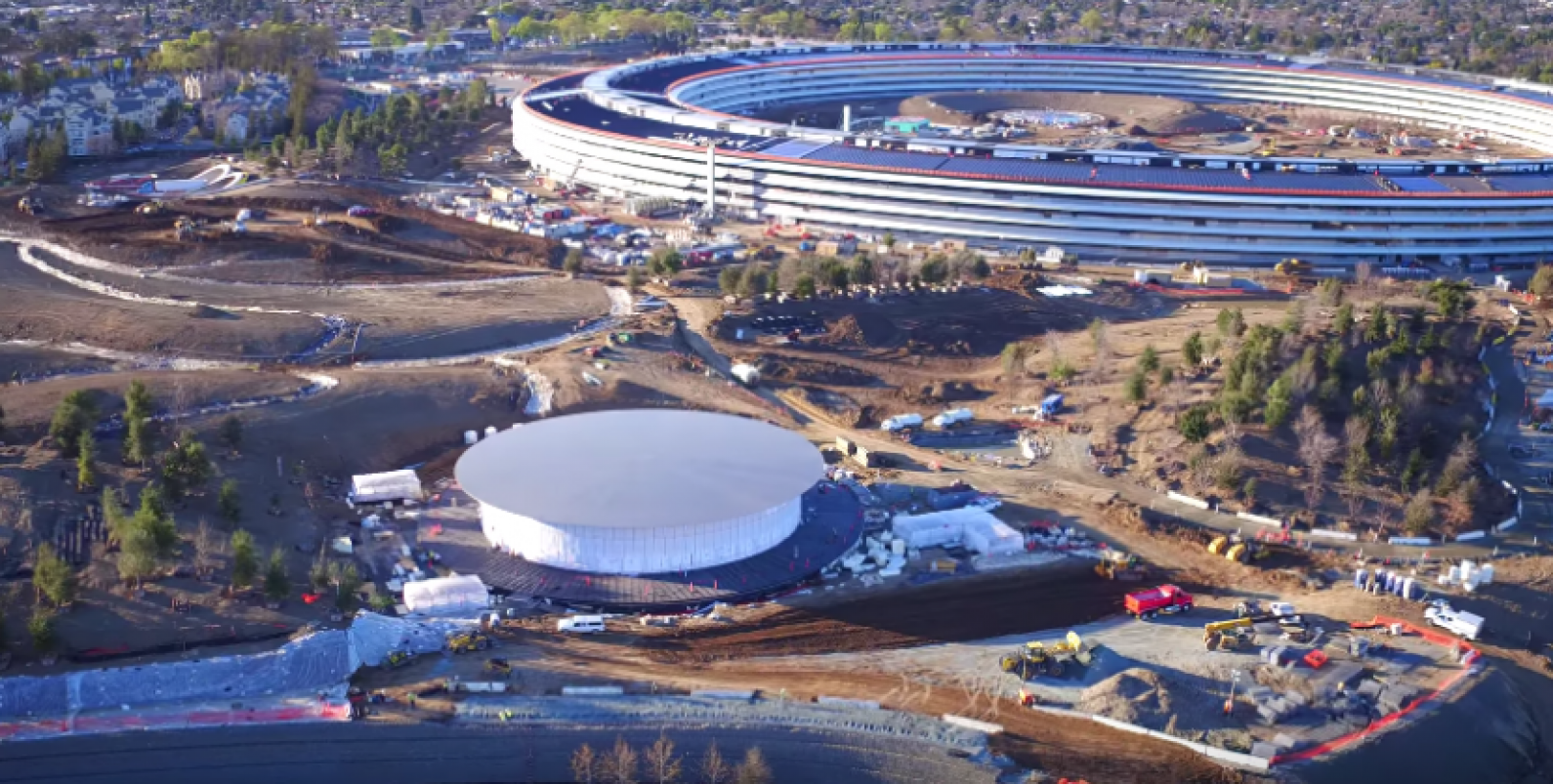 It bears repeating that a campus built for nearly 12,000 employees on 175-acres will run on entirely sustainable energy resources. The campus will use an on-site low carbon Central Plant, recycled water, and solar panels. With Foster + Partners know-how, Apple chose to remove asphalt and concrete, replacing it with native trees. The spaceship office building will be heated and cooled with nothing more than natural ventilation for 75% of the year, while solar and biofuels do the rest.
In a time when climate change denial has become a mainstream political platform, Apple is leading the charge in corporate sustainability. With a campus of this size, its impact on the environment matters. With Apple Park, the company brings the innovation its products are known for to the very foundation of Apple and how it operates. While the manufacturing process abroad leaves vast room for needed improvement, Apple Park is nothing short of an architectural and environmental masterpiece.
All Image Credit: Duncan Sinfield / Youtube