By

Mike Riley
Thu, 04/11/2019
Logitech has been a major player in the PC speaker scene for years, and the company recently has begun to branch out to support other devices besides its core market. One of these major growth opportunities is with iPad customers who are seeking a high quality wireless audio solution included with their usual PC audio needs. Logitech's Z606 5.1 Surround Sound with Bluetooth ($129.99) was created for this customer in mind. Read on to find out how well this flexible PC and mobile device audio solution delivers on its promise.
Reveal: Best Speakers of 2018: Portable, Bluetooth, Waterproof & More
I have used Logitech's high-end THX-certified Z906 5.1 Surround Sound system for the last five years and have been completely satisfied with its audio prowess. Consequently, I had high expectations for its newest little brother, Logitech's Z606. The speakers and subwoofer are slightly smaller than those found in the Z906, but one visual improvement I noticed on the Z606 model is the speaker wires are now color coated. This makes it much easier to identify which speaker needs to connect to the corresponding jack position on the subwoofer. As such, I shaved several minutes off the usual 5.1 speaker setup since I didn't have to manually trace wires between the subwoofer and the appropriate speaker.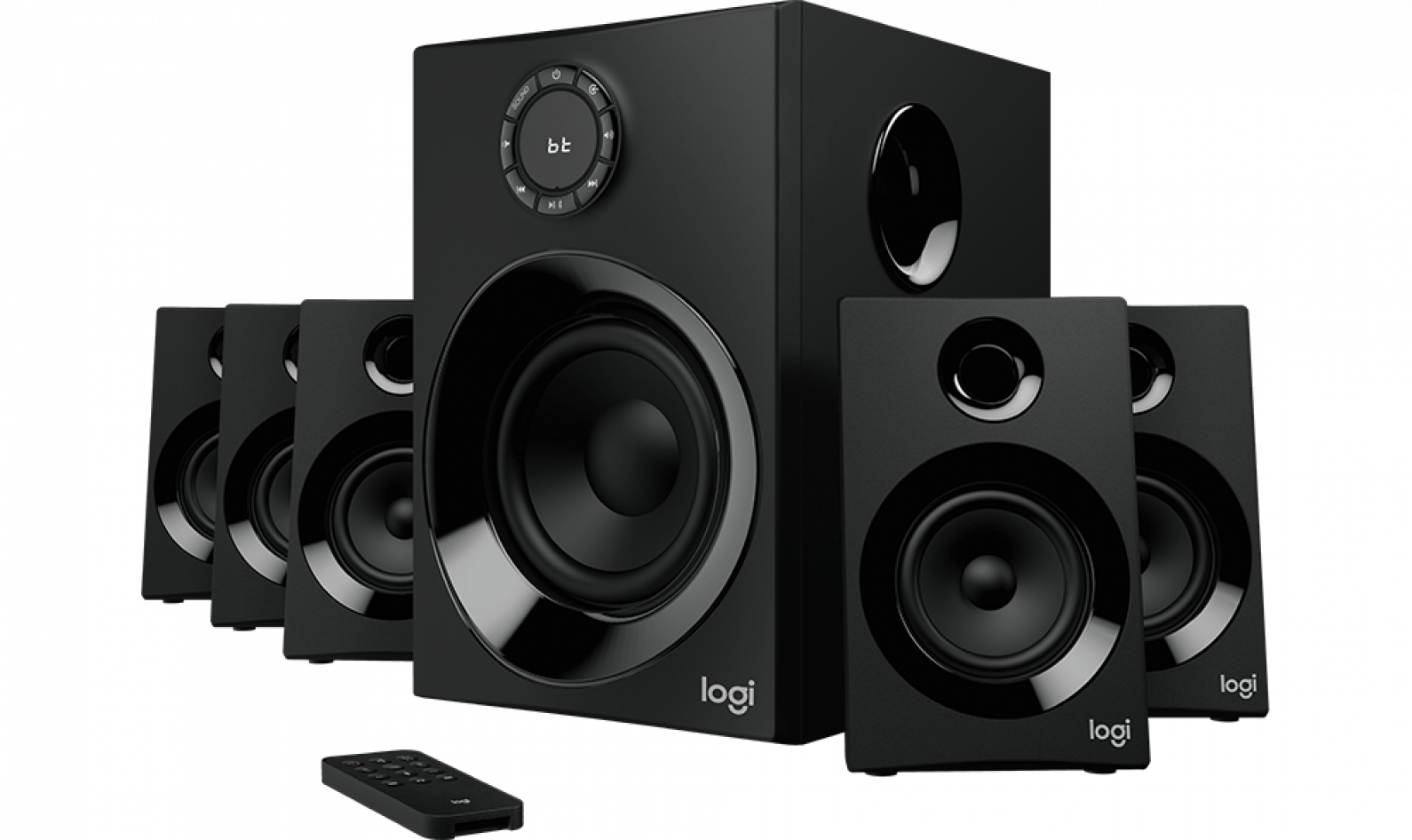 However, I also quickly discovered the concessions Logitech made in order to price the Z606 to be a third of the cost of the high-end Z906. The audio inputs are only RCA jack analog type, meaning that digital coaxial or optical inputs typically found on modern gaming consoles and high-end PC rigs are not supported.  This limits the usefulness of the Z606's 5.1 Surround Sound to analog-only input sources, which are rare in my wired home.
Next on the audio system checklist is the sound quality. This is always such a subjective test, especially given the variability of room conditions, location, audio material being reproduced, and prior expectations. That said, the Z606's 160W with a 50 Hz (for bass) to 20 Khz (for high treble) range was pretty good. It wasn't anywhere near as punchy or impressive as the 1000W Z906's THX-certified speakers, but for the price, the Z606's adequately delivered a roomful of audio. I really appreciated having the built-in Bluetooth 4.2 compatibility that allowed my iPad and laptop to easily pair and wirelessly connect as another audio input source. Stereophonic sound from the Bluetooth connection was good enough for the family room I was testing in. I'm still looking forward to the day when a future iteration of Bluetooth will competently support Dolby 7.1 surround sound, but that may still be years in the future (if ever). In the meantime, 2-channel stereo is good enough for most iPad audiovisual presentation needs.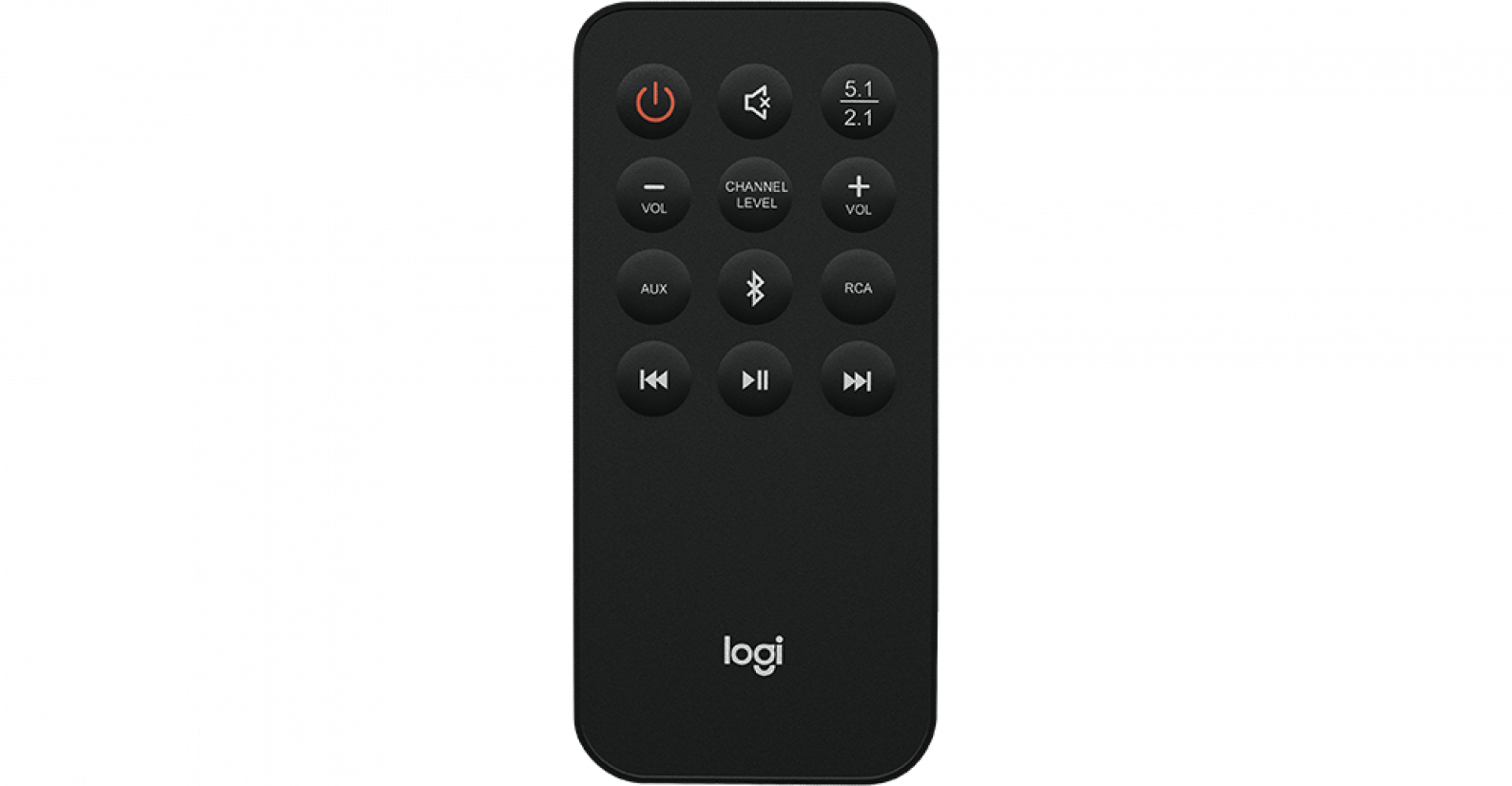 The Z606 also includes a touchpad remote to allow for IR blasting power on/off, mute, volume, Bluetooth, and Dolby 2.1/5.1 channel switching. I would have preferred an RF remote since line of site to the IR receiver on the subwoofer isn't ideal, especially when tucked behind a sofa or desk that blocks direct line of sight IR transmissions.
Pros
Affordable 5.1 Surround Sound
Bluetooth wireless connectivity
Adequate audio reproduction
Cons
No digital inputs
IR Remote requires line of sight
5.1 analog RCA cables not included
In conclusion, Logitech's Z606 speaker setup is a fair audio system at a fair price. Its lack of digital inputs means it will be permanently relegated to more basic analog audio needs. The addition of Bluetooth reception capability is nice for stereo reproduction, but for obvious Bluetooth limitation reasons it cannot take advantage of the 5.1 surround sound separation that Logitech's six speaker array has to offer. If Logitech could have included at least one type of digital input, that would have vastly improved the Z606's value proposition. As it currently stands, the Z606 is merely passable as an adequate analog surround sound solution.