By

Ashleigh Page
Thu, 02/24/2022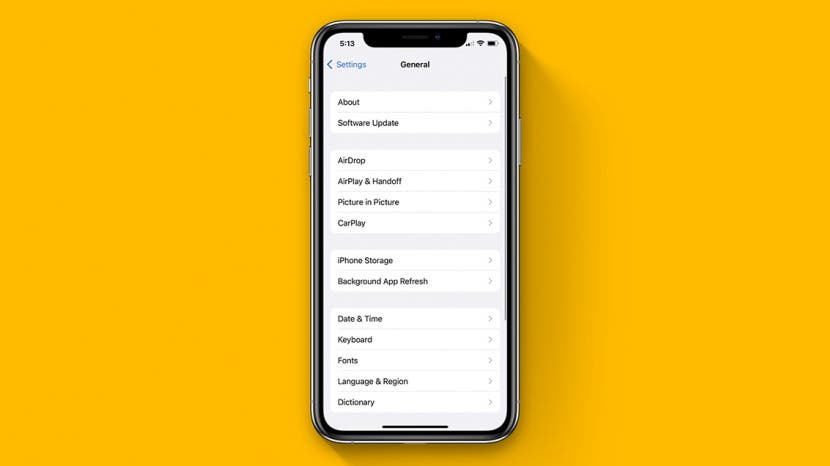 If you're looking for a way to view the iPhone repair history of your own device or a used iPhone you're considering purchasing, you've come to the right place! \We'll cover how to do this and walk through some important information about what you can view in the service history for different models and situations. 
Jump To:
What Is the Parts & Service History on iPhone?
With iOS 15 came the ability to view the service history on your iPhone, allowing you to view which parts have been replaced, when they were replaced, whether the replacement piece is functioning properly, and if the replacement piece is a genuine Apple product. This is helpful for several reasons, the first being that if you're troubleshooting an issue, you can quickly check the service information if a technician requests it. If you're purchasing a used iPhone, you should also check the Parts and Service History to determine if the iPhone has had pieces replaced and if they are functioning properly. You might even be in the process of getting an iPhone part replaced, in which case, you can view the service history to confirm that the repair was performed with a genuine Apple part. 
This is an important note, as replacements installed by someone other than Apple, authorized service providers, or certified technicians might not follow proper repair procedures or use Apple parts. This can result in the replacement piece and/or your device not functioning properly (which we absolutely want to avoid!). In the end, we strongly recommend always getting your iPhone serviced by Apple and Apple Authorized Service Providers.
Related: How to Hide Apps on iPhone
What Information Can I See in Apple iPhone Service History?
As long as the iPhone has been updated to iOS 15 or later, you'll be able to see the Parts and History section if a piece has been replaced. However, different iPhone models track different replacement parts, and newer iPhone models have the capability to track more replacement parts than older models. Here's a list of replacement pieces you can see in the service history for each model: 
For iPhone XR, XS, XS Max, and iPhone SE (2nd generation), you can check to see if the battery has been replaced.
For iPhone 11 models, you can see if the battery or the display have been replaced.
For iPhone 12 and iPhone 13 models, you can view whether the battery, display, or camera have been replaced.
There are a few things to keep in mind about what you can and cannot view in your iPhone service history: 
If the iPhone has never had a piece replaced, you will not see the Parts and Service History section in Settings. So, if you don't see this section, this is a good thing, and hopefully, you'll never need to replace an iPhone part!
The iPhone parts and service history is tied to the serial number of your iPhone. If your iPhone has been repaired in a way that generates a new serial number (such as replacing the logic board), you'll only see the service history that is associated with the new serial number. This is rare, but does occasionally happen.
If a part has been serviced more than once, only the most recent replacement part will appear. So if your battery has been replaced twice, you will only be able to view the date and information of the last battery replacement. 
For more information on your iPhone features and device management, consider signing up for our free Tip of the Day Newsletter. Below, we'll cover how to view your Parts and Service History in the Settings app. 
How to Check iPhone Service History
If you haven't already, I recommend quickly checking your software version to ensure that iOS 15.2 or later has been installed. If a service has been performed, this will make sure you have access to the more detailed repair history. Now, here's how to perform a service history check: 
Open the Settings app. 


 
Tap General. 


 

Tap About. 


 
If the phone has had a part replaced, you'll see a section called Parts and Service History beneath the first main section listing the model and serial number. (This iPhone has never had a replacement part installed, and so does not show the section.)


 

If the service was done using genuine Apple parts and processes, you will see Genuine Apple Part listed next to the replacement piece.
If you see Nongenuine Part listed next to the replacement piece, this means the service was done with a non-Apple part, a piece that isn't functioning properly, or one that was previously installed in another Apple device.

As long as the iPhone has connected to the internet since the service was performed, you can tap the replacement parts listed to see more information, including the date of the service. 
Now you know how to view your iPhone repair history! If you've been having trouble with your device, you can also learn how to get your iPhone ready for service.