Power Reserve is an amazing feature to conserve your Apple Watch battery life, but it can be a bit tricky to figure out how to turn it off.
By

Rachel Needell
Wed, 04/13/2022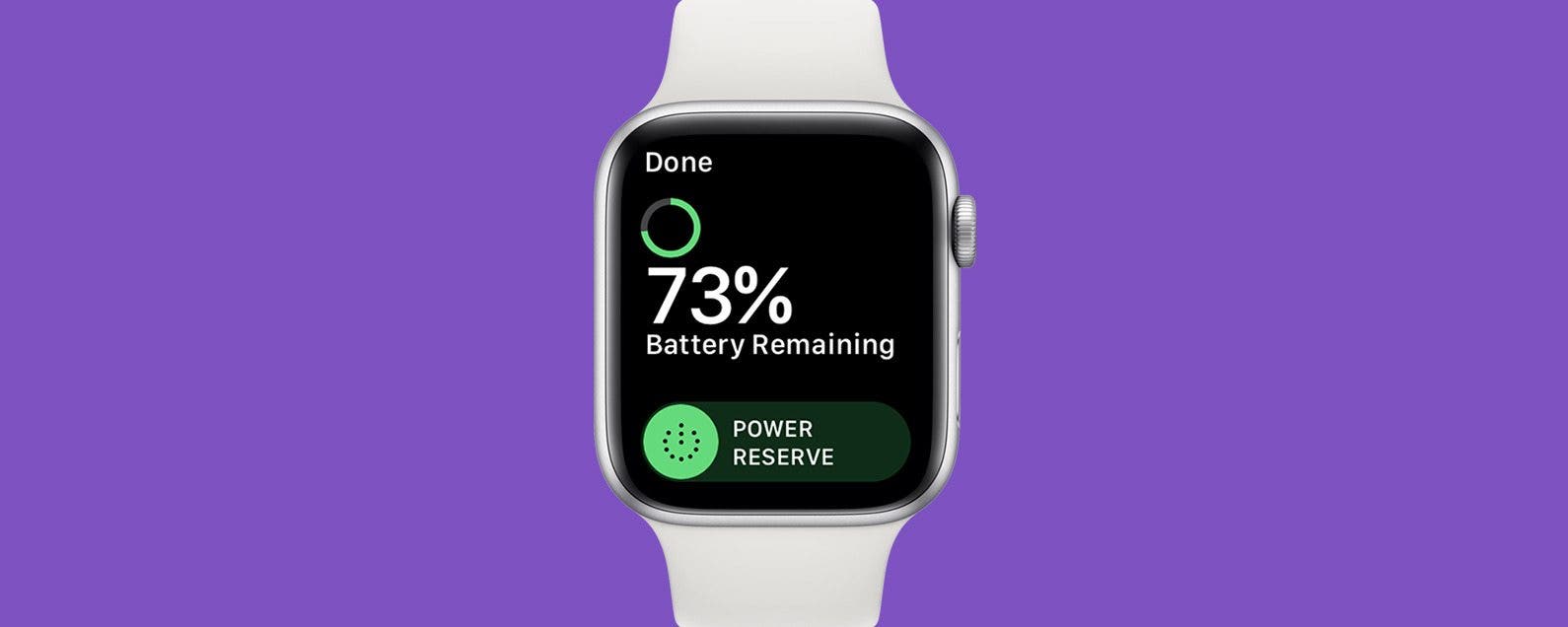 When your Apple Watch's battery is running low, the Apple Watch Power Reserve setting works to preserve your remaining battery life. However, this feature disables access to everything except viewing the time. That includes being able to see your custom watch face or access apps and stopping all communication between the Apple Watch and the iPhone it's paired with. But how do you turn this feature off? We'll walk you through it below.
Related: How to Check Apple Watch Battery Life
Jump To:
Power Reserve, the Apple Watch version of Low Power Mode that you can enable on iPhone, is a bit more serious than Low Power Mode. You actually can't turn this feature off without restarting your Apple Watch. Because of this, you should only use it when your battery is low and you won't be able to recharge soon, but still want to know the time.
If your Apple Watch has entered Power Reserve,
Press and hold the side button.


When the watch restarts, the Apple logo will pop up on screen.


If your watch is password protected, enter your password to unlock.


Your screen should be back to normal now and you should have full access to your apps and accessories again. At the moment, this is the only way to take your Apple Watch out of Power Reserve. Luckily, it doesn't take very long to restart the Apple Watch. Be careful though! If your watch has extremely low battery, trying to take it out of Power Reserve mode may kill the battery completely.
If you'd like to preserve your Apple Watch's battery before it drops too low, you can activate Power Reserve yourself. You can do this in two ways,
Swipe up on your Apple Watch Home screen to access the Control Center.


Tap the Battery Percentage button.


Swipe the Power Reserve slider to the right.


A warning message will pop up, tap Proceed.


If you do not have the Battery Percentage button on your Apple Watch's Control Center,
Press the Digital crown to open the menu.


Tap Settings.


Scroll and tap Battery.


Scroll down to the bottom and swipe the Power Reserve slider to the right.


Tap Proceed when the warning message pops up.


Now, you know how to use Power Reserve on the Apple Watch. Remember, if you want to take the Apple Watch out of Power Reserve, you will need to restart the Watch. I hope in the future Apple makes taking the watch out of Power Reserve easier and we won't have to restart the watch. If you want to learn more tips and tricks for using your Apple Watch and other Apple devices, sign up for our Tip of the Day!