Here's how you can turn lock screen rotation on and off without needing to open the Control Panel.
By

Brian Peters
Updated 01/19/2023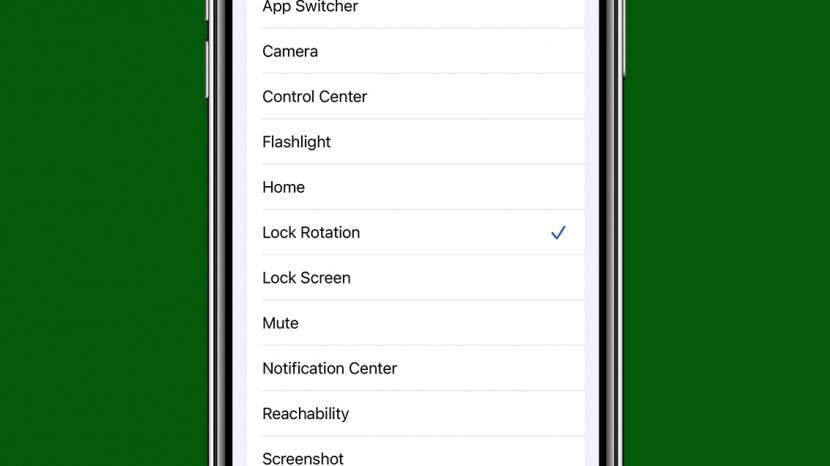 * This post is part of iPhone Life's Tip of the Day newsletter. Sign Up. *
Many people like to keep their iPhone's screen rotation locked so that it doesn't switch into landscape orientation accidentally. When you're watching a video or doing something else where landscape orientation would be helpful, it can be disruptive to need to open the Control Panel to turn the rotation lock off.
Why You'll Love This Tip
Quickly lock or unlock screen rotation.
No need to interrupt your viewing by opening the Control Panel.
How to Unlock Screen Rotation on iPhone with Back Tap
Your iPhone's Accessibility settings have a lot of useful features available, even for people who don't think of themselves as having accessibility issues. The Back Tap options, for example, allow you to set up actions to be performed just by tapping the back of your phone two or three times quickly. A large number of different actions can be performed this way, and in this tip, we'll show you how to set this function to turn the screen rotation lock on and off. For more quick guides on using features like these, be sure to sign up for our free Tip of the Day newsletter.
Open Settings.


Scroll down to find and tap Accessibility.



Scroll down to find and tap Touch.


Scroll down to the very bottom and tap Back Tap.



Tap either Double Tap or Triple Tap, whichever you want to use for the shortcut.


Tap Lock Rotation.


Now your iPhone's screen rotation lock will be toggled whenever you tap the back of your phone two or three times (depending on which option you selected) quickly. Try it a few times to get used to it. You can also set another action to the other Back Tap if you think of something else you'd like to be able to activate in this way.