By

Erin MacPherson
Updated 07/12/2021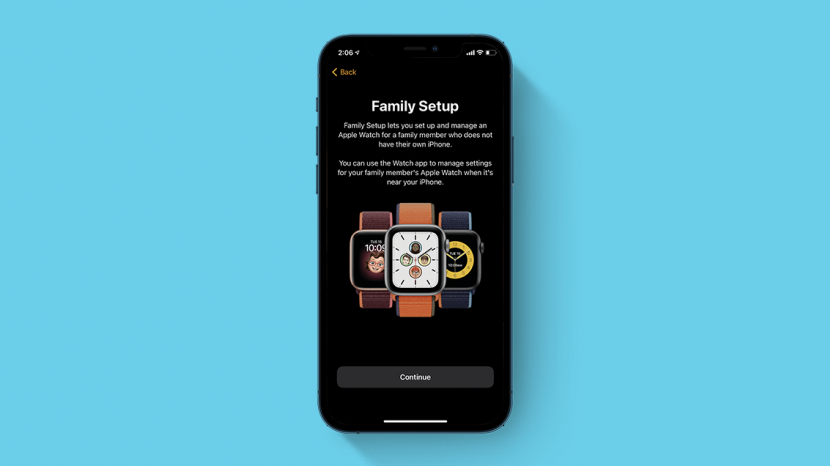 Your family members don't need to have their own iPhone to enjoy the benefits of an Apple Watch. Our guide shows you how to use Apple Watch Family Setup to enable phone calls, messaging, and location sharing without a companion iPhone. 
Jump to:
Who Can Use Family Setup for Apple Watch
If your child is too young for a phone or your other family members tend to misplace their devices, the Apple Watch Family Setup is the solution to stay in communication with them. When health and fitness are a top priority, you can use family watch setup to enable heart rate notifications, fall detection, and track physical activity. This convenient system also allows you to set up Apple Cash Family.
Family Setup for Apple Watch is available to users with an iPhone 6s or later running iOS 14 or later, an Apple Watch Series 4 or later with cellular, or an Apple Watch SE with cellular. Each Apple Watch owner will need ot have a separate Apple ID, and two-factor authentication will need to be enabled for the user performing the Apple Watch Family Setup. Can you use an Apple Watch without an iPhone? Yes! But only through Family Setup.

Discover your iPhone's hidden features
Get one daily tip each day (with screenshots and clear instructions) so you can master your iPhone in just one minute a day.
How to Set Up an Apple Watch with Family Setup
Here are the easy-to-follow steps to set up your family member's Apple Watch and enable the features you need to stay connected:
Have your family member put on the Apple Watch and hold it close to your iPhone.
Pairing should begin automatically if you don't already have another Apple Watch paired with your iPhone.

If you do have another Apple Watch connected to your phone already, open the Watch app.


 
Tap on All Watches.


 

Select Add Watch to add the new Apple Watch to your iPhone.


 
Select Set Up for a Family Member.


 

Tap Continue.


 
Review the Data & Privacy information and tap Continue.


 

Read about how Family Setup works and tap Continue.


 
To pair, simply line up the watch face to the animation on your phone. This process should only take a few seconds.


 

If you can't use the camera to pair, tap on Pair Apple Watch Manually and follow the steps.


 
Once paired, tap on Set up Apple Watch.


 

Review Terms and Conditions and select Agree to continue.


 
You will be taken through several screens of preferences.

Once you get to the Choose Family Member screen, select the person who will use the Apple Watch.


 
Enter the Apple ID password for this family member and tap Next to continue.


 

Once setup is complete, tap OK and your family member's watch will be added to the watches on your iPhone.​​​
Features You May Want to Use in Family Setup
Many of the setup steps will involve standard Apple Watch setup options for things like preferences and passcode, so it may be a good idea to involve your family member in decisions about these things. Some of the other options that may apply to your family member are:
Using Ask to Buy. This allows you to monitor and approve the watch user's purchases.
Location services, which help you view, share, and monitor locations for Apple Watch-wearing family members.
Siri use and restrictions.
On the Contacts screen, you can decide who the user is able to contact directly from their Apple Watch.
Schooltime lets you block access to apps and notifications during your child's school hours.
With the convenience of Apple Watch Family Setup, you can rest assured that your kids or other family members can communicate with you at all times. Even if they don't have their own phone, Apple Watch Family Setup makes it easy for you to monitor whereabouts, health stats, and other details about your Apple Watch-wearing family members.