Learn how to scan a document on iPad as well as how to scan QR codes.
By

Amy Spitzfaden–Both
Updated 04/11/2022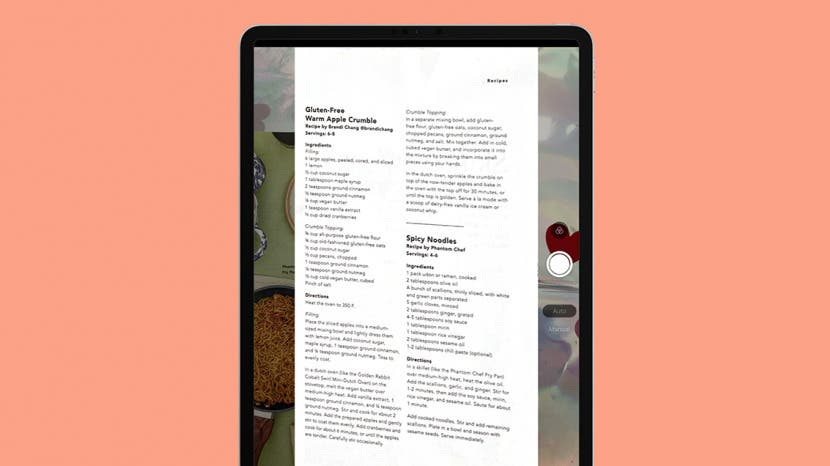 Can you scan to an iPad? You can! It turns out it's pretty easy. You can scan documents to your Notes app to save them in higher quality than taking a photo, and you can scan QR codes. There's no external iPad scanner or iPad scanning app; you just use your camera. Here are the steps for how to scan using an iPad.
Related: What iPad Do I Have? How to Identify Apple's iPad Models & Generations (2022 Update)
Jump To:
How to Scan a Document on iPad
Scanning documents to your iPad is a much easier way to store documents than taking photos of them and trying to keep track of them in your Photos. It's easy to do, but make sure you have as clean a background as possible to set your document on, as clutter or uneven surfaces make it harder for your iPad camera to recognize the document. To learn more about your iPad and the Notes app, check out our free Tip of the Day newsletter. Here's how to scan using an iPad.
Get your document ready to scan. Set it on a flat, clear surface, away from clutter.
On your iPad, open your Notes app.


Create a new note or open the note you want to scan the document to.


Tap the Camera icon on the top of your screen.


Tap Scan Documents.


Hold your iPad camera over the document. The yellow box will indicate the area that's being scanned.


A scanned version of the document will appear automatically. Tap on the thumbnail to open it.


Choose Done or Retake based on your satisfaction level.


You can take more than one scan by returning to the scan screen and letting your iPad scan again. If you are done, tap Save.


The document will appear in your note.
If you've taken more than one scan and want to delete one, tap the scan.


Scroll to the version you want to delete and tap the trash can icon.


Tap Delete Scan.


This will leave you with only the image you want.
How to Use iPad Scanner for QR Codes
QR codes have seen a rise in popularity over the past couple of years, with more people wanting contactless menus and more. It's easy to scan QR codes on your iPad. All you have to do is:
Open your Camera app.


Focus your Camera on the QR code.
Tap the link that appears by the QR code.


Now the QR code should take you straight to the appropriate website. Easy as pie!