Learn the easy way to add passwords to your iPhone with iCloud Keychain.
By

Rhett Intriago
Updated 01/12/2023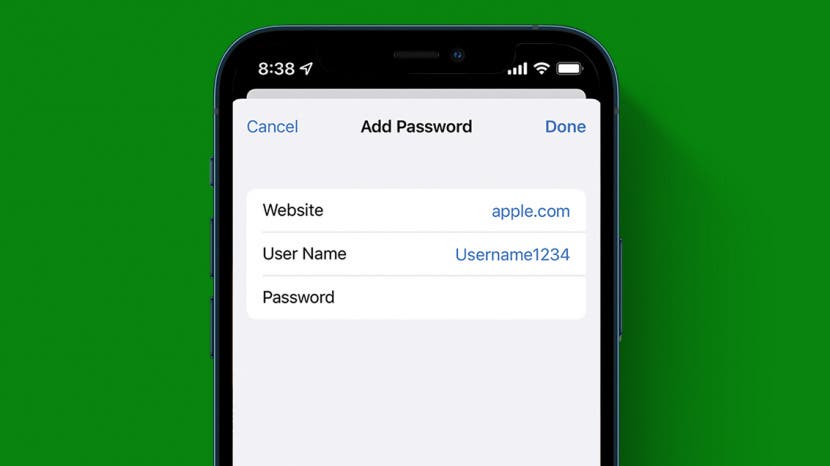 * This post is part of iPhone Life's Tip of the Day newsletter. Sign Up. *
iCloud Keychain is a password manager, allowing you to save your login information. Once you save your username and password for a website, Keychain will auto-fill your information when you go to the website. Sound convenient? Below, we'll show you how to add passwords to Keychain on your iPhone.
Related: How to Find Hidden Apps on iPhone 
Why You'll Love This Tip
Save usernames and passwords for quick and easy access.
Avoid having to memorize your login information.
How to Add Password to Keychain on iPhone
Keychain makes daily life far more convenient by saving time when you need to login to any of your online accounts. If you don't have one of your accounts saved already, adding saved passwords to your iPhone is a pretty simple process. For more helpful tips on managing your Apple devices, sign up for our free Tip of the Day newsletter. Here's how to save passwords to your iCloud Keychain: 
Open the Settings app.


Scroll down and tap Passwords.


To access your passwords, you'll either need to use Face ID or enter your passcode. 
Tap the plus icon in the upper-right corner.


Enter the website for the account you want to add, along with the username and password.


Tap Done to save the password to iCloud Keychain.


Now whenever you go to that site, you will be asked if you want to log in with the information saved in your iPhone. Your saved information will then auto-fill the fields, and you'll confirm with your passcode or Face ID to log in to the account. It's that simple! Now that you've added passwords to your iCloud Keychain, you can also add notes to Keychain to help save important account information.